Living on the Edge involves the study of earthquakes, volcanoes, and other hazards where tectonic plates collide. Field studies focus on understanding the science behind natural hazards that lead to catastrophic events and subsequent loss of life. Fieldwork is aimed at recognizing hazards and understanding the processes behind the hazards. We will also see the role society plays in mitigating hazards.
Alaska offers an exciting and varied landscape that is perfect for studying natural hazards. The course convenes in Anchorage, and we will travel to several study sites in the state. We plan to do extended field work on Kodiak Island, Kenai Peninsula, Cordova, and the Central Alaska Range. We study the catastrophic earthquake damage from the 1964 earthquake, tsunami deposits, landslides, and a number of glacial and periglacial processes.
Students learn to identify aspects of landscapes formed in this active environment. One of the most important aspects of the course is to learn to identify and understand the spatial distribution of landforms. We will focus on mapping deposits from landslides, slumps, volcanic activity, and glaciers. By mapping these deposits they will learn about the processes and then ways to mitigate the hazards. We will meet with local Alaskans to discuss the engineering and social aspects of living in a hazardous land.
This is a rough outdoors experience, so students need to be prepared for working in the cold rainy mountains. We will be camping for the majority of the time, and we will be hiking and working in the field constantly, regardless of conditions, so proper equipment is essential. Students will be required to have a warm sleeping bag, rain gear (pants and coat), proper hiking boots, and other outdoor equipment. Specific rules will be in place for bear safety, and students must agree to abide by these to be considered for the trip.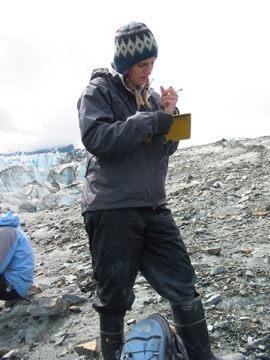 In previous offerings the trip has had a blog, which can be found here (2007), (2008) and here (2009). All three have pictures, thoughts, and impressions written by the students.h
What students wrote about the trip in the past:
"These past three weeks have been amazing, one of the best experiences of my life. It is crazy how fast this trip has gone by. I have learned so much, from how to pitch a tent correctly to what an accretionary complex is. I am really going to miss the beautiful scenery of Alaska and the awesome group."
"Spending three weeks with all those on this trip has been an experience of a lifetime."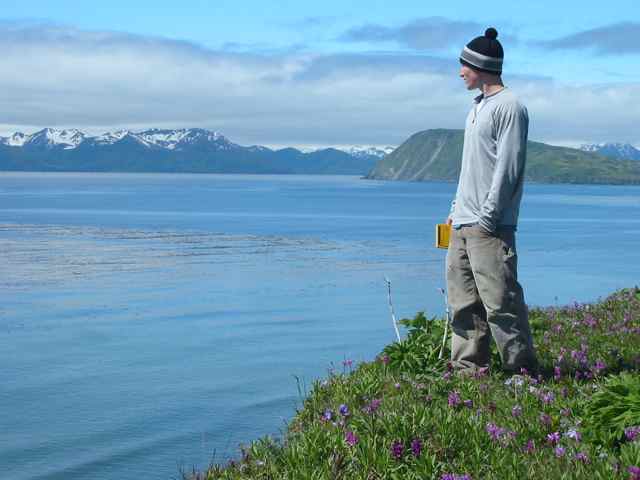 A PDF of a Union College Magazine article about this experience is here (3.1 Mb).
"This has been a crazy experience and has only whet my appetite for Alaska and for traveling in general. It's been so awesome meeting lots of new people and seeing lots of unique things that are so different from home. This trip has opened my eyes to career opportunities and really inspired me to work in the field. I will never forget the sights, the wildlife, and most importantly the people that have been my family for these past three weeks."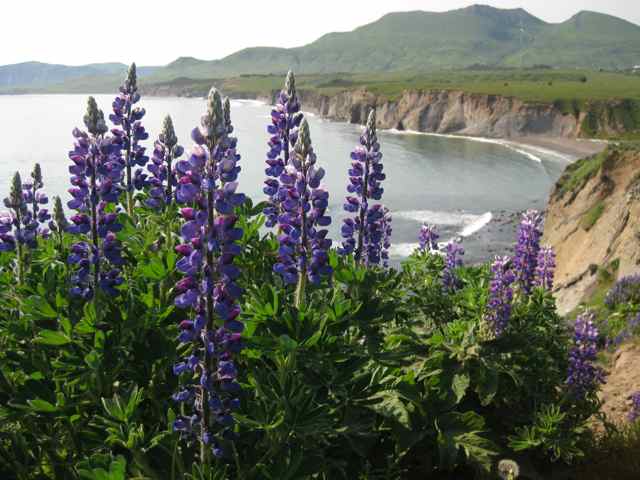 "We have investigated faulting in the twin lakes region, investigated ash layers from the 1912 eruption of Mt. Katmai, and tsunami deposits from the great 1964 Alaskan Earthquake. It has been really interesting understanding the complex hazards that Kodiak Island has to face when planning any major project."
"We spent time in Cordova, which was easily my favorite town on this trip. It was serene, surrounded by snow capped mountains, and was full of rich history. I loved it. After that we took the ferry across Prince William Sound to Whittier where we stayed on a beach across the way from Mt. Redoubt (Which is the currently erupting volcano you may have heard about on the news here and there). It was amazing, and I got a chance to swim on the beach, which was only a few steps away from our tents. Here we learned about the massive coal beds, which lay underneath the Cook Inlet. We also got a chance to look at the sediment layers, which are deposited underneath the basin, and we talked about post-1964 earthquake uplift in the area."
Interested in this mini-term?
Next offering: 17 June (arrival)-11 July (departure) 2010
APPLICATION DEADLINE ... has passed
INFORMATION SESSIONS:
have passed
---
TECHNICAL ITEMS:
Geology Field Fund application for Financial support through the Union College Geology Department.
Suggested Field Gear List is here.
Required Student Contract related to safety, communication, and prohibition of alcohol.
The Schedule of daily activities for 2010 is here.
---
For other details email: Garverj @union.edu and/or jcockbur @uoguelph.ca (remove space in email address).