The Geology Department at Union College hosted the third symposium on the physical aspects of the Mohawk Watershed in New York State. The scientific program and timing of theme sessions was determined by the composition of abstracts received. The meeting highlighted recent and on-going work in the watershed during oral and poster presentations and the technical sessions were followed by a banquet with a keynote address that evening.
The 2011 Symposium has a total of 24 talks and posters listed with individual abstracts at this link. The schedule was posted 7 March 2011 - speakers and presenters details and requirements are HERE. The TECHNICAL PROGRAM (Schedule of talks and posters)
The COMPLETE ABSTRACT Volume from the conference can be downloaded from this link (20 Mb).
Keynote Speaker
The Honorable Paul Tonko, US Congressional representative to NY 21st District "The Mighty Waters Initiative"
Invited Speakers
• S. Litten, New York State Department of Environmental Conservation (retired) "Sediment, the Mohawk, and the Big Picture"
• J. Besha, Albany Engineering Corp. "Hydroelectric Power in the Mohawk River Watershed: Past, Present and Future"
• H. Goebel, NYS Canal Corp. "Unlocking Utica Harbor, A Restoration Case Study"
• D. Mosher, Schenectady County Soil and Water Conservation District "Working toward a Watershed Management plan: a progress report from the Mohawk River Watershed Coalition of Conservation Districts"
• F. Montecalvo, Consultant, West Canada River Keepers "Water Rights in the Balance: The Mohawk Valley Water Authority vs. NYS Canal Corp. Dispute."
The following themes are the focus of volunteered abstracts:
Water quality, including nutrient loading, the effects of agriculture and industry on water quality, contaminant fluxes and emerging contaminents.
Floods, including flood frequency, causes of flooding, and flood mitigation strategies;
Sediment yield, including transport and deposition through the watershed, bank erosion and potential hazards, slope processes, and sediment budget;
Impact of watershed processes on infrastructure, including bridges, dams, locks, canals, and strategies for floodplain restoration;
Water rights, including issues that that explore the balance between municipal water use and how this might conflict with demands by power generation, industry, drilling, ecosystem management, and maintenance of sustainable ecosystems.
Synoptic evaluations of the watershed including basin-wide overviews and compilations using LiDAR, GIS, databases, and other methods of integrating and analyzing regionally significant data.
Water budget, including aspects of climate change, precipitation patterns, and weather-related phenomena.
Watershed management strategies.
Emergency management and hazards unique to this watershed.
---
POSTERS, TALKS, and ABSTRACTS
Submitted contributions in the form of extended abstracts were required for either oral or poster presentations. The abstract volume was available to registered participants at the meeting and it will then be available here as a downloadable PDF after the meeting. All presentations, whether oral or poster, are required to have an accompanying abstract that must pass review. Abstract requirements are described in detail HERE. Oral presentations have format and time constraints that are outlined HERE. Posters must follow these guidelines. Abstract due date for talks and posters has passed, it was Monday 20 February 2011.
---
FEES and REGISTRATION
Registration is OPEN and ongoing - the DEADLINE for banquest registration has passed. Pre-registration for this meeting is required. Badges will be provided at registration, and are required for entrance to the meeting. The banquet and Keynote address is a ticketed event.
Professional $25; Students $10 - please mail check after you register - see address below). REGISTRATION AFTER 18 FEB: $30. You will be mailed a reciept after we recieve payment. No walk ons will be accepted, pre-registration and prepayment for this meeting is required. The evening Banquet is $25. To keep costs down we do not have registration that can accept credit card charges, so we require a check for the total to be mailed to Geology Department, Union College, 807 Union ST, Schenectady NY.
---
ACCOMMODATION

Union College has a number of suggestions for places to stay that are close to the college. During the meeting, Dutch Hollow, a small campus eatery, will be open for lunch and breakfast.
---
PARKING and CAMPUS ORIENTATION
Plenty of parking will be available on campus. This meeting is at the end of exam period, so the campus will have few students. Download this map for parking areas that will be open and available ("P"), and note that the Olin Center is #35 on the map. Detailed directions to the Campus are here.
---
INFORMATION FROM PAST CONFERENCES
The announcement and program for the March 2010 Symposium at Union College is here and the 2010 Abstract Volume is here.
The announcement and program for the March 2009 Symposium is here and the 2009 Abstract Volume is here.
---
KEY CONTACT INFORMATION
Program co-Chairs:
Jaclyn Cockburn, Earth Sciences, College of the Atlantic, Bar Harbor ME;(207) 801-5732; jcockburn @ coa.edu (remove spaces).
John Garver, Department of Geology, Olin Building, Union College 807 Union ST Schenectady, NY 12308-2311, USA +1, 518-388-6770 (Office) +1, 518-388-6770 (main office) +1,518-388-6417(fax) Email: garverj @ union.edu (remove spaces).
Technical Assistance and Registration: Deb Klein, 310 Olin Bldg, Union College. 518-388-6770: Email: kleind2 @ union.edu (remove spaces).
Mailing address: Geology Department, Union College, 807 Union ST, Schenectady NY, 12308-2311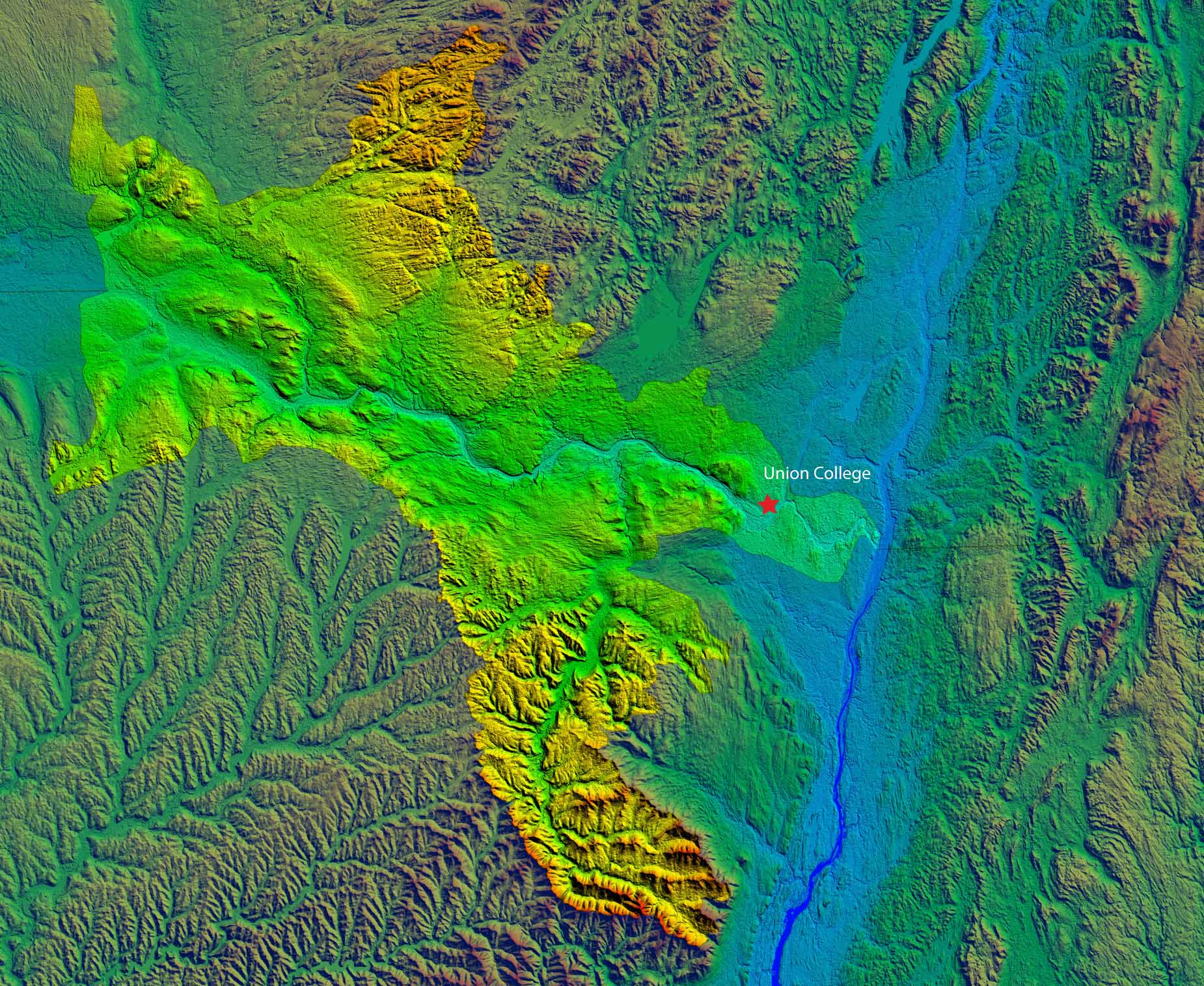 ---
All rights reserved. No part of the document (including photos) can be copied and/or redistributed, electronically or otherwise, without written permission from: J.I. Garver, Geology Department, Union College, Schenectady NY, 12308-2311, USA. (All photos by J.I. Garver, Geology, Union College, All rights reserved).
First Posted: 15 December 2010
Last Revised: 23 March 2011