| | |
| --- | --- |
| A field guide to Kenyan mangroves | |
Isognomon ephippium (L.)
 Family: Isognomonidae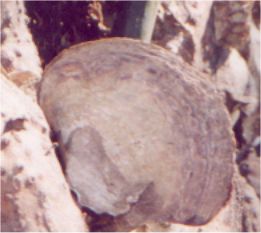 Zone: This bivalve inhabits the lower intertidal areas of mangroves.
Habitat: On roots of mangroves and rocky substrate.
Food: Filter feeder.

Ecological notes: Can occur in large clusters or singularly, generally following the distribution of Saccostrea cucullata. Found in salinities down to 15 PSU. There are litterally no publications dealing with I. ephippium aside from Lazareth et al. (2003). The Jamaican I. alatus can reach 50mm within 6 months (Siung, 1980).

Distinguishing characteristics: Large flat shell (up to 13cm), often round but sometimes 'hammer' shaped. Elongate hinge. Has byssal threads similar to mussels.

Geographical range: Indo-Pacific (excluding Red Sea, Arabian Sea and NW India) (Richmond, 1997).
References:
Lazareth C.E., E. Vander Putten, L. André and F. Dehairs, 2003. High-resolution trace element profiles in shells of a mangrove bivalve (Isognomon ephippium): A record of environmental spatio-temporal variations? Estuarine, Coastal and Shelf Science, 57, 1103-1114.
SIUNG, A. M. 1980. STUDIES ON THE BIOLOGY OF ISOGNOMON-ALATUS GMELIN (BIVALVIA, ISOGNOMONIDAE) WITH NOTES ON ITS POTENTIAL AS A COMMERCIAL SPECIES. Bulletin of Marine Science 30[1], 90-101.
Richmond, M.D., 1997. A guide to the Seashores of Eastern Africa and the Western Indian Ocean Islands. Sida / Department for Research Cooperation, SAREC. Zanzibar, Tanzania. 448 pp.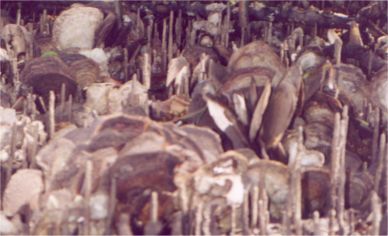 ---
all text and photographs copyright© 2002 David Gillikin and Anouk Verheyden
Created 11Nov02
http://www.mangrovecrabs.com