| | |
| --- | --- |
| A field guide to Kenyan mangroves | |
Littoraria spp.
Family: Littorinoidea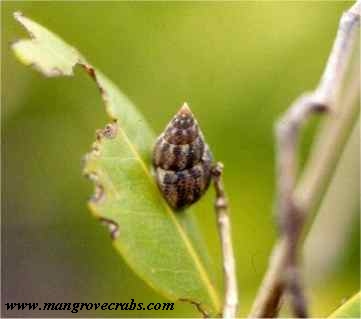 Zone: These small mangrove periwinkle snails can be found from the landward Avicennia zone to to seaward Rhizophora zone.
Habitat: Generally found grazing on the stems, branches and especially leaves of all Kenyan mangrove tree species. Not found on the forest floor.
Food: Algae on leaves and bark.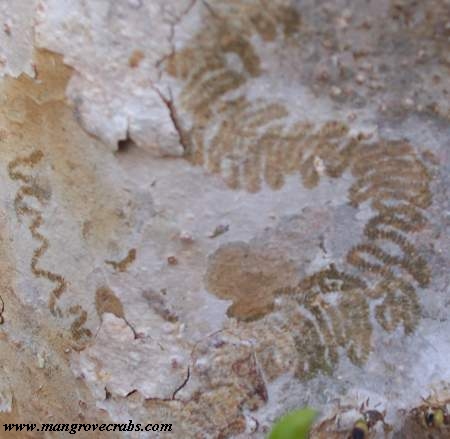 feeding marks on the bark of an Anicennia marina tree
Ecological notes: Eaten by many tree climbing mangrove crabs (Reid, 1986).
Distinguishing characteristics: Small snails with thin shells. There are many species present in East Africa (up to 7 ?).
Geographical range: Worldwide.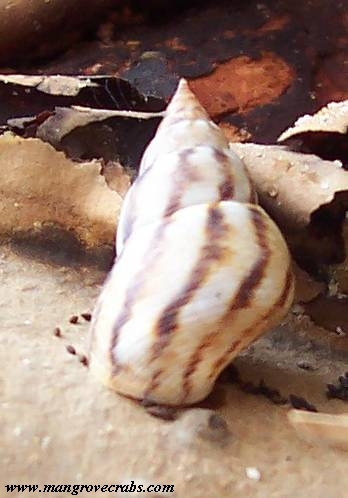 References:
Reid, D.G., 1986. Intense predation by crabs on mangrove Littorinids. American Malacalogical Bulletin 4: 112.
Richmond, M.D., 1997. A guide to the Seashores of Eastern Africa and the Western Indian Ocean Islands. Sida / Department for Research Cooperation, SAREC. Zanzibar, Tanzania. 448 pp.
---
all text and photographs copyrightę 2002-2016 David Gillikin and Anouk Verheyden
Created 28 August 2001
Updated June 24, 2016
http://www.mangrovecrabs.com