| | |
| --- | --- |
| A field guide to Kenyan mangroves | |
Macrophthalmus spp.
Family: Ocypodidae

Zone: Tidal flats in front of mangroves.
Habitat: Burrowing in tidal flats.
Food: Sediment organic matter (Richmond, 1997)
Ecological notes: Richmond (1997) lists five species of Macrophthalmus in East Africa: M. depressus (all images on this page are of M. depressus), M. grandidieri, M. boscii, M. latreillei and M. milloti with the first two being more associated with mangroves (Richmond, 1997; pers obs).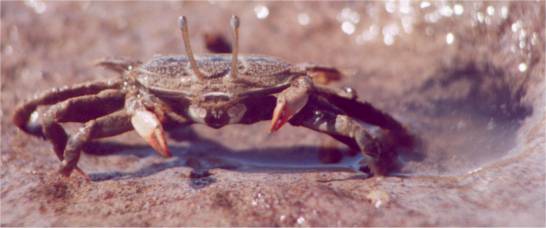 Notice the burrow just to the right of the crab
Distinguishing characteristics: Carapace broader than long. M. depressus has three lateral teeth on carapace, the last being very small; inner palm covered with thick hair (Richmond, 1997). M. grandidieri can most easily be recognized by its strangely shaped claws.
Geographical range: West Indian Ocean (Richmond, 1997)
References:
Richmond, M.D., 1997. A guide to the Seashores of Eastern Africa and the Western Indian Ocean Islands. Sida / Department for Research Cooperation, SAREC. Zanzibar, Tanzania. 448 pp.
---
all text and photographs copyrightŠ 2002-2016 David Gillikin and Anouk Verheyden
Created 28 August 2001
Updated June 24, 2016
http://www.mangrovecrabs.com