| | |
| --- | --- |
| A field guide to Kenyan mangroves | |
Chiromantes eulimene de Man (1895)
Family: Sesarmidae

Zone: A. marina landward zone into terrestrial (Macnae, 1968; Hartnoll, 1975; Ruwa, 1997).
Habitat: Utilizes burrows of others (M. Vannini, pers. comm.). Extends far upstream into fresh water influence (Macnae, 1968; Hartnoll, 1975)
Food: Probably omnivorous.
Ecological notes: Extends into areas of fresh water; See C. ortmanni. Can be seen by the hundreds in the freshwater upper reaches of the Tana River mangroves (S. Bouillon, personal communication). They have well developed setae between the walking legs, which can probably efficiently extract pore water (Ng and Liu, 1999).
Distinguishing characteristics: Very similar to C. ortmanni, but has a row of tubercles on upper margin of mobile finger of claw get larger toward the top (away from the tip), which can be felt by scraping a finger nail over them. Carapace yellowish-brown; claws pale yellow (carapace width about 2.5 cm). Note that Chiromantes eulimene is often referred to as Sesarma eulimene in the literature.
Chiromantes eulimene claw details. Notice the larger tubercles toward the top of the claw

Chiromantes ortmanni

claw details. Notice how the tubercles remain uniform across the top of the claw
Geographical range: Somalia, Tanzania, South Africa, Madagascar (Vannini and Valmori, 1981), Kenya.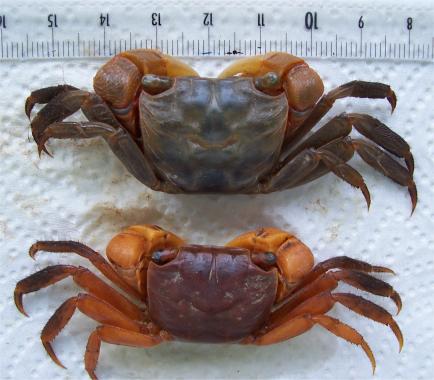 Chiromantes eulimene (top) and Chiromantes ortmanni (bottom)
All images of Chiromantes eulimene photographed here are of a specimen
collected in the Tana River mangroves by Steven Bouillon, 2004.
References:
BOLTT, G. & J. HEEG, 1975. The osmoregulatory ability of three grapsoid crab species in relation to their penetration of an estuarine system. Zool. Afr., 10(1): 167-182.
Cannicci, S., F. Dahdouh-Guebas and L. Montemagno, 1993. "Field Keys for Kenyan Mangrove Crabs." Museo Zoologico "La Specola", Dipartimento di Biologia Animale e Genetica dell'Università Degli Studi di Firenze, Via Romana 17, I-50125 Firenze, Italia.
Hartnoll, R.G., 1975. "The Grapsidae and Ocypodidae (Decapoda: Brachyura) of Tanzania." J. Zool. Lond. 177:305-328.
Macnae, W., 1968. "A General Account of the Fauna and Flora of Mangrove Swamps and Forests in the Indo-West-Pacific Region." Advanced Marine Biology 6:73-270.
Ng, P.K.L., and H.C. Liu, 1999. The Taxonomy of Sesarma tangi Rathbun, 1931 and S. stormi De Man, 1895 (Crustacea: Decapoda: Brachyura: Grapsidae: Sesarminae), with Establishment of a New Genus for S. stormi. Zoological Studies 38(2): 228-237.
Ruwa, R.K., 1997. "Zonation of burrowing crabs in the mangroves of the East Coast of Kenya." In Kjerfve, Björn, Luiz Drude de Lacerdaand El Hadji Salif Diop (eds.). Mangrove ecosystem studies in Latin America and Africa. UNESCO Technical Papers in Marine Science, Paris, France. Pp. 316-324.
Vannini, M. and P. Valmori, 1981. Researchers on the coast of Somalia. The shore and the dune of Sar Uanle. 30. Grapsidae (Decapoda Brachyura). Monitore Zoologico Italiano 6: 57-101.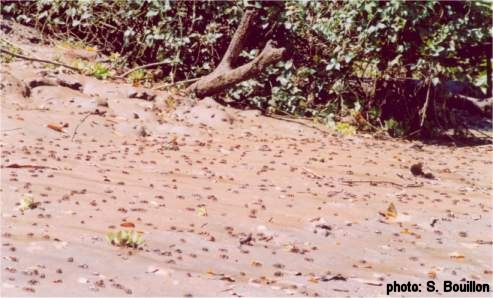 Chiromantes eulimene on the banks of the freshwater zone of the Tana River mangroves
---
all text and photographs copyright© 2002-2016 David Gillikin and Anouk Verheyden
Created 28 August 2001
Updated June 24, 2016
http://www.mangrovecrabs.com