| | |
| --- | --- |
| A field guide to Kenyan mangroves | |
Uca tetragonon (Herbst, 1790)
Family: Ocypodidae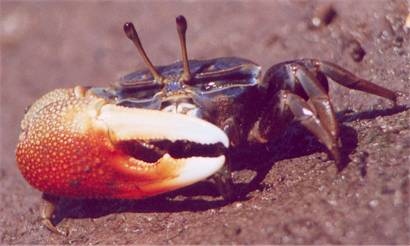 Zone: Lower intertidal areas in relatively exposed, stoney areas (Hartnoll, 1975; Murai et al., 1995; Ruwa, 1997).
Habitat: Burrowing to about 50 cm depth.
Food: Detritus (Icely and Jones, 1978).
Ecological notes: Restricted to sandy-muddy shores with areas of coral rubble, rocks and boulders (Murai et al., 1995). Generally not found in high numbers (Ruwa, 1997).
Distinguishing characteristics: A large sized, narrow fronted species; major claw whitish with a red-orange patch at the base of immobile finger (carapace width about 2.5 cm).
Geographical range: From Red Sea to Tanzania, Zanzibar, Madagascar, Indonesia, Thailand and the central Pacific (Vannini and Valmori, 1981).
References:
Cannicci, S., F. Dahdouh-Guebas and L. Montemagno, 1993. "Field Keys for Kenyan Mangrove Crabs." Museo Zoologico "La Specola", Dipartimento di Biologia Animale e Genetica dell'Università Degli Studi di Firenze, Via Romana 17, I-50125 Firenze, Italia.
Gillikin, D.P., 2000. Factors controlling the distribution of Kenyan brachyuran mangrove crabs: Salinity tolerance and ecophysiology of two Kenyan Neosarmatium species. M.Sc. Thesis, Free University of Brussels, Brussels, Belgium.
Hartnoll, R.G., 1975. "The Grapsidae and Ocypodidae (Decapoda: Brachyura) of Tanzania." J. Zool. Lond. 177:305-328.
Icely, JD and DA Jones, 1978. Factors affecting the distribution of the genus Uca (Crustacea: Ocypodidae) on an East African Shore." Estuarine and Coastal Marine Science 6:315-325.
Murai, M., T. Koga, S. Goshima and S. Poovachiranon, 1995. "Courtship and the evolution of underground mating in Uca tetragonon." J. Crust. Biol. 15(4): 655-658.
Ruwa, R.K., 1997. "Zonation of burrowing crabs in the mangroves of the East Coast of Kenya." In Kjerfve, Björn, Luiz Drude de Lacerdaand El Hadji Salif Diop (eds.). Mangrove ecosystem studies in Latin America and Africa. UNESCO Technical Papers in Marine Science, Paris, France. Pp. 316-324.
Vannini, M. and P. Valmori, 1981. Researchers on the coast of Somalia. The shore and the dune of Sar Uanle. 31. Ocypodidae and Gecarcinidae (Crustacea Brachyura). Monitore Zoologico Italiano 14: 199-226.
home
---
all text and photographs copyright© 2002-2016 David Gillikin and Anouk Verheyden
Created 28 August 2001
Updated June 24, 2016
http://www.mangrovecrabs.com