BRADLEY G. LEWIS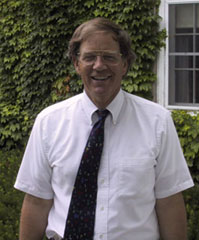 Born July 13, 1947, Aurora, Illinois
Married to Catherine A. (Overhulse) Lewis; no children
Home address:
1164 Van Curler Avenue
Schenectady, New York 12308
(518) 382-0579
Current position:
Professor of Economics, 1999-
Social Sciences Building
Union College
807 Union Street
Schenectady, NY 12308
Phone: (518) 388-6089
Cell: (518) 248-7646
Fax: (518) 388-6988
E-mail: lewisb@union.edu
Education:
Ph.D., 1982, and M.A., 1978, in Economics, University of Chicago
B.A., 1969, with Honors in Economics, Carleton College
Ph.D. Dissertation: "Featureless Plains Featured: The Effects of Nineteenth Century Midwestern Railroads."
Committee chair: Donald N. McCloskey
Previous positions:
Union College, Schenectady, New York:
Director, Management MBA, Graduate Management Institute, 2002-3
Director of Corporate Relations (reporting to VP for College Relations), 2000-2002
Associate Dean for Undergraduate Education (reporting to VP for Academic Affairs),
1995-2000
Associate Professor of Economics, 1985-1999; Assistant Professor of Economics,
1983-85; Instructor of Economics, 1979-83
Carleton College, Northfield, Minnesota
Benedict Distinguished Visiting Professor of Economics, Winter term 2004
Kansai Gaidai University, Hirakata City, Osaka, Japan:
Professor of Business and Economics, 1994-95
Visiting Professor, Fall Semesters, 1989 and 1992
General Electric Company, Schenectady, New York:
Corporate Auditor, Corporate Audit Staff, 1973-75
Manager-General Accounting, 1971-73, and Financial Management Program
trainee, 1969-71, both in Steam Turbine-Generator Products Division
Teaching fields:
Financial Markets (U.S. and Japan); Corporate Finance; International Economics,
Management, and Finance; Monetary Economics; History of Economic Thought
I also supervised as a dean, and have regularly taught, Union's First-Year Preceptorial, a
required reading/writing/discussion course. Current version for Union Scholars (honors)
or regular section: "Who Gets What and Why?"
Primary research fields:
American Economic History; Financial Markets (U.S. and Japan); International
Finance and Economics;
I have also written and spoken regularly on state and local economic issues

Publications in journals and books:
"Social Savings," "Alfred Sloan," and "Nikolaus August Otto" articles. The
Oxford Encyclopedia of Economic History. Oxford University Press, 2003.
"Economics Department" entry. Encyclopedia of Union College History. Union College
Press, 2003.
"The Welfare State and the Accepted Rhetoric of Compassion: A Re-Evaluation." The
Idealist 2 (April/May 1986): 8-11,18.
(With E. Dwight Phaup) "Winners and Losers: Differentiating Between High-Growth
and Low-Growth LDCs." U.S. Aid to the Developing World: A Free Market Agenda.
Edited by Douglas Bandow. Washington, D.C.: Heritage Foundation, 1985.
(With Dan Yaron) "Modeling for Cost-Effectiveness of Varying Degrees of Water Quality Control." In Environmental Policy. Vol. 3. Water Policy, pp. 77-95. Edited by George S. Tolley, Dan Yaron, and Glenn C. Blomquist. Cambridge, Mass.: Ballinger Publishing, 1983.
"Economic Causes of Late Nineteenth-Century Agrarian Unrest: Comment." Journal of Economic History 42 (September 1982): 688-696.

Reviews of the following books in Journal of Economic History (JEH):
Ronald E. Shaw, Canals for a Nation: The Canal Era in the United States, 1790-1860. JEH 53 (June 1993): 430-31.
T.R. Gourvish, British Railways, 1948-1973: A Business History. JEH 48 (December 1988): 937-9.
James A. Ward, Railroads and the Character of America, 1820-1887. JEH 47 (December 1987): 1046-7.
Lloyd J. Mercer, E.H. Harriman: Master Railroader. JEH 46 (December 1986): 1093-5.
Patrick O'Brien, ed., Railways and the Economic Development of Western Europe, 1830-1914. JEH 46 (September 1986): 829-30.
Ralph W. Huenemann, The Dragon and the Iron Horse: The Economics of Railroads in China 1876-1937. JEH 45 (December 1985): 994-5.
Newspaper columns in the Schenectady Gazette (SG), Schenectady Sunday
Gazette (SSG) or (Albany, N.Y.) Times Union (TU):
"Walkway Can Be a Great Urban Space." TU 28 December 2003: B2.
"Don't Dump Mills: Council Should Pay Mills' $115,000 Salary." SSG 4 September 1994: C1.
"City Needs Surplus for Rainy Day." SSG 7 August 1994: F1
"Group Homes: Their Benefits Far Exceed Their Costs." SSG 10 July 1994: E1.
"Zapped: New Cable Regulations Are Hurting Customers." SSG 12 June 1994: F1.
"Who Will Pay to Get Rid of the Whey?" SSG 15 May 1994: F1.
"Pay to Boat: Nothing Wrong with Canal Fees, But Use Them to Improve Canal." SSG 17 April 1994: F1.
"Parking Meters Working Fine in Schenectady." SSG 20 March 1994: F1.
"Amsterdam's Tax Plan a Useful Experiment." SSG 20 February 1994: C1.
"Wrong Number: Don't Try to Thwart Drug Dealers with Rotary Phones." SSG 23 January 1994: E1.
"Nickled and Dimed in New York." SSG 26 December 1993: F1.
"Recycling Far From Cost-Free." SSG 28 November 1993: F1.
"NAFTA Good Deal for Capital Region." SSG 31 October 1993: F1, F4.
"Recycling Won't Eliminate Need for Bottle Bill." SSG 3 October 1993: C1.
"Don't Sell Schenectady Parkland Without Providing Justification." SSG 5 September 1993: C1.
"Cuomo Must Take the Rap for Economy." SSG 8 August 1993: E1.
"State's New Pool Rules Don't Make the Grade." SSG 11 July 1993: E1.
"Tune In: New York State Should Wise Up and Drop Ban on Channel One." SSG 13 June 1993: F1.
"Get Real on Sch'dy Budgets." SSG 16 May 1993: E1.
"New Yardsticks Needed to Measure Investment." SSG 8 December 1991: C1.
"A Lack of Economic Consensus." SSG 10 November 1991: C1.
"The Brave Scalper Who Bought Braves' Tickets Was Serving Society." SSG 13 October 1991: E1.
"Real-Estate Problems Also Bring Opportunities." SSG 15 September 1991: E1.
"Grand Illusion: Deceived by Conventional Wisdom." SSG 18 August 1991: E1.
"Paris Sewers Offer Lessons about Our Modern Society." SSG 21 July 1991: E1, E4.
"U.S.-Mexico Free Trade: Good Deal for Both Sides." SSG 16 June 1991: D1.
"Job Hoppers: Without the Glue of Loyalty, Companies Will Come Apart." SSG 19 May 1991: E1.
"State of Excess: What's New York Getting For the Money It's Spending?" SSG 21 April 1991: C1.
"Taxing the Rich . . . And Taking the Chance They'll Leave." SSG 24 March 1991: D1.
"Up and Down: Government's Record with the Airline Industry Is Mixed." SSG 24 February 1991: C1.
"Postwar Policy: Foster Economic Freedom in the Gulf." SSG 27 January 1991: C1.
"New Year, New Economy." SSG 30 December 1990: C1.
"Rethinking Reaganomics: Doomsayers Seize on Failures, but They Conveniently Forget Eight Years of Growth." SSG 2 December 1990: C1.
"Budget Deal Cashed in Principles for Politics." SSG 4 November 1990: C1.
"Americans Are Tying Themselves in Knots over Oil." SSG 7 October 1990: C1.
"Oil Crunch: Pain from Crisis May Be Less Than We Think." SSG 9 September 1990: C1.
"Financial System Needs Overhaul." SG 11 August 1990: B11.
"Deficit No Reason to Raise Taxes." SG 14 July 1990: B11.
"People Shouldn't Lose Sleep Over Federal Budget Deficit." SG 16 June 1990: B11.
"Federal Budget Debate Like Parent With Wayward Teen." SG 19 May 1990: B11.
"Trade Deal May Not Help U.S." SG 21 April 1990: B17.
"No One in Control of Global Market." SG 24 March 1990: B17.
"Rent Control Helps a Few, Hurts Many." SG 24 February 1990: B17.
"Price Controls Make Mess of Markets." SG 3 February 1990: B17.
"Japanese Are More Successful Because They Try Harder." SG 6 January 1990: B17.
"Economic Tolerance Ought to Include Japan." SG 9 December 1989: 41.
"Japanese Purchases Are Just What America Said It Wanted." SG 11 November 1989: 41.
"Japan's Housing Costs Deserve Reputation." SG 14 October 1989:39.
"Japanese Prices Not So Bad, After All." SG 16 September 1989: 37.
"Investors Could Find Home Boom Busting." SG 26 August 1989: 35.
"Kenya's Ivory-Burning: Symbol or Substance?" SG 29 July 1989: 35.
"Regents Are Selective in Choice of Dragons." SG 1 July 1989: 33.
"Social Security Makes a Dubious 'Contract'." SG 3 June 1989: 37.
Recent management seminar presentations:
Presentations comparing Japanese and American business practices, to East and Southeast Asian managers participating in seminars organized by Pacific Resource Exchange Center, Osaka, Japan, 1994-96
One-day seminar for members of Energy Pricing Task Force, New York State Power Pool, Guilderland, New York, 1993
Recent unpublished papers presented:
"Teaching Time Value of Money: Conundrums of Connecting the Abstract and Concrete." February 2006. Presented at Annual Meeting of the Eastern Economic Association, February, 2006.
"Descent into Dominance: The Political Economy of the American Auto Industry, 1929-1941." Revised December 2003. Presented at Columbia University Seminar in Economic History, December 2003, and Carleton College Economics Department Seminar, February 2004.
(With David Hayes) "Target Prices and Stock Visibility: Do Analysts Just Use the Gordon Model?" Presented at Union College Economics Department Seminar,
October 2003.
Selected conferences and seminars at which other professional papers were presented:
Union College Economics Department Seminars and Workshops (1984, 1986, 1993)
Ninth Congress, International Economic History Association, Berne, Switzerland (1986)
First International Cliometrics Conference, Evanston, Illinois (1985)
Columbia University Seminar in Economic History (1984)
Eastern Economic Association (1984)
Dissertation-related conference and seminar presentations were given between 1978 and 1982 at the Workshops in Economic History and Resource Economics, University of Chicago; Economic History Seminar, Northwestern University; Cliometrics Conference, University of Chicago; and two annual meetings of the Eastern Economic Association.
Additional finance and accounting credentials:
Certificate of Distinguished Performance for high scores on first annual Examinations for Certificate in Management Accounting, 1972
Graduate of General Electric Company Financial Management Program, 1971
Peer review activities for Middle States Association of Colleges and Schools:
Member of site visit accreditation teams evaluating:
Neumann College, Aston, Pennsylvania 2006
Waynesburg College, Waynesburg, Pennsylvania 2004
Juniata College, Huntingdon, Pennsylvania, 2003
Goucher College, Towson, Maryland, 1998
Joint Military Intelligence College, Washington, D.C., 1998
National Defense University, Washington, D.C., 1996
Richmond College, American International University in London, England, 1996
External reviewer of Periodic Review Reports submitted by Franklin & Marshall College and Lafayette College, 1994
Other recent peer review work:
Referee for Explorations in Economic History, 2005
Foundation for the Improvement of Post-Secondary Education, grant reader, 2002
Reviewer for book on railroads for University of Chicago Press, 2000
Member of external review team evaluating Department of Economics and Management, Goucher College, Towson, Maryland, 2000
External reviewer for general education program at Marywood College, Scranton, Pennsylvania, 1996
Other recent professional activities:
Participant in Karrass Effective Negotiating Seminar, July 2006
Seminar Associate, Columbia University Seminar in Economic History (member most years since 1983; co-chair, 2003-5 and 1987-88)
Participant in1996 Central Banking Seminar, Federal Reserve Bank of New York
Attended over a dozen conferences on writing, diversity, curriculum, the freshman year, accreditation, religious pluralism, fundraising, executive MBA programs, and international education 1995-present
Major Union College administrative and service activities before 1995 and after 2003:
Chair, Faculty Appeals Committee, 2005-
Informal faculty advisor for Union College Men's Hockey Team, 2005-
Member, Department Reappointment Review Committee for Prof. Younghwan Song, 2005
Faculty Advisor, Union College Student Investment Club, 1994 and 1986-92
Director, Managerial Economics Program, 1994 and 1986-92
Member, Academic Affairs Council, 1993-94 and 1987-90 (chair, 1994)
Member, Assessment Advisory Board, 1994 and 1991-92
Member, Economics Department hiring committee, 1993-94
Member, Task Force on Teaching Credit in the Arts and Sciences, 1994
Director, Writing Across the Curriculum Program, 1990-92
Chair, Social Sciences Division and member, Faculty Executive and Planning and Priorities Committees, 1991-92
Served on tenurability committees for Prof. Barbara Boyer (Biology, 1989; chair) and Prof. Kimmo Rosenthal (Mathematics, 1986; member)
Member, Curricular Alternatives Committee, 1987
Member, Faculty Review Board, 1982-84
Member, Alumni Gym Renovation Committee, 1983-84
Member, Academic Affairs Council Sub-Council on the Library, 1981-83
Major civic, nonprofit, church, and other educational work since 1985:
Schenectady Metroplex Development Authority
Member, Board of Directors, 2000-
Vice Chair, 2004 -
Secretary and Chair of Fiscal Audit Committee, 2003-4.
City of Schenectady
Member, Planning Commission, 2000-
Member, Citizens advisory group for design of new downtown Department of Transportation building, 2001
Member, Brownfields Task Force, 2001
Ran for Schenectady City Council (unsuccessfully), 1999
Schenectady Economic Development Corporation
Member, Board of Directors, 2000-5
Schenectady Museum
Member, Board of Trustees, 2003- ; Secretary, 2005-present; Treasurer, 2004-5;
First Reformed Church, Schenectady, New York (member since 1980)
Served as Senior Elder (2002-4), Elder (1993-96, 2000-4), Deacon (1985-88
Co-chair, Facilities Renovation Committee, 2000-2002
Editor, Tower Crier (monthly church newsletter), 1996-2002
Co-Chair, Long Range Planning Committee, 1993-97
Served on three pastoral search committees as co-chair (1990-92), chair (1987-88), member (1985-86)
Reformed Church in America
President of the General Synod, 2006-7; Vice President of the General Synod, 2005-6
Member, Ministerial Formation Coordinating Agency Board of Trustees, 1998-2005 (moderator, 2001-5 )
Member, General Synod Council, 2002-
Member, Board of Benefits Services, 2005-
Participant, Leadership Summit on Ordained Pastoral Leadership, 2003
Participant in working group to restructure General Synod Council, 2002-2003
Regional Synod of Albany, Reformed Church in America
Member, Ad Hoc Committee to generate plan for major re-visioning/restructuring of the Synod, 2004-6
Chair, Search Committee for Synod Executive, 2000-2001
Member, Synod Executive Committee and Fowler Camp and Conference Center Board of Trustees, 1988-97 (except 1994-95)
Member, Synod Finance Committee, 1991-97 (chair except 1994-95)
Member, Personnel Committee, 1986-91 (chair, 1988-91)
Classis of Schenectady, Reformed Church in America
Elder Delegate, 2002-
Chair, Special Committee to Review the Petition of Princetown Reformed Church to leave the denomination, 1997-98
Union College Campus Protestant Ministry
Member most years, 1982-present (chair twice)
New Brunswick Theological Seminary, New Brunswick, New Jersey
Member, Board of Trustees, 2005-
Empire Education Corporation (Mildred Elley), Latham, New York
Member, Board of Trustees, 2006-
Carleton College Alumni Annual Fund
Alumni Annual Fund Class Agent (Class of '69), 1995-present
Chair, 35th Reunion Gift Committee; co-chair, 30th Reunion Gift Committee; member, 25th Reunion Gift Committee
Miscellany:
Hobbies include amateur photography, swimming, golf, singing and (when in Japan) ceramics
I have been chairman of the Glen Hills Club, a small cooperative membership outdoor swimming facility, since 1998
Two of my photographs were accepted for the National Museum of Racing and Hall of Fame's Winning Colors show in 2000

Last Updated: 07/26/06 10:21 PM