Carbonate Sedimentology
Geology 305
Union College, Schenectady NY

This web page shows some of the highlights of the course Carbonate Sedimentology at Union College in Schenectady NY. The course meets in the fall term and concludes with a week at the Gerace Research Centre in the eastern Bahamas. This course is taken primarily by students in Geology, Biology, and Environmental Science and Policy.
Course includes a required week field trip to the Bahamian Field station on San Salvador Island. Prerequisites:
Option 1 (GEO): i) Geology 100 or 102 or 101 or 107; and ii) Geology 201 or 202 or permission of instructor.
Option 2 (BIO): i) Geology 100 or 101 or 102 or 107; and ii) Ecology; and iii) permission of instructor.
For either option, students must meet basic term abroad requirements and must submit an application.


Overview and Setting: Remote and wild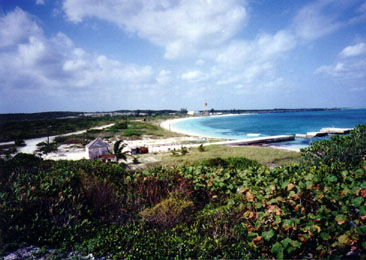 The Bahamian Field Station sits along the shores of Graham's Harbor,
in a protected shallow-marine environment.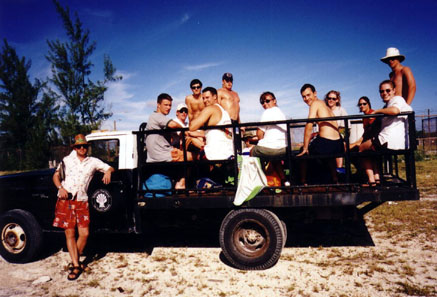 San Salvador is a small island, only about 20 km long. Transportation to
and from the field station is on open air trucks.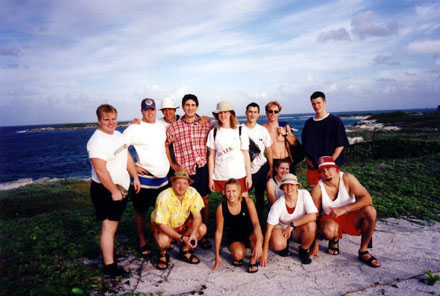 The field program is based on non-stop field projects in small groups.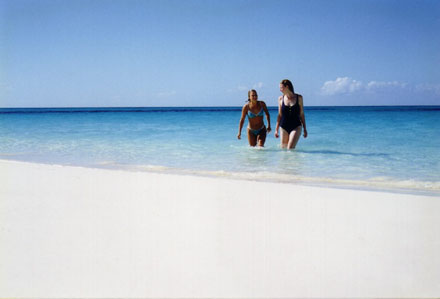 San Salvador is a remote and unspoiled island in the far eastern Bahamas.
Here, students enjoy a quick swim on one of
the pristine beaches.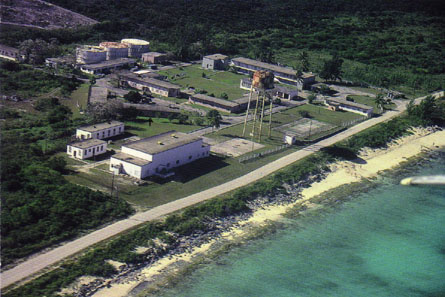 The Bahamian Field Station as seen from the air
(photo by A. Curran, Smith College)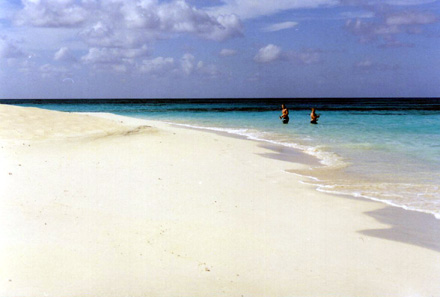 Snorkeling on Fernandez Bay. Almost daily trips to the reefs reinforce
the concepts learned.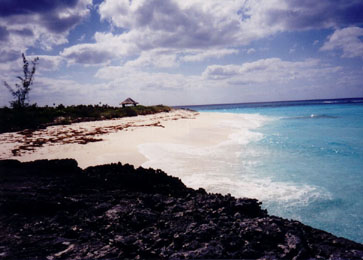 Grotto Beach. Outcrops of reefs, live patch reefs, and an excellent beach:
perhaps the most scenic beach on the island.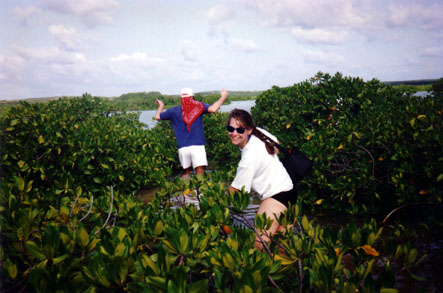 Mangroves are part of most sheltered marine environments on San Salvador.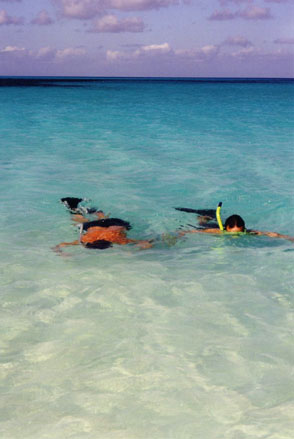 Watching sediment transport in the shoreface.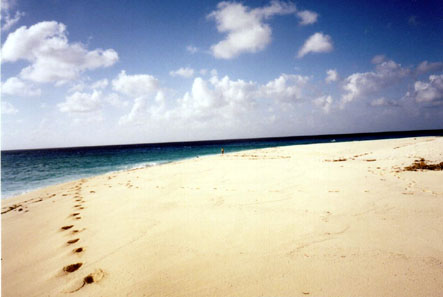 Southwest Beach. A high energy, steep beach that has choked the reefs.


KARST and CAVES- Sea level indicators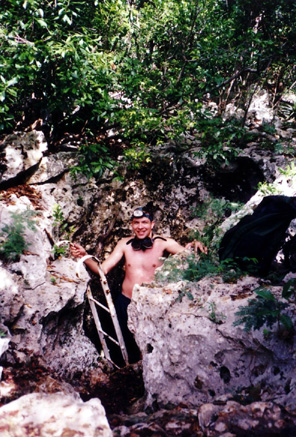 The entrance to Lighthouse cave.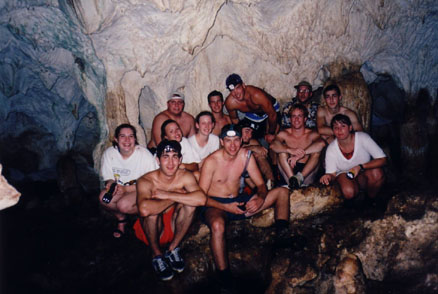 A class of students having class inside the Lighthouse cave,
a flank-margin cave formed in rock made of wind blown carbonate sand.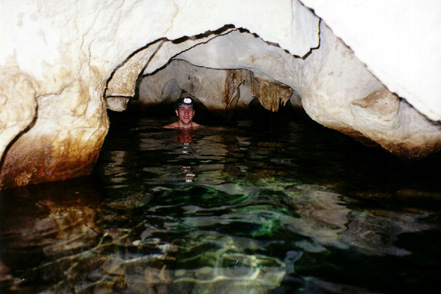 Lighthouse Cave involves swimming though phreatic channels.

Amazing REEFS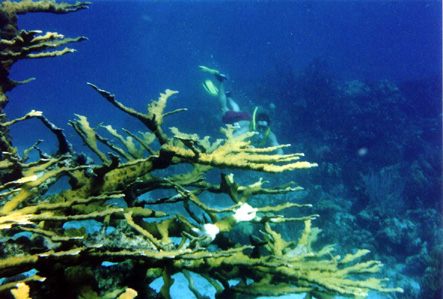 A student dives down to inspect a spectacular cluster of Acropora Palmata,
one of the corals characteristic of high-energy, exposed conditions.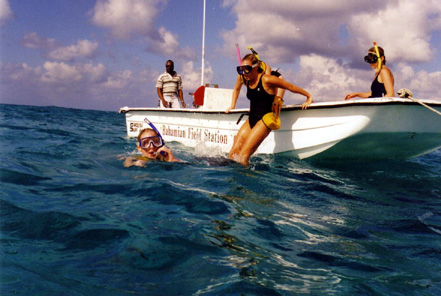 Weather permitting, a trip to Gaulin Reef, just offshore to the
north of the field station, is a highlight of the trip.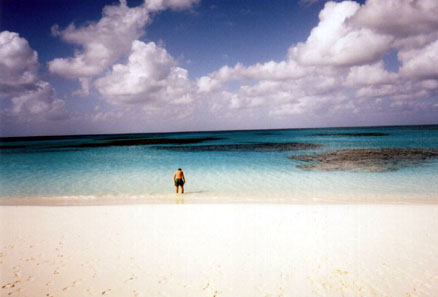 Lindsey Reef is comprised of small isolated patch reefs (dark areas) close
to shore. Like many reefs on San Salvador, shore access is simple.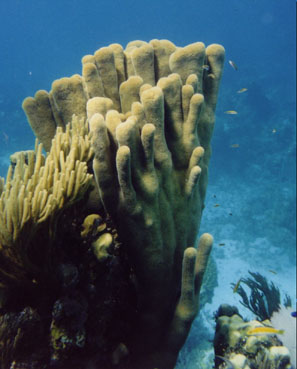 Pillar coral is just one of the species encountered in the backreef.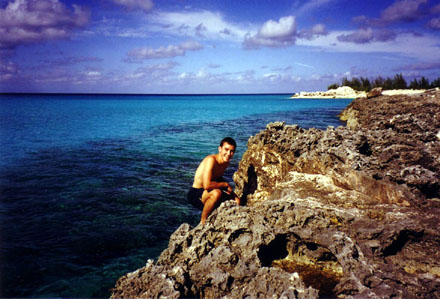 Exposures of reefs of Sangamon age (c. 125 ka) are excellent.
Here Stephan Bagnato investigates the well known Cockburntown reef.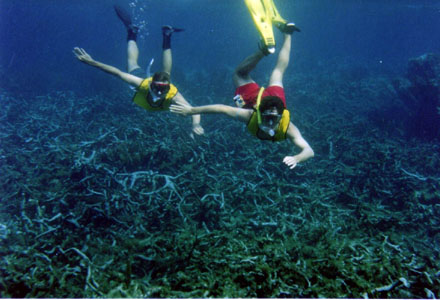 Snorkeling over a heavily damaged thicket of Acropora cervicornis.

Lakes and CLIMATE change and ENVIRONMENTAL Chage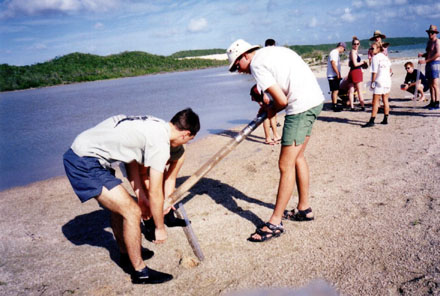 The shores of Great Lake. Here on a beach made almost entirely of
small shells. A series of cores are taken to try to reconstruct the
evolution of this lacuatrine shoreline.
(Alex Bartholomew and Stephan Bagnato are extruding this core).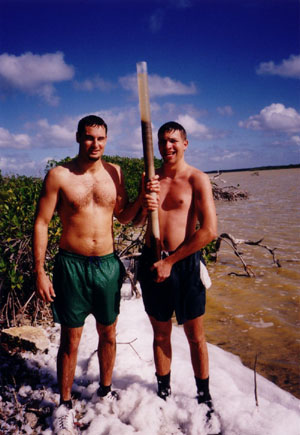 A 1 meter core (about 2000 yr) from Storrs Lake. The
layers tell an interesting story about sea level change.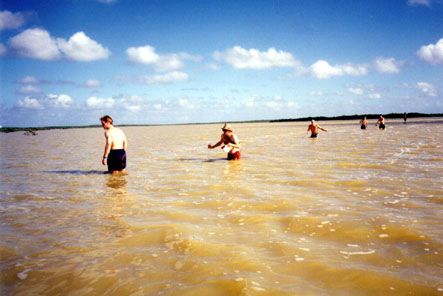 Storrs lake transect. This hypersaline lake has an excellent sediment record
that tells of the death of a lagoon and hurricane impacts.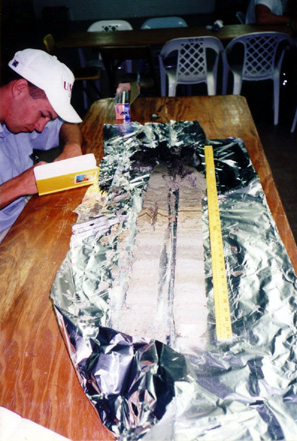 Cores from lakes are taken back to the lab for analysis.
This analysis includes determining facies changes
due to climate change, sea level change, and catastrophic
events such as hurricanes.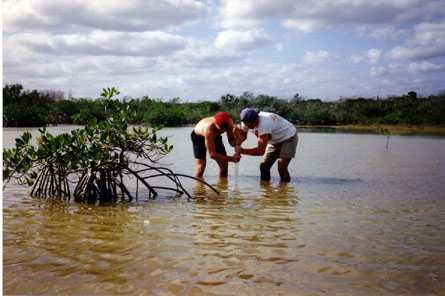 Taking a short sediment core in the Pigeon Creek Lagoon. This core is used to
reconstruct when and how the lagoon became isolated from the open
ocean, and then how often this area recieved hurricane deposits.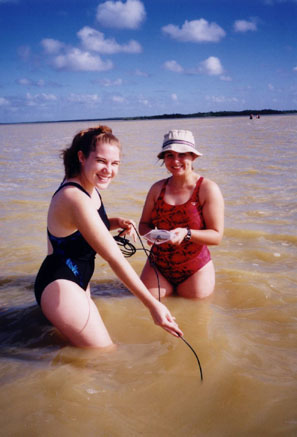 Storrs Lake is famous for its stromatolites, which thrive
here due to constantly high average salinity.
Here Sarah Shoemaker and Lacie Quintin determine
that the salinity is about 70 ppt.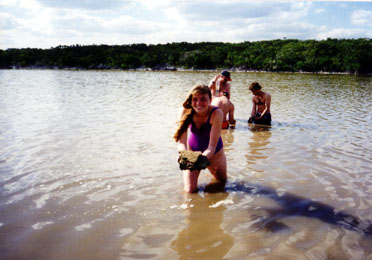 Amy Doughtery retrives algal mat from a hypersaline pond.

Inspection of the algal mat.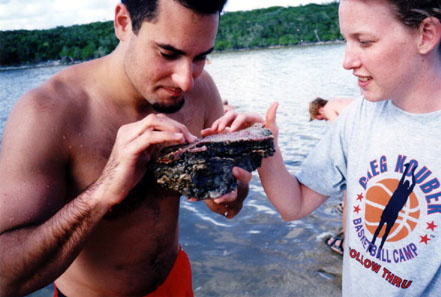 Close inspection of the algal mat.

Pleistocene and Holocene Bedrock - clues to the past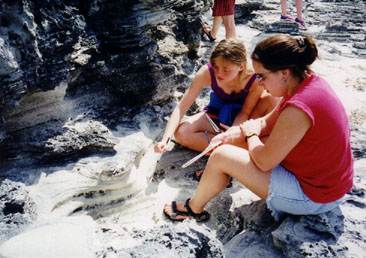 Afternoon lab on coastal outcrops. Students use sedimentary
structures to determine depositional environments.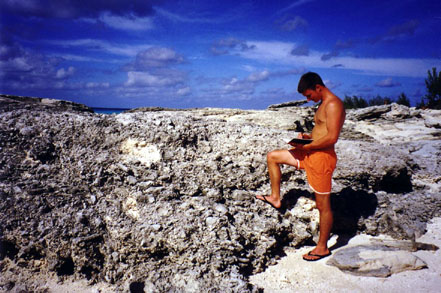 Reef facies that are about 125 ka are studied to determine sea level and the
depositional setting at the time.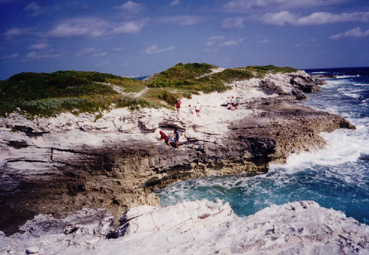 North Point, walking distance from the field station. Beautiful outcrops that
tell and interesting story of Holocene transgression.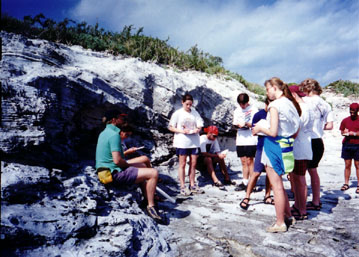 Class on North Point. Students use clues in the sediments to
reconstruct depositional environments.


There is also a separate page of Photos from a previous Class.
---
Back to Home page for J.I. Garver
Back to Union Geology Department

Back to Carbonate Sedimentology
---
This document can be located from http://idol.union.edu/~garverj/garver/garver.htm
© Geology Department, Union College, Schenectady N.Y. 12308-3107.All rights reserved. No part of the document can be copied and/or redistributed, electronically or otherwise, without written permission from J.I.Garver, Geology Department, Union College, Schenectady NY, 12308-2311, USA (except photo by A. Curran).
First posted: October 1996; Last updated: June 2009
---