| | |
| --- | --- |
| A field guide to Kenyan mangroves | |
Epixanthus dentatus (White, 1847)
Family: Xanthidae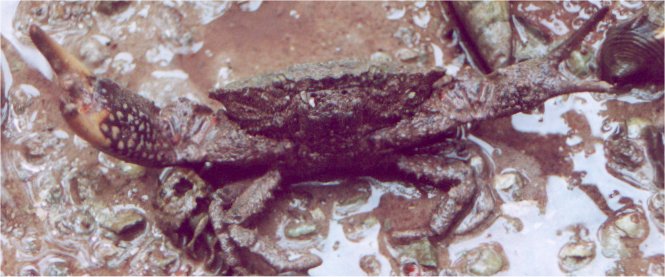 This muddy aggressive mangrove crab is a fierce predator that will snap it's claws at anything it thinks it can eat (including your feet).
Zone: Equally inhabits C. tagal and R. mucronata zones (Gillikin, 2000).

Habitat: natural 'dens' or crevices (Cannicci et al., 1998).

Food: Omnivorous (Dahdouh-Guebas et al., 1999), but preys mostly on crabs (Cannicci et al., 1998).

Ecological notes: A strong ambush predator that can climb roots. Occurs in densities of 0.25 ind/m2 and is more active at night (Cannicci et al., 1998).
Distinguishing characteristics: Five big teeth on the antero-lateral carapace margins. Dimorphism in claws with one a thin claw and the other a thick crushing claw. It should also be noted that most specimens of E. dentatus are relatively small (~40 mm carapace width) when compared to the individual with a carapace width of 69.1 mm found at the creek's edge in Gazi Bay (Gillikin, 2000).
Geographical range: Throughout the Indo-west-Pacific region, from East Africa to northern Australia (Cannicci et al., 1998).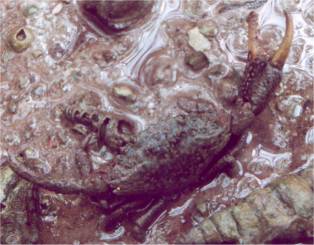 References:
Cannicci, S, RK Ruwa, M Giuggioli and M Vannini, 1998. "Predatory activity and spatial strategies of Epixanthus dentatus (Decapoda: Oziidae), an ambush predator among the mangroves." Journal of crustacean biology. 18(1): 57-63
Cannicci, S., F. Dahdouh-Guebas and L. Montemagno, 1993. "Field Keys for Kenyan Mangrove Crabs." Museo Zoologico "La Specola", Dipartimento di Biologia Animale e Genetica dell'Universitą Degli Studi di Firenze, Via Romana 17, I-50125 Firenze, Italia.
Dahdouh-Guebas, F., M. Giuggioli, A. Oluoch, M. Vannini & S. Cannicci, 1999. "Feeding habits of non-ocypodid crabs from two mangrove forests in Kenya." Bull. Mar. Sci. 64(2): 291-297.
Gillikin, D.P., 2000. Factors controlling the distribution of Kenyan brachyuran mangrove crabs: Salinity tolerance and ecophysiology of two Kenyan Neosarmatium species. M.Sc. Thesis, Free University of Brussels, Brussels, Belgium.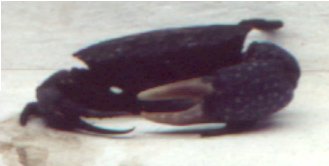 ---
all text and photographs copyright© 2002-2016 David Gillikin and Anouk Verheyden
Created 28 August 2001
Updated June 24, 2016
http://www.mangrovecrabs.com