| | |
| --- | --- |
| A field guide to Kenyan mangroves | |
Eurycarcinus natalensis (Krauss, 1843)
Family: Xanthidae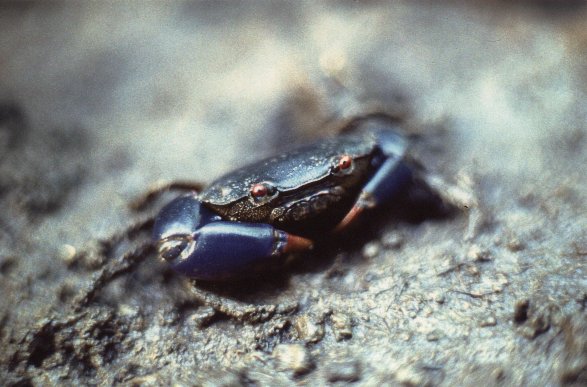 This is a beautifully colored mangrove crab, also a predator with strong claws.
Zone: Edge of Avicennia marina zone to creek edge, more common in muddy regions (Gillikin, 2000). Macnae (1968) found this species from the seaward fringe into the Rhizophora and Bruguiera forests.
Habitat: Around the base of trees and roots, utilizes cervices in mud (Dahdouh-Guebas et al., 1999; Gillikin, 2000)

Food: Ambush predator, carnivorous, eating mostly other crustaceans (Dahdouh-Guebas et al., 1999).

Ecological notes: Hides in mud to ambush predators.

Distinguishing characteristics: Purple color, smooth carapace, claw tips white, a single central notch on the frontal margin. Carapace width about 4 cm.

Geographical range: Kenya (Dahdouh-Guebas et al., 1999), Mozambique (Clark and Paula, 2003), ???
References:
Cannicci, S., F. Dahdouh-Guebas and L. Montemagno, 1993. "Field Keys for Kenyan Mangrove Crabs." Museo Zoologico "La Specola", Dipartimento di Biologia Animale e Genetica dell'Universitą Degli Studi di Firenze, Via Romana 17, I-50125 Firenze, Italia.
Clark, P.F., Paula, J., 2003. Descriptions of ten xanthoidean (Crustacea : Decapoda : Brachyura) first stage zoeas from Inhaca Island, Mozambique. Raffles Bulletin of Zoology 51(2): 323-378.
Dahdouh-Guebas, F., M. Giuggioli, A. Oluoch, M. Vannini & S. Cannicci, 1999. "Feeding habits of non-ocypodid crabs from two mangrove forests in Kenya." Bull. Mar. Sci. 64(2): 291-297.
Gillikin, D.P., 2000. Factors controlling the distribution of Kenyan brachyuran mangrove crabs: Salinity tolerance and ecophysiology of two Kenyan Neosarmatium species. M.Sc. Thesis, Free University of Brussels, Brussels, Belgium.
Macnae, W., 1968. A General Account of the Fauna and Flora of Mangrove Swamps and Forests in the Indo-West-Pacific Region. Advanced Marine Biology 6:73-270.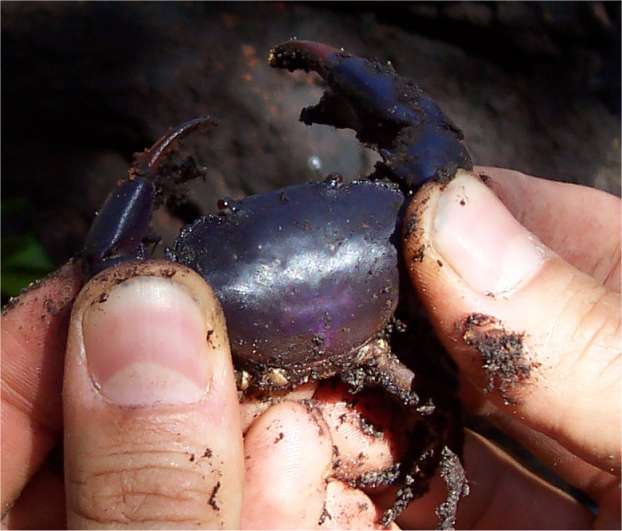 ---
all text and photographs copyright© 2002-2016 David Gillikin and Anouk Verheyden
Created 28 August 2001
Updated June 24, 2016
http://www.mangrovecrabs.com