| | |
| --- | --- |
| A field guide to Kenyan mangroves | |
Ozius guttatus H. Milne Edwards 1834
Family: Xanthidae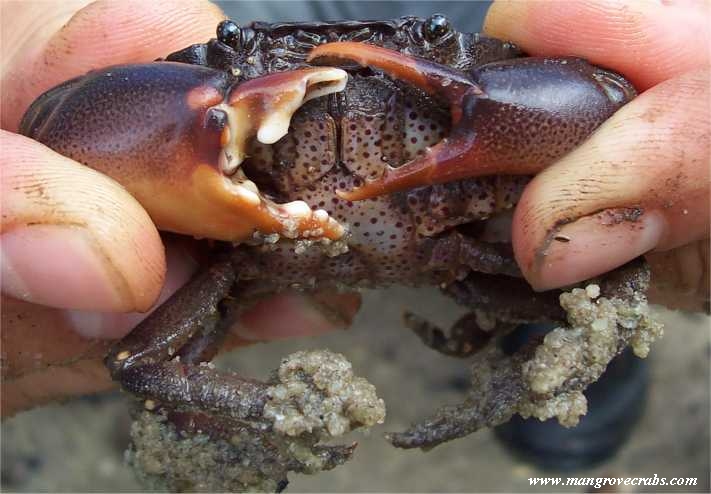 Zone: Edge of Avicennia marina or S. alba zone to creek edge, more common in muddy regions where it can hide well.
Habitat: Around the base of trees and roots, or debris.

Food: Ambush predator, carnivorous, eating mostly other crustaceans and molluscs (Chelazzi et al., 1983).

Ecological notes: Hides in mud to ambush predators.

Distinguishing characteristics: A large crab (Width up to 8cm) with strongly dimorphic claws. They have a diagnostic spotted abdomen. Claws similar to E. dentatus, but carapace edge is smoother.

Geographical range: Kenya, Seychelles Islands archipelago (De Muylder, 1998), Singapore (Tan & Ng, 1988), Indonesia (Yeo et al., 2004)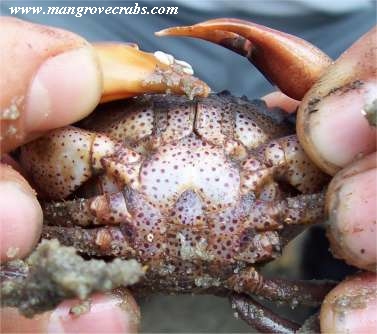 References:
Chelazzi, G., S. Focardi, J. L. Deneubourg, & R. Innocenti, 1983. Competition for the home and aggressive behaviour in the chiton Acanthopleura gemmata (Blainville) (Mollusca: Polyplacophora). Behavioral Ecology and Sociobiology, 14: 15 - 20.
De Muylder, E., 1998. Land crabs of the Seychelles Islands (online at: http://www.geocities.com/ericdemuylder/index.htm)
Tan, L.W.H. & Ng, P.K.L., 1988. A Guide to Seashore Life. The Singapore Science Centre, Singapore. 160 pp. (online at http://mangrove.nus.edu.sg/pub/seashore/)
Yeo, D.C.J., D.L. Rahayu & P.K.L. Ng, 2004. BRACHYURA (CRUSTACEA) OF THE ANAMBAS EXPEDITION 2002.THE RAFFLES BULLETIN OF ZOOLOGY 2004 Supplement No. 11: 79-88.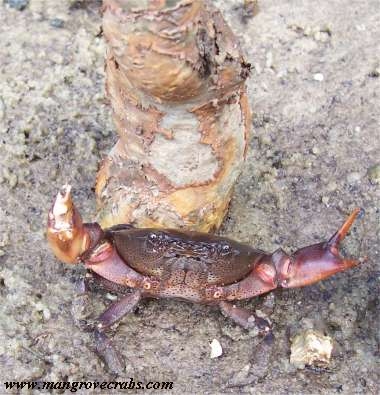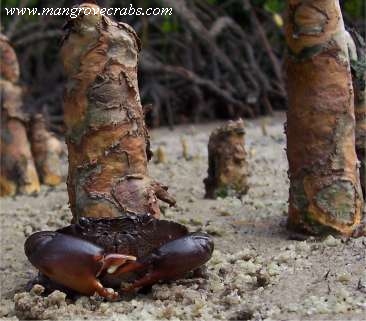 ---
all text and photographs copyrightŠ 2002-2016 David Gillikin and Anouk Verheyden
Created 28 August 2001
Updated June 24, 2016
http://www.mangrovecrabs.com