| | |
| --- | --- |
| A field guide to Kenyan mangroves | |
Parasesarma leptosoma Hilgendorf, 1896
Family: Sesarmidae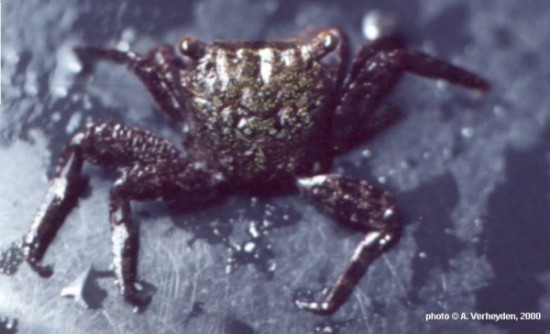 Zone: Rhizophora mucronata and Bruguiera gymnorrhiza forests - very common in Dabasso Kenya (Mida Creek).
Habitat: Climbs on Rhizophora mucronata and Bruguiera gymnorrhiza trees; strictly mangrove dependent.
Food: Consumes fresh leaves from the tree. Usually found on Rhizophora mucronata (Vannini and Ruwa, 1994), but a preliminary experiment hints that they prefer Bruguiera gymnorrhiza leaves (Gillikin, 2000). Also eats algae, mollusks, insects and annelids (Dahdouh-Guebas et al., 1999).
Ecological notes: Adapted an aerial strategy where they can climb trees to avoid the incoming tide; never seen on the forest floor. Both true arboreal species, the American Aratus pisonii Milne-Edwards, 1837 and the East African S. leptosoma, show morphological adaptations to life in the trees , namely a flat carapace, relatively long walking leg carpus and propodus and short dactylus (Hartnoll, 1988; Vannini et al., 1997).
Distinguishing characteristics: Found climbing trunks of trees to canopy; propodus three times longer than dactylus, carpace width ~ 2 cm.
Geographical range: East Africa, including Mozambique and South Africa (Emmerson et al., 2003).
References:
Cannicci, S., F. Dahdouh-Guebas and L. Montemagno, 1993. Field Keys for Kenyan Mangrove Crabs. Museo Zoologico "La Specola", Dipartimento di Biologia Animale e Genetica dell'Università Degli Studi di Firenze, Via Romana 17, I-50125 Firenze, Italia.
Dahdouh-Guebas, F., M. Giuggioli, A. Oluoch, M. Vannini & S. Cannicci, 1999. Feeding habits of non-ocypodid crabs from two mangrove forests in Kenya. Bull. Mar. Sci. 64(2): 291-297.
Emmerson, W., Cannicci, S., Porri, F., 2003. New records for Parasesarma leptosoma (Hilgendorf, 1869) (Crustacea : Decapoda : Brachyura : Sesarmidae) from mangroves in Mozambique and South Africa. AFRICAN ZOOLOGY 38(2): 351-355.
Gillikin, D.P., 2000. Factors controlling the distribution of Kenyan brachyuran mangrove crabs: Salinity tolerance and ecophysiology of two Kenyan Neosarmatium species. M.Sc. Thesis, Free University of Brussels, Brussels, Belgium.
Hartnoll, R.G., 1988. Evolution, systematics, and geographical distribution. In: W.W. Burggren and B.R. McMahon (eds.) Biology of the Land Crabs Cambridge University Press. Cambridge, UK. Pp 6-54.
Vannini, M. and R.K. Ruwa, 1994. Vertical migrations in the tree crab Sesarma leptosoma (Decapoda, Grapsidae). Marine Biology 118:271-278.
Vannini, M., S. Cannicci and R.K. Ruwa, 1995. Effect of light intensity on vertical migration of the tree crab, Sesarma leptosoma Hilgendorf (Decapoda, Grapsidae). Journal of Experimental Marine Biology and Ecology 185:181-189.
Vannini, M., A. Oluoch and R.K. Ruwa, 1997. Tree-climbing decapods of Kenyan mangroves. In Kjerfve, Björn, Luiz Drude de Lacerdaand El Hadji Salif Diop (eds.). Mangrove ecosystem studies in Latin America and Africa. UNESCO Technical Papers in Marine Science, Paris, France: 325-338.
---
all text and photographs copyright© 2002-2016 David Gillikin and Anouk Verheyden
Created 28 August 2001
Updated June 24, 2016
http://www.mangrovecrabs.com