| | |
| --- | --- |
| A field guide to Kenyan mangroves | |
Sesarmoides longipes Krauss, 1843
Family: Sesarmidae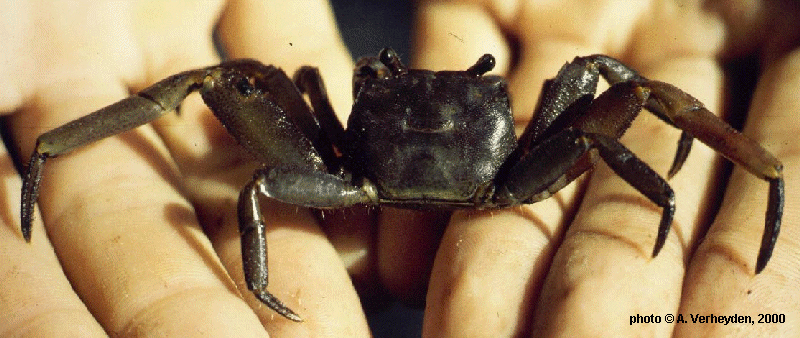 Zone: from A. marina landward zone to creek edge (Gillikin, 2000).
Habitat: In and around trees, under bark, climbs trunks.
Food: Not known, but probably forages on algae, leaves and insects like Selatium elongatum.
Ecological notes: Very rare to find in the mangroves of Kenya. Tends to avoid water with approaching tide. Often found hiding behind bark of dead trees. Never spotted on floor of mangroves. Emmerson (1994) records this as a slow moving lethargic species, however, our experience shows that they are rather fast and elusive. A berried female was found on a landward A. marina tree in Mida creek Kenya in November 1998.
Distinguishing characteristics: 4th leg about 2.5-3.0 times longer than anterior width of the carapace (carapace width ~ 2.5 cm). Note that Sesarmoides longipes is often referred to as Sesarma longipes in the literature.

Geographical range: .From Madagascar, East Africa, the Andaman Islands, the Seychelles (Macnae, 1968) and South Africa (Emmerson, 1994)
References:
Cannicci, S., F. Dahdouh-Guebas and L. Montemagno, 1993. "Field Keys for Kenyan Mangrove Crabs." Museo Zoologico "La Specola", Dipartimento di Biologia Animale e Genetica dell'UniversitÓ Degli Studi di Firenze, Via Romana 17, I-50125 Firenze, Italia.
Emmerson, W.D., 1994. A note on three uncommon southern African grapsids, Helice leachii Hess, 1865, Sesarma (Sesarma) longipes Krauss, 1843 and Sesarma (Sesarma) smithi H. Milne Edwards, 1853. Crustaceana 67(3): 316-323.
Gillikin, D.P., 2000. Factors controlling the distribution of Kenyan brachyuran mangrove crabs: Salinity tolerance and ecophysiology of two Kenyan Neosarmatium species. M.Sc. Thesis, Free University of Brussels, Brussels, Belgium.
Macnae, W., 1968. A General Account of the Fauna and Flora of Mangrove Swamps ad Forests in the Indo-West-Pacific Region. Advanced Marine Biology 6:73-270.
home
---
all text and photographs copyrightę 2002-2016 David Gillikin and Anouk Verheyden
Created 28 August 2001
Updated June 24, 2016
http://www.mangrovecrabs.com