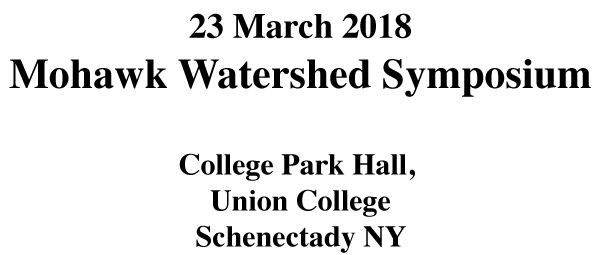 This conference has past. Thanks to all who attended.
The 2019 MWS web page is here.
PHOTOS from the event are here.
Reconnect with friends and colleagues working in the basin, and get up to speed with the latest developments in the watershed. The Geology Department at Union College will host the Tenth Symposium on the physical aspects of the Mohawk Watershed in New York State. The meeting highlights recent and on-going work in the watershed during oral and poster presentations and technical sessions.
The day-long conference will be followed by a reception. We continue to place emphasis on poster presentations, which means a reduction in the number of slots of volunteered talks, and an increase the number of posters and the time for posters. You can see summaries and abstracts volumes from previous meetings at the Main MWS website.
_______________________________________________
KEY ITEMS

• Registration is open, and early registration ends 10 March. PLEASE pre-register for this meeting.

• FULL PROGRAM and Schedule as a PDF is HERE.

• Abstract Volume (2018) can be downloaded here (this is a 4 Mb PDF from Researchgate)

(all conference participants receive print copy at registration)

_______________________________________________

INVITED SPEAKERS

Dan Shapley, Riverkeeper

Citizen Science to Community Action in the Hudson River:

A Case Study in Protecting a River Drinking Water Supply

Bill Nechamen, Nechamen Consulting, LLC
Schenectady's Historic Stockade: Realistic Options for Flood Mitigation

Ellen McHale, Utica College
In Harm's Way: Community Responses to Hurricane Irene and Tropical Storm Lee

Thomas Suro, Frederick J Spitz, and Elizabeth Nystrom, USGS NJ Water Science Center
Development of a water-quality model for the Mohawk River

Damian Helbling, Civil and Environmental Engineering, Cornell University
Screening for agricultural and wastewater-derived micropollutants at the

mouth of the Mohawk River

Cara Ewell Hodkin, Dept of Env and Forest Biology, SUNY College of Env Science and Forestry
Current research on blueback herring in the Mohawk River

John I Garver, Geology Department, Union College
Ice Jam flooding on the lower Mohawk River and the 2018 Ice jam event

Becky Shirer and Chris Zimmerman, The Nature Conservancy, Albany NY
A spatial assessment of priority areas for conservation and

climate adaptation in the Schoharie Creek Watershed.

Christine Hatch, Department of Geosciences, University of Massachusetts-Amherst

Climate change, weathering the flood and supporting

RiverSmart Communities

Special presentation: Alexander J. Smith & Katherine Czajkowski, NYS DEC, Mohawk River Basin Program

Working towards a swimmable, fishable, resilient Mohawk River Watershed: Updating the Mohawk River Basin Action Agenda for 2018

_______________________________________________
TECHNICAL ISSUES FOR POSTERS, TALKS, and ABSTRACTS
Here are the requirements for POSTERS, TALKS, and Here are the ABSTRACT requirements (mainly formatting for submission - see the WORD template). Submitted contributions in the form of extended abstracts are required for either oral or poster presentations. The abstract volume will be available to registered participants at the meeting and wiil then be available here as a free downloadable PDF. All presentations, whether oral or poster are required to have an accompanying abstract that must pass review. Please see abstracts from previous years if submitting for the first time. The abstract deadline was 23 Feb 2018.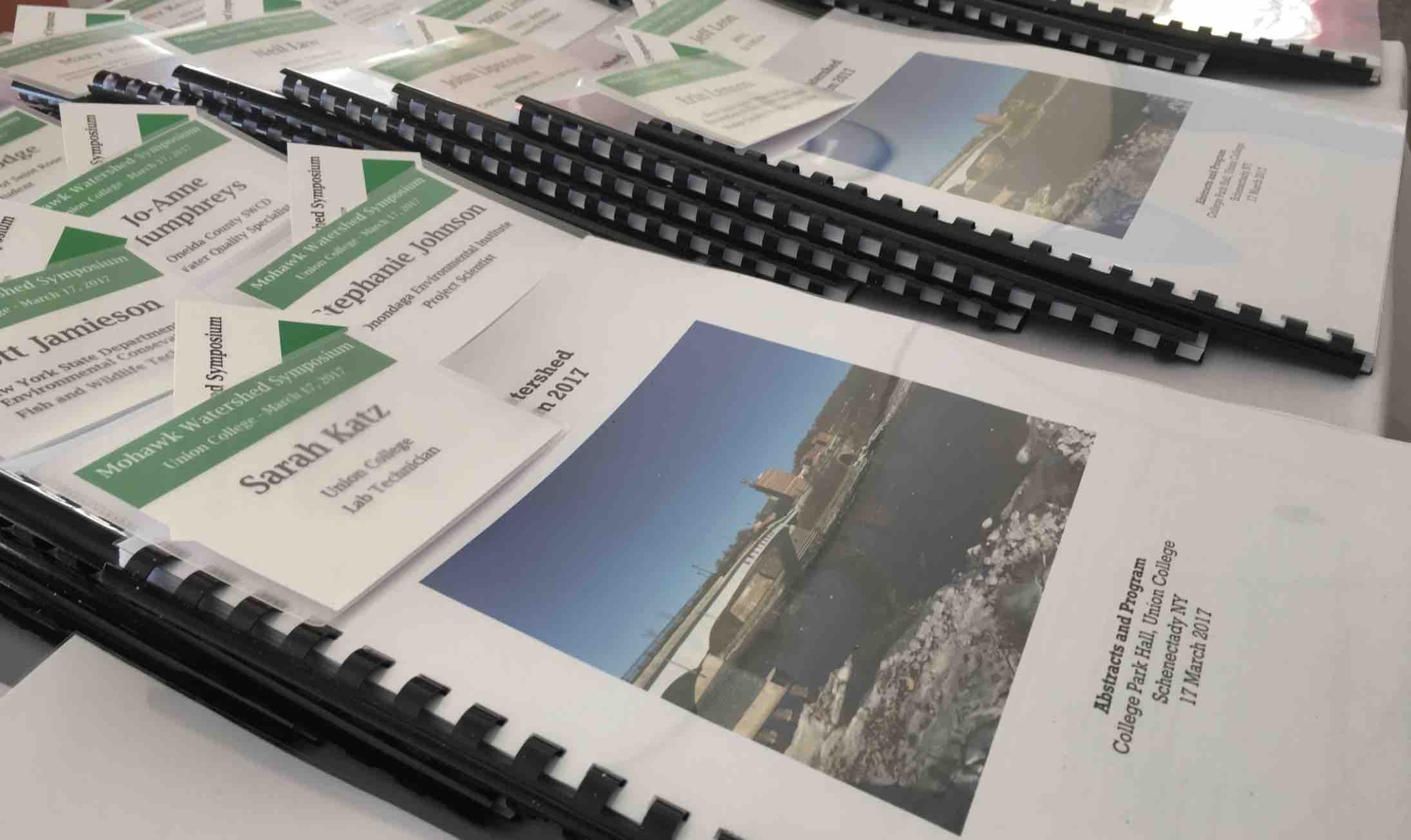 ____________________________________________
FEES and REGISTRATION
Professional $20; Students $10.
REGISTRATION AFTER 10 March 2018: $40 (for all - professionals and students).
Registration on Day of Meeting: $50
Register early for this meeting, late registration causes problems with catering and makes our job more complicated. Your registration fees only cover part of the full meeting cost.
Pre-registration and prepayment for this meeting is required.
Registration fees cover coffee/tea breaks, lunch, and abstract volume.
Please register early for this meeting, it helps us plan catering orders.
_______________________________________________
PARKING, CAMPUS ORIENTATION, and ACCOMMODATION
The meeting is at College Park Hall, 450 Nott St, Schenectady NY. Plenty of free on-campus parking is available next to College Park Hall. Download this map for parking areas that will be open and available ("P"), but there is a large parking lot at College Park. Detailed directions to the Campus are here. Please note that the Rivers Casino is now open, and there are changes in traffic patterns on Erie Blvd.
There is no designated hotel for this conference.
_______________________________________________
CONTACT INFORMATION

Program Chairs and coordination:
Jaclyn Cockburn, Department of Geography, University of Guelph, Guelph, Ontario Canada; +1,519-824-4120 Ext. 53498; jaclyn.cockburn @ uoguelph.ca (remove spaces)
John Garver, Department of Geology, Olin Building, Union College 807 Union ST Schenectady, NY 12308-2311, USA +1, 518-388-6770 (Office) +1, 518-388-6770 (main office) +1,518-388-6417(fax) Email: garverj @ union.edu (remove spaces in email address).
Deb Klein, Technical Assistance and Registration, 310 Olin Bldg, Union College. 518-388-6770: Email: kleind2 @ union.edu (remove spaces in email address).
Katherine Czajkowski, Mohawk Watershed Coordinator Mohawk River Basin Program NYS Water Resources Institute at Cornell University 1130 N. Westcott Road Rotterdam, New York 12306 518-357-2383 518-357-2398 (fax) Email: Katherine Czajkowski <katherine.czajkowsk @ dec.ny.gov> (remove spaces in email address).
Mailing address:
Geology Department,
Union College,
807 Union ST,
Schenectady NY, 12308-2311
_______________________________________________
Join the Discussion and keep up with news all year long
Mohawk Watershed Alliance

_______________________________________________
INFORMATION FROM PAST CONFERENCES
Abstracts and web pages from previous conferences are here
Program and Abstract Volume (2017 - last year) can be downloaded HERE
Note that all photographs on this page are copyright protected.
.