Research and Courses
Research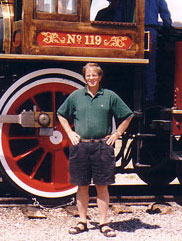 For my entire career as a professional economist, I have had two strong and continuing interests. First, I chose as the topic for my dissertation, and have continued to study, the varied economic effects of railroads, especially in the nineteenth-century United States. Second, I have written and spoken extensively on economic policy, focusing initially on national and international issues but more recently on those related to New York State and its Capital Region. Most of my publications and speaking on economic policy have been for public media rather than professional journals.
I also continue to have a strong interest in the financial markets of the United States and Japan and in international finance.
My interest in U.S. railroads has resulted in other projects on both waterways and the auto industry. My most recent published work in this area is in the form of three articles (on Nikolaus August Otto; Alfred Sloan; and Social Savings) in the newly published Oxford Encyclopedia of Economic History (2003). My current major research project on the U.S. auto industry has led to an unpublished paper, Descent into Dominance: The Political Economy of the American Auto Industry, 1929-41 (December 2003), which I have recently given at the Columbia University Seminar in Economic History and the Economics Department Seminar at Carleton College. The refining and extension of this paper continues.
A second recent publication is an article on the history of the Union College Economics Department for the Encyclopedia of Union College History (2003).
Teaching
Both in my permanent position as Professor of Economics at Union and as a visiting professor at Kansai Gaidai University and Carleton College, my teaching focus has been on finance. I bring to this endeavor both my academic work as a professional economist and a practical background. The practical background includes six years of working in finance for General Electric Company; two years in Japan including both teaching and seminars related to Japanese business; presentations to and frequent interactions with business people; and, for the last four years, my role as a member of the Board (and currently Vice Chairman) of the Schenectady Metroplex Development Authority, which has a mandate to redevelop downtown and enhance the economic growth of the city and county of Schenectady. I believe we best serve our students by providing courses that set high standards; require academic rigor; enhance practical skills such as writing; and provide the perspective that comes from people who do finance as well as studying it.
Like other Union faculty, I have also supervised numerous two-term senior thesis projects, since all of our Economics students are required to complete a thesis. I have enjoyed this experience and am proud that three of my thesis students have won the Albert C. Ingham (1847) Prize, given annually to "the student in the Division of the Social Sciences judged to have done the most outstanding piece of scholarly work."
My other long-time teaching interests include our interdisciplinary First Year Preceptorial and history of economic thought.
I use Blackboard to administer each of my courses.

Last Updated: 10/28/04 12:40 PM