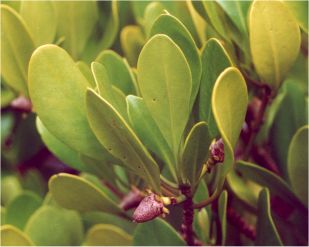 Occurs as a distinct zone, just landward of the Rhizophora mucronata zone, but also lareg areas of mixed C. tagal and R. mucronata zones. Individuals up to 8 meters can ocuur within this zone. Leaf edges are generally smooth and are rounded at the tip. Has long slender propagules, much thinner than R. mucronata.
Crabs found near C. tagal (in this zone): Neosarmatium smithi, Sesarma (Sesarmoides) longipes, Sesarma (Sarmatium) crassum, Sesarma impressum, Sesarma (Perisesarma) guttatum, Perisesarma samawati, Sesarma (Clistocoeloma) villosum, Selatium brocki, Metopograpsus thukuhar, Uca annulipes, Uca chlorophthalmus, Uca tetragonon, Uca urvillei, Uca vocans, Thalamtia crenata, Epixanthus dentatus, Eurycarcinus natalensis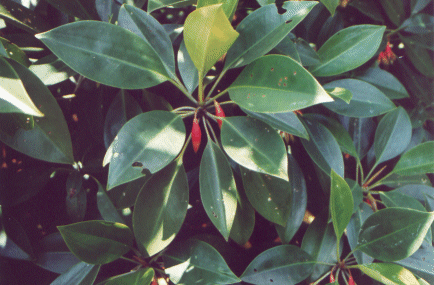 Bruguiera gymnorrhiza does not occur in distinct zones. It is mostly mixed in the Rhizophora mucronata zone, but is usually absent from the area nearest to the seaward edge. Within the forest, Bruguiera gymnorrhiza can locally be present as the dominant species, but usually as a patch than a zone. Leaves are narrower than R. mucronata, propagules are smaller and they do not have prop roots, but have knee roots.
Crabs found near B. gymnorrhiza: Neosarmatium smithi, Sesarma (Parasesarma) leptosoma, Sesarma (Sarmatium) crassum, Sesarma impressum, Sesarma (Perisesarma) guttatum, Sesarma (Clistocoeloma) villosum, Selatium brocki, Metopograpsus thukuhar, Uca annulipes, Uca chlorophthalmus, Uca tetragonon, Uca urvillei, Uca vocans, Scylla serrata, Thalamtia crenata, Epixanthus dentatus, Eurycarcinus natalensis, Petrolisthes lamarckii