The Adirondack Mountains.
Only a couple of hours drive, so I go up there now and then...
Now that I have that Hornbeck light-weigh canoe, I can paddle around in some places that were impossible with my old kayak. The old kayak weighed in at 35 to 40 pounds, a bit more than I can manage now that I'm in my ninth decade. You can see that yellow kayak in some of the Maine (Isle au Haut) pictures. It's a great kayak, tracks beautifully, has a rudder, and Ive had a lot of fun with it, mostly in Maine, but it got too heavy!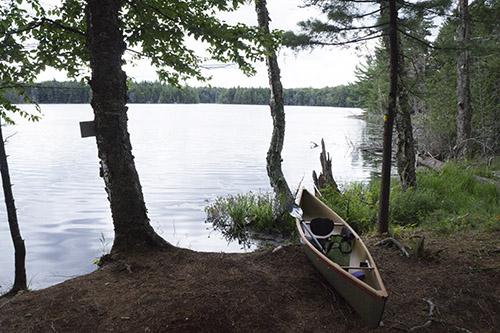 Here's my Hornbeck ready to launch into Third Lake in the Essex Chain. I t's a very pretty place to paddle, but not easy to get there. After two hours to get to Newcomb, then it took more than half an hour down the road to the parking lot. Then ortage a quarter mile, paddle across Deer Lake, the portage another half mile to get to this spot. That's why I bought the canoe: it weights only about fifteen pounds. It doesn't track as well as my old kayak, but I can carry it.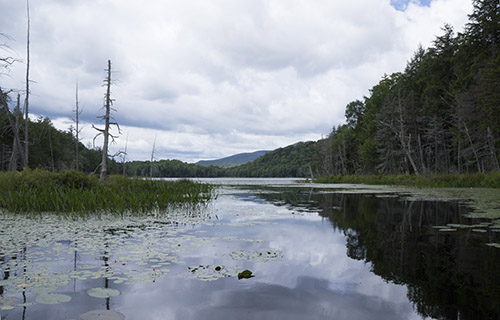 Essex Chain, passage from one lake to another.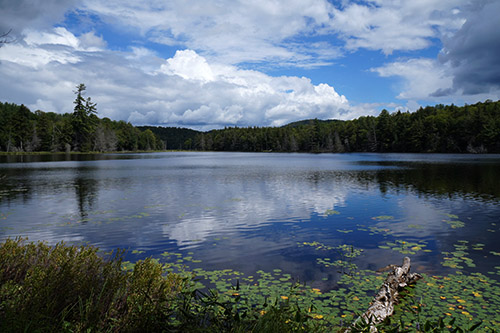 I found a nice spot to have my lunch on Fourth Lake, and this is the view I enjoyed. The view was so great that I could barley take time for my sandwich, so busy taking photos and watching the lake and sky. It rained for a while just as I got to the take-out place. Then it stopped for a while. After I had the car packed and was on the road, there was more rain, but at that point I didn't really care.
I think they should make this a bit easier to get to. Admitedly, it was very fine for me to have all seven lakes entirely to myself. Well, I did have to share it with loons, an eagle, a kingfisher, and a heron. The loons had some big conversations going. I have never heard them as well as I did on this day.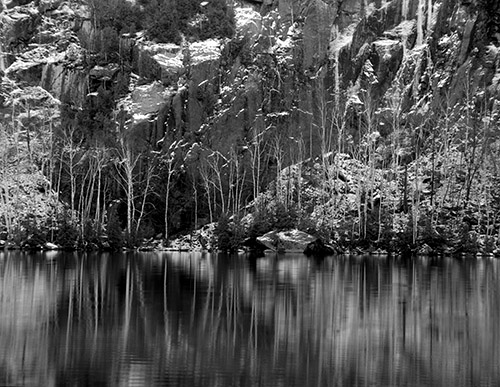 Chapel Pond, right along route 73 before you get into Keene Valley. Winter; snow on the cliffs.
I have a favorite trail that runs up the W side of the E branch of the Ausable River.
Coming back, there is a trail on the other side of the river, or there's a road.
I've been up and down a few times...
Keene Valley, up past the Ausable Club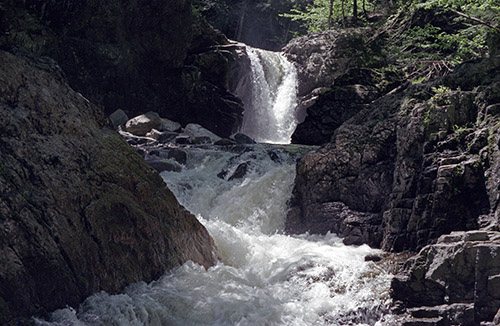 Ausable River. The flow was pretty high this day.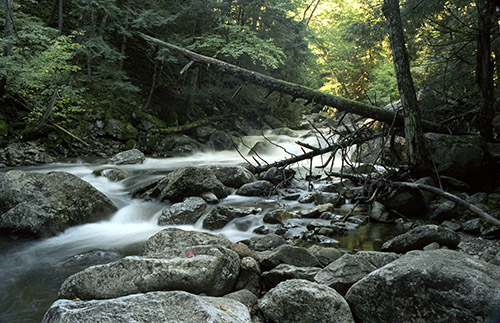 Ausable River.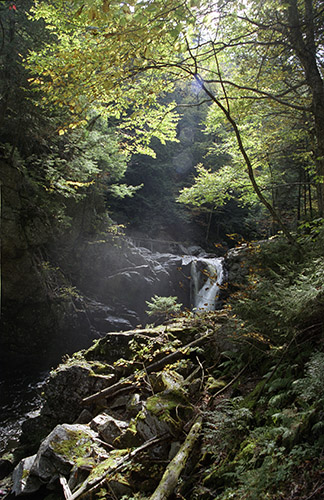 Ausable River

Lower Ausable Lake, source of the E branch of the Ausable River in the above pictures.
This is about a three and a half mile hike in to this spot.
I'll give it another try one of these days, but I'm not sure I can do it any more.
The decades do take their toll!
Recently (8/15/15) I rode my bike up to Camp Santanoni, a great camp near Newcomb that is being preserved and restored. You can walk, ride your bike, or get there in a wagon pulled by two horses. The lake, Lake Newcomb, is very beautiful. You can launch a kayak or canoe and paddle around for a while. There were lots of loons on the lake, sometimes quite close to the kayak I was paddling. The ride in was demanding: three miles of uphill, then a mile of down.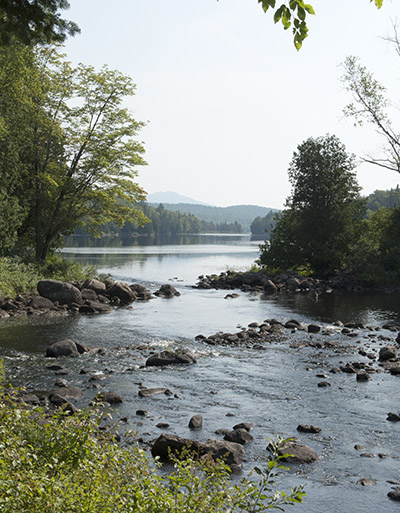 Harrison Lake, near Newcomb. This is the view right at the entrance to Santanoni.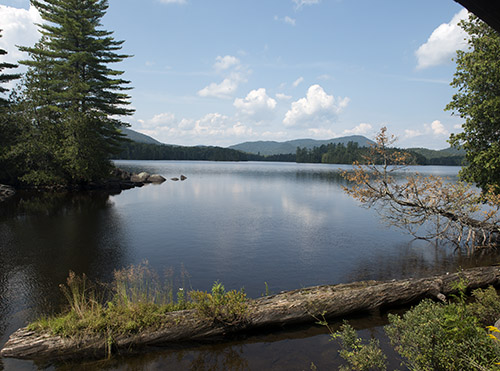 Newcomb Lake, Sontanoni. This is the view from the boathouse.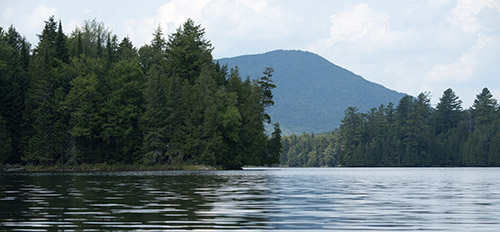 Newcomb Lake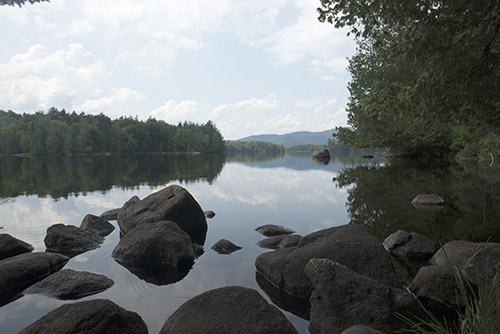 Newcomb Lake. This was the view from one of the campsites.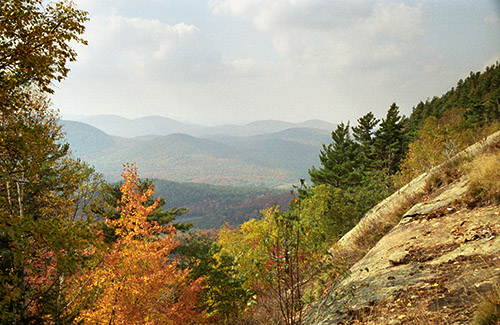 Crane Mountain, a pleasant climb. There's a pond up there. People were swimming. We had a small dog with us that chased ducks, swimming after them in the pond. He wasn't very good at it, but it did amuse us! This was apretty fall day. I went up with a group of physics students from Union College.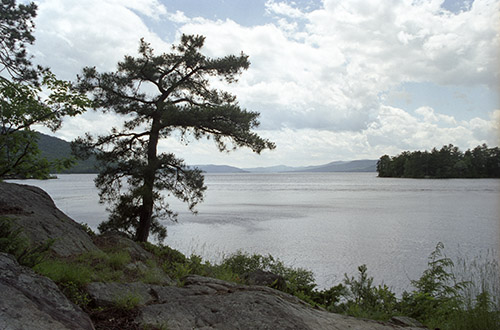 Lake George, from the East side, looking South.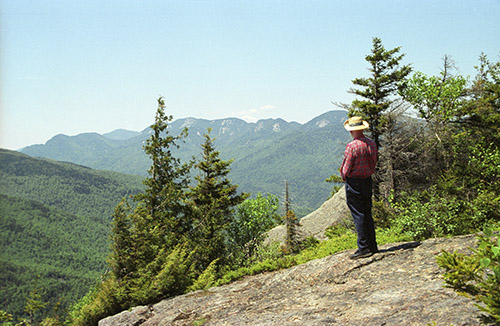 On the Nubble, Giant Mountain. I first made this climb many years ago with some of Havilands. It's only part of the way up the mountain, but still has a splendid view. This was a more recent trip which I made alone. That's me, in the hat, enjoying the view. I used to bring a tripod along so I could steady the camera, and so I could take this kind of "selfie".
I did get to the top with a few Union students many years ago.