Alaska, September, 2018
Road Scholar, "Alaska Up Close"
When asked, "Did the trip meet up with my expectations", I said... Well, I expected lots of rain all the time, I expected clouds of mosquitoes, and I expected cold weathewr, even to the point of snow on some days. So I had to admit that the trip did NOT meet up with my expectations. Put another way, I hoped there would be at least some days when I could see the mountain tops (there were LOTS), I hoped for some days free of mosquitoes (I saw a few mosquitoes on only one day), and although the days were often cool on deack, it often gor up into the sixties. And no snow. The scenery was fantastic, the food was absolutely super, the crew was helpful and pleasant, and I loved every moment of it! So the trip did exceed my hopes and expectations. We had unusually splendid weather, super clear September days, a bit of easy rain for a couple of hours on a few days.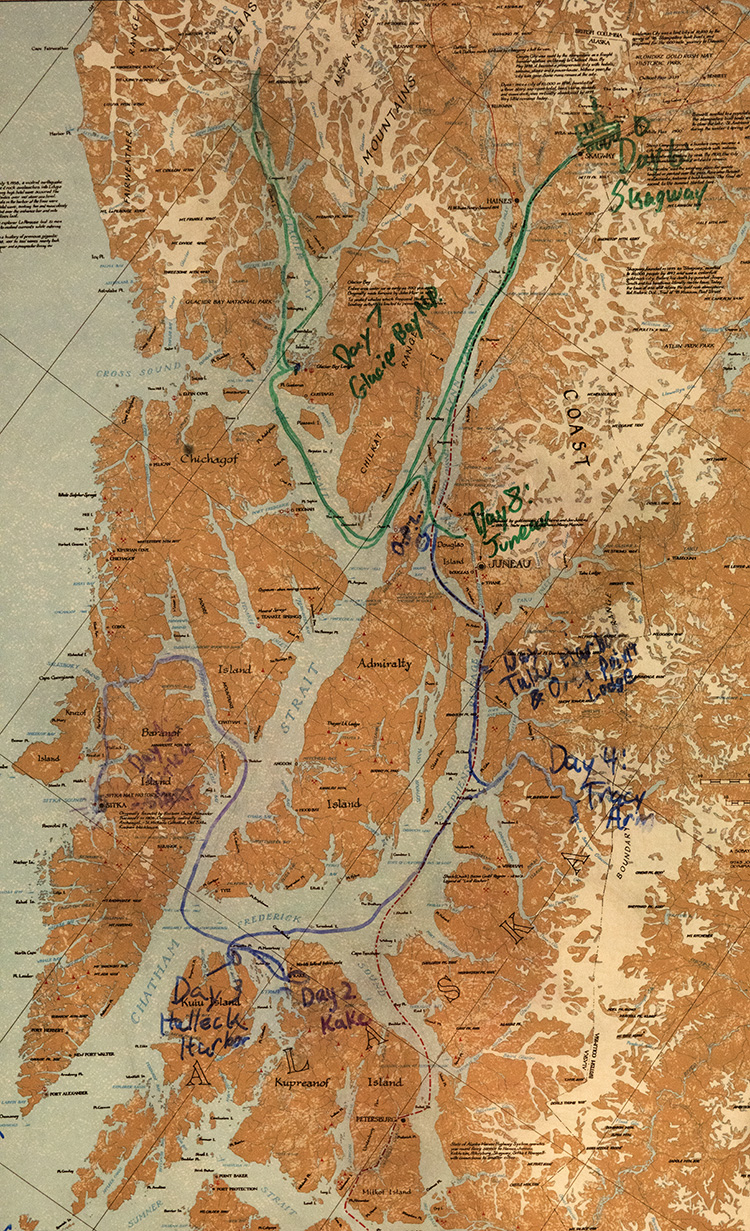 Here's the daily log kept on the boat...
Starts in Sitka, of the left side of the map.
Ends Day 8, Juneau.
Where we were!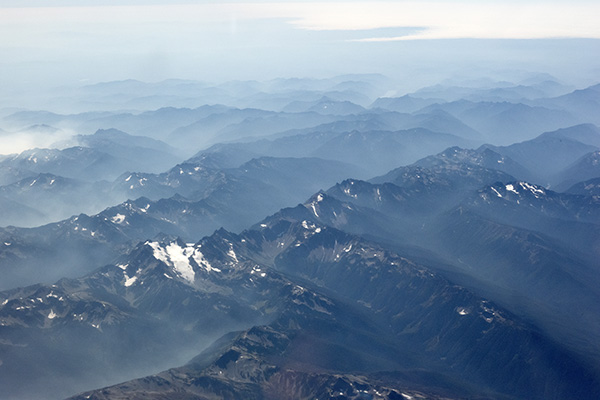 I'll call this my first view of Alaska, from the airplane, of course.
Actually, I doi't know if it was Canada or Alaska,
but those mountains were impressive.


DSC_1050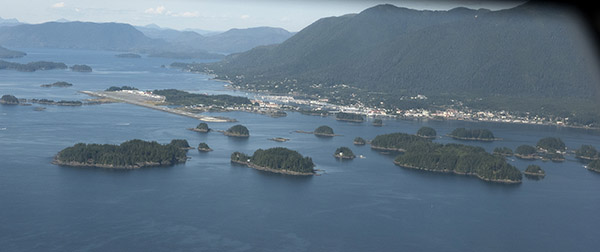 First view of Sitka. Airport is on the left, Sitka far right.


DSC_1071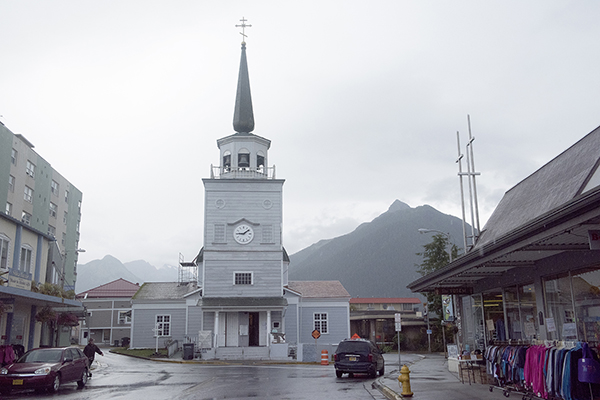 Russian Orthodox Cathedral, in the center of town.
Burned down in 1966, all the icons and treasures were saved. Restoration still under way.
I talked to one of the "old" guys who was there when the fire happened. History alive!
DSC_1116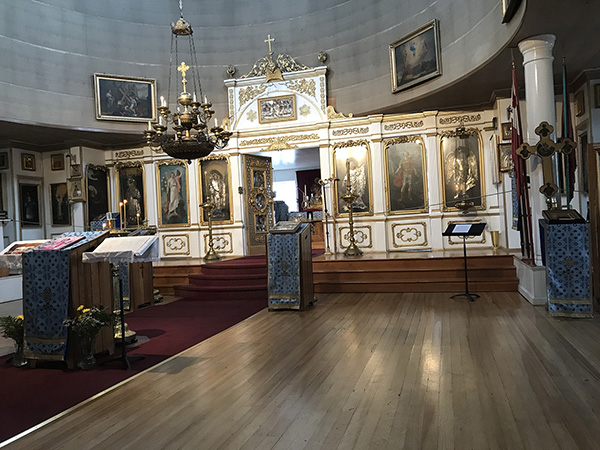 Sitka Russian Orthodox Cathedral.


DSC_1117XXX cell phone photo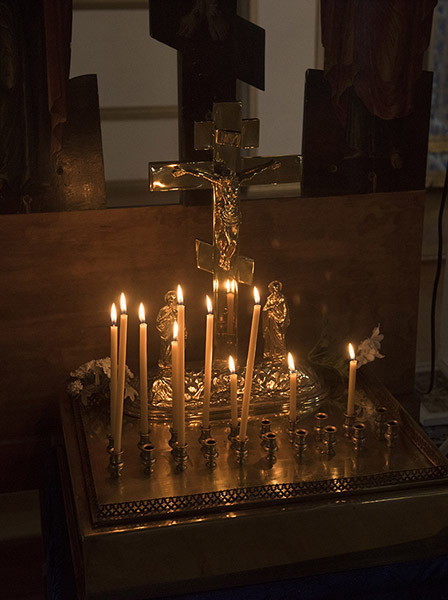 Sitka, Russion Orthodox Cathedral.
We traveled a day early, so we had a bit of time to explore the cathedral.


DSC_1134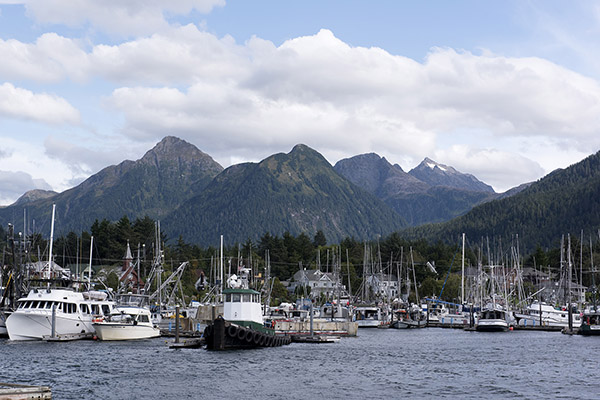 Sitka is surrounded by mountains, and lots of boats.


DSC_1222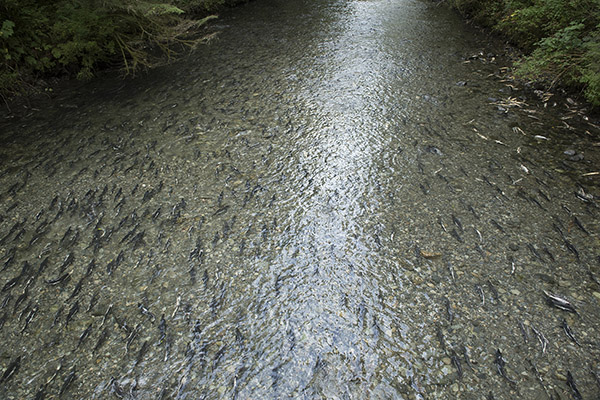 This little stream was crowded with salmon.
After spending a couple of years in the ocean, they return to the place where they hatched.
Amazing!


DSC_1234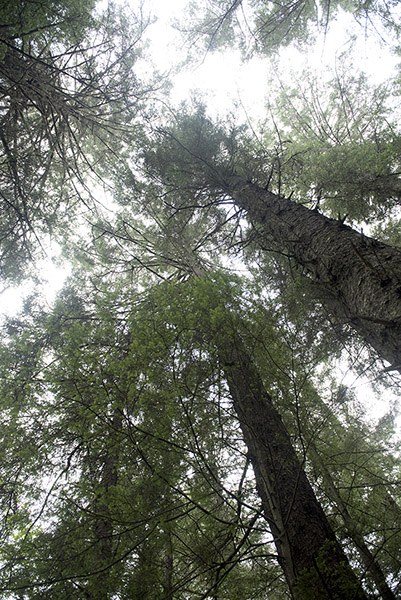 Park in Sitka.
Sitka is a huge town by square miles, not so big by population.
Still it's the 4th largest in Alaska (by population).
DSC_1241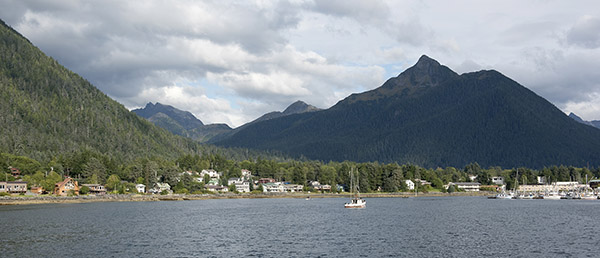 Sitka squeezes between the mountains and the sea.


DSC_1277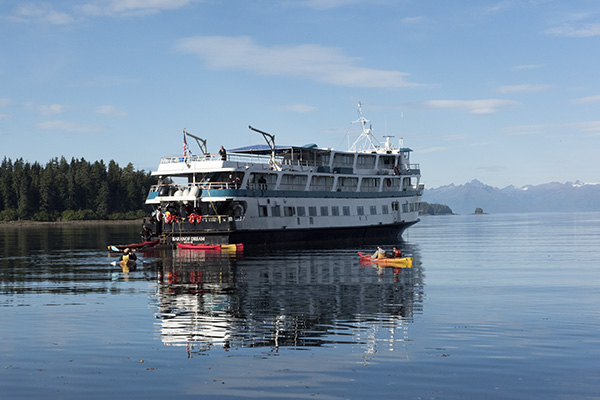 Our boat, the Baranoff Dream, putting out kayaks on a fine calm sunny day.
A special deck made it easy and safe to launch and retrieve the kayaks.
There were six two-person kayaks; everyone had an opportunity to paddle.


DSC_1391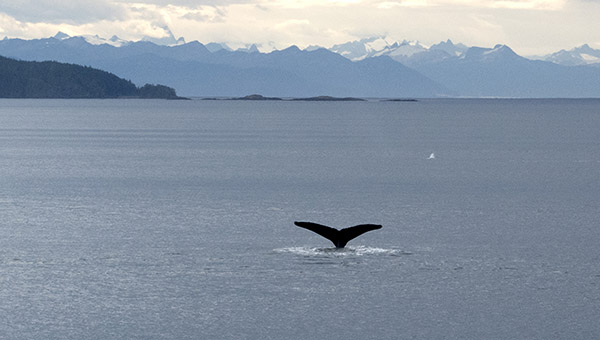 We saw quite a few whales. I was wishing that I had brought my telephoto lens.
Flukes, going down. Another blowing farther out. Humpback whales.


DSC_1320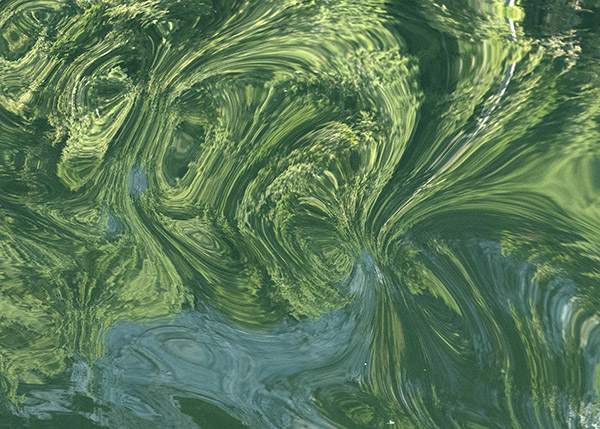 Reflections in the water: trees and sky.


DSC_1390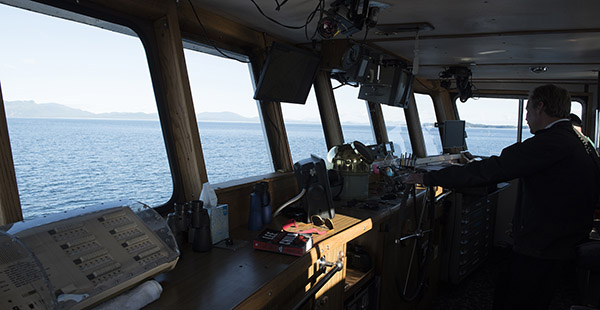 On the Bridge. We were welcome there to chat and enjoy the view.


DSC_1462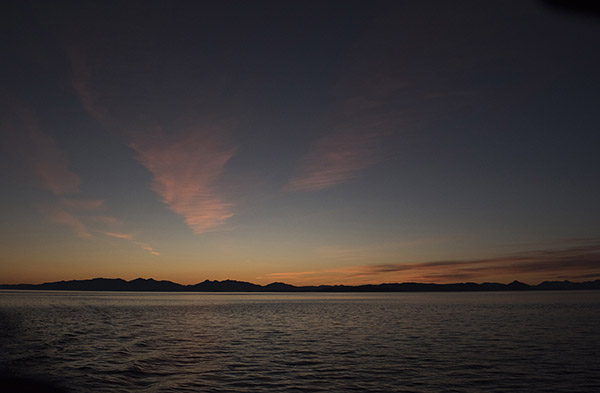 Sundown. Sometimes the boat traveled all night to get to our next destination.
I resented missing that scenery, but definitely did enjoy our destinations.


DSC_1478


Passing this lighthouse at dusk.


DCS_1482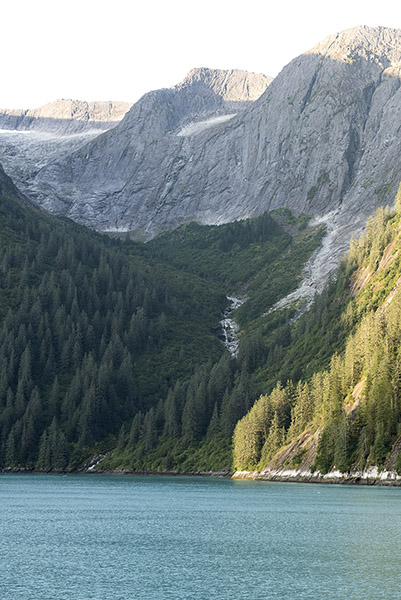 Into the Tracy Arm.
Don't know why it's called that, but it was spectacular!


DSC_1532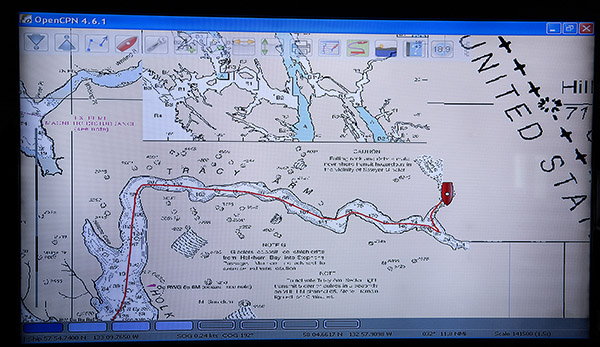 Tracy Arm, computer display in the bridge.


DSC_1614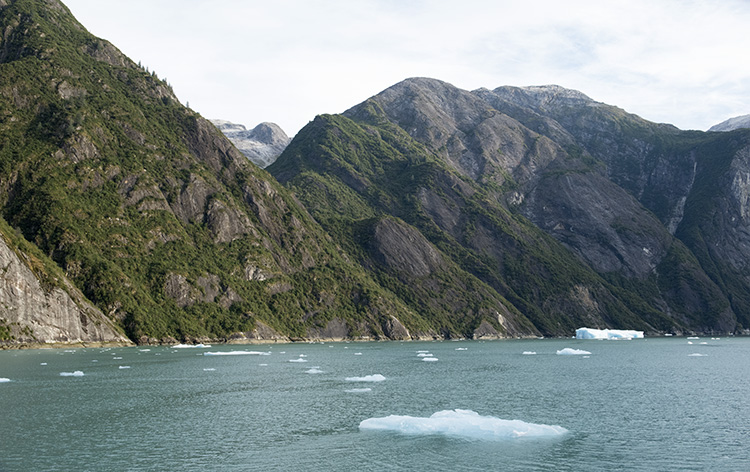 Tracy Arm


DSC_1564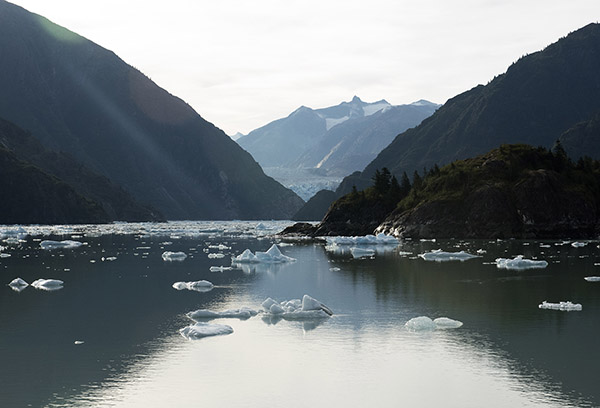 Tracy Arm, South branch. There's a glacier back there in the center of the picture.
The ice floes prevented us from getting close.
DSC_1586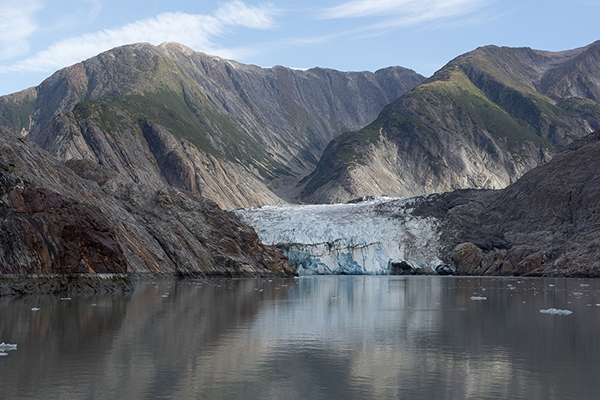 This glacier was in the North part of the Tracy Arm.
We could get to the quarter mile limit.


DSC_1611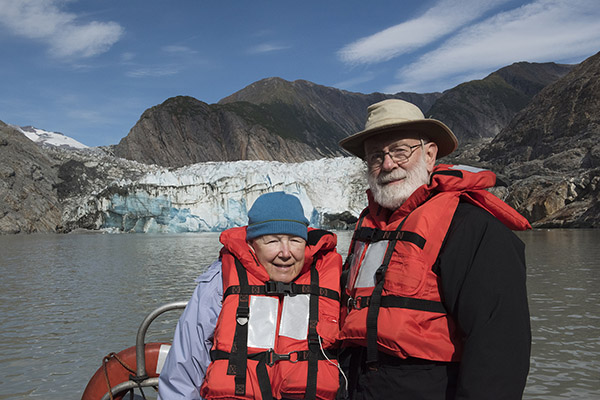 Out in the DIB (inflatable boat), we had this picture taken, glacier in the background.


DSC_1623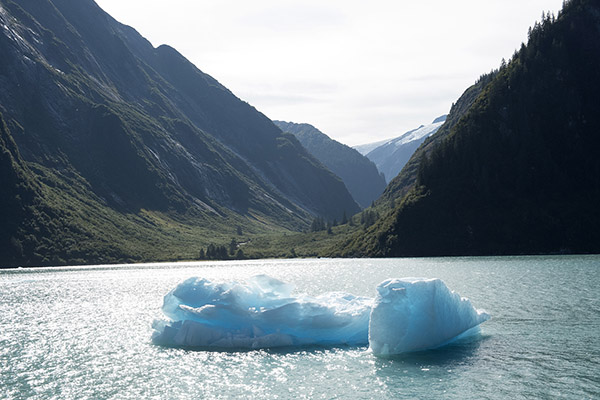 Tracy Arm.


DSC_1675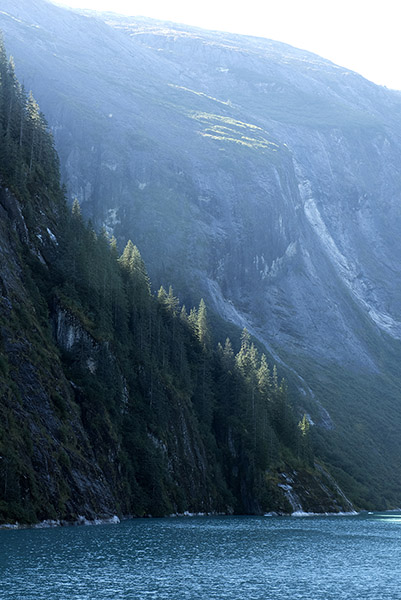 Tracy Arm.
The mountains come down to the sea very steeply. The trees cling to wherever they can.


DSC_1686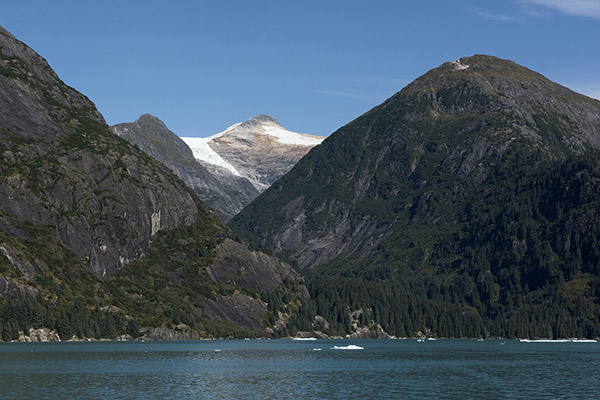 Tracy Arm
Are they snow fields or glaciers on those mountains?
Some glaciers terminate in tidal waters, other do not.


DSC_1689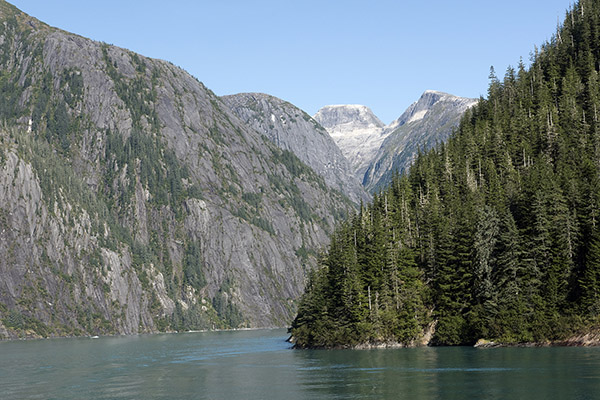 Tracy Arm, a highlight of the trip.


DSC_1716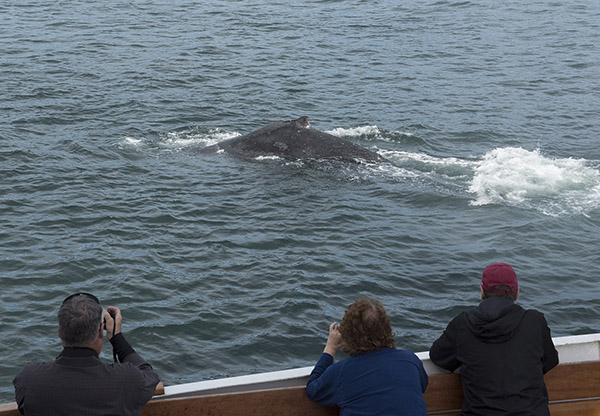 Whale, up close. One day a whale breeched up close, during dinner.
Those whe happened to be looking that way saw it. I saw only the splash.
DSC_1879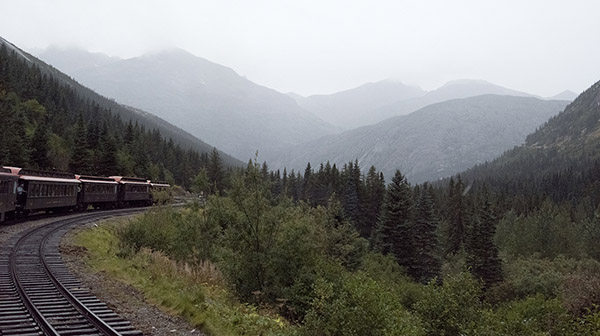 Train, out of Skagway.
Built in '98 for the gold rush. It was built in only a year, so they say!


DSC_1926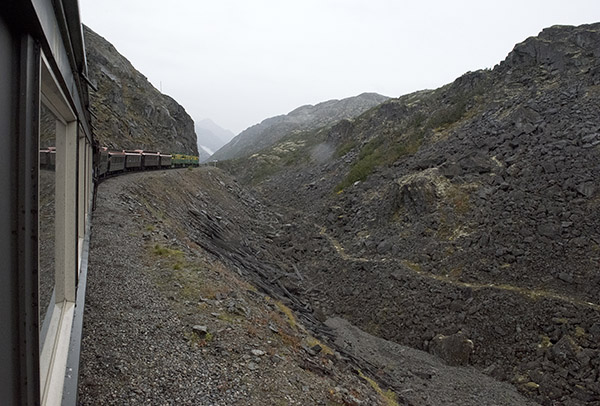 The path taken by the gold rushers is still visible on the right.
They went up and back many times, usually in very cold weather.
I don't think anyone hikes it now; we saw no hikers.


DSC_1954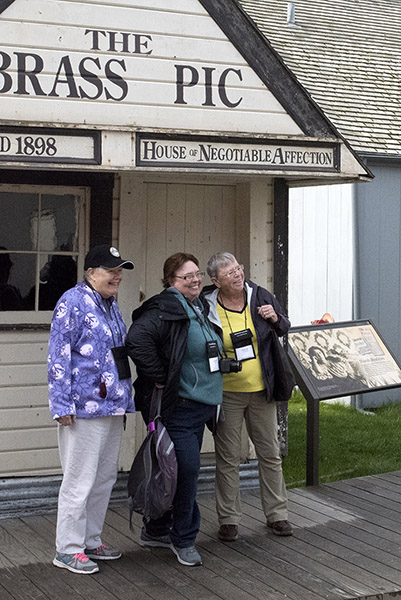 Our ladies!


DSC_2000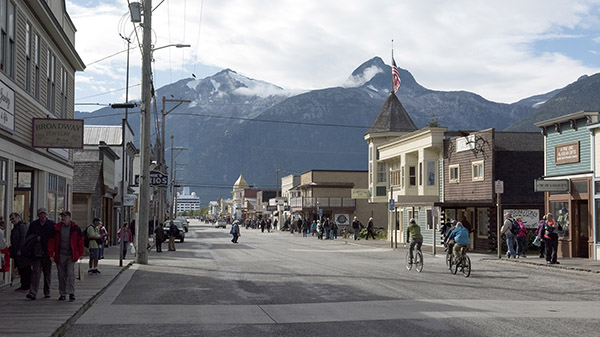 Skagway. Another town surrounded by nountains.
There is highway access to Skagway, none to Sitka or Juneau, or many other small towns.
Lots of people here (cruise ships) and not much traffic.
DSC_2007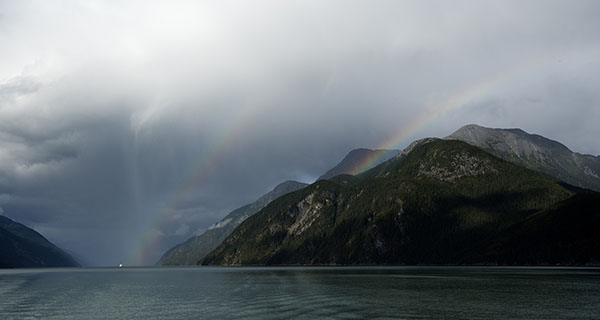 This rainbow followed us up the channel, and so did the rain.
I could sit on the top deck under the cover and watch the rain scene go by.


DSC_2030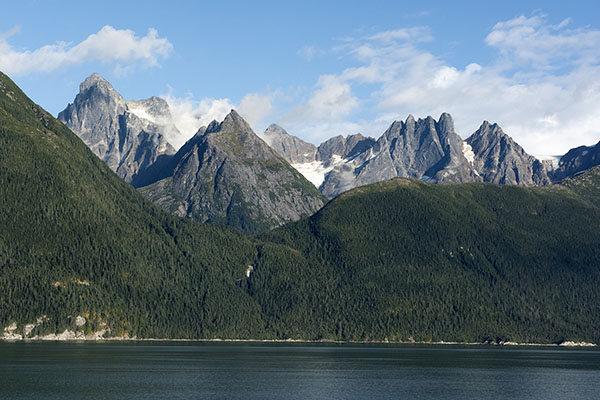 Mountain tops spewing clouds.
Very rugged. No wonder there's so few roads up there.


DSC_2047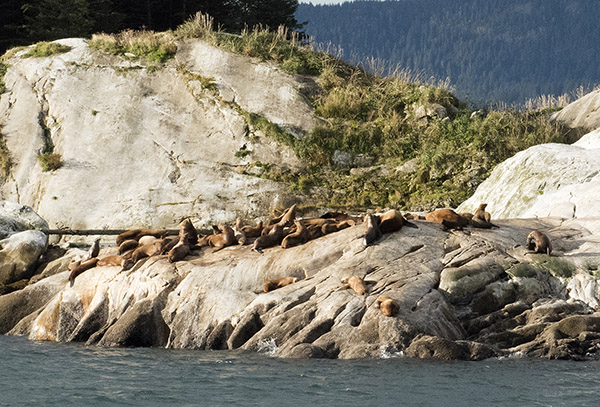 Sea lions on the rocks.


DSC_2105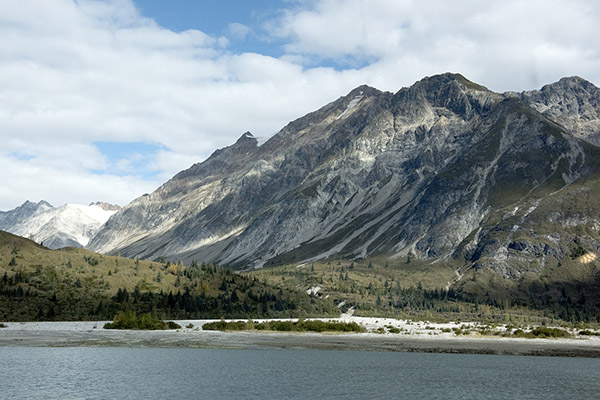 Scenery passing the boat.
I stayed on the upper deck for hours to watch this.


DSC_2151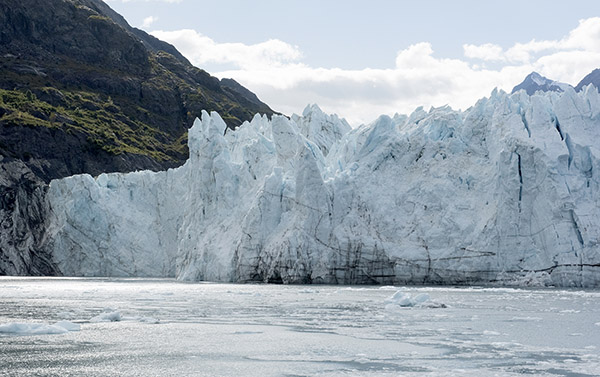 We watch this glacier as it calved big chunks into the ocean.


DSC_2189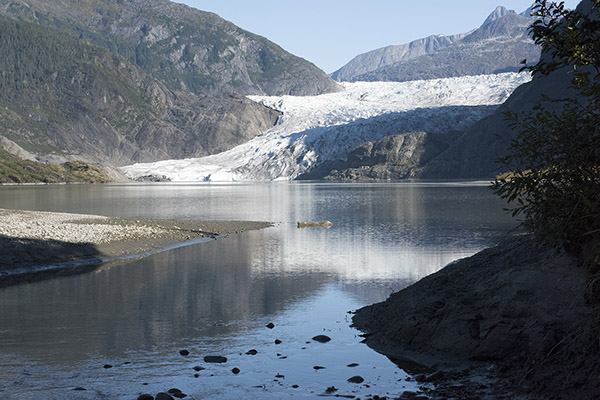 Mendenhall Glacier, near Juneau.


DSC_2294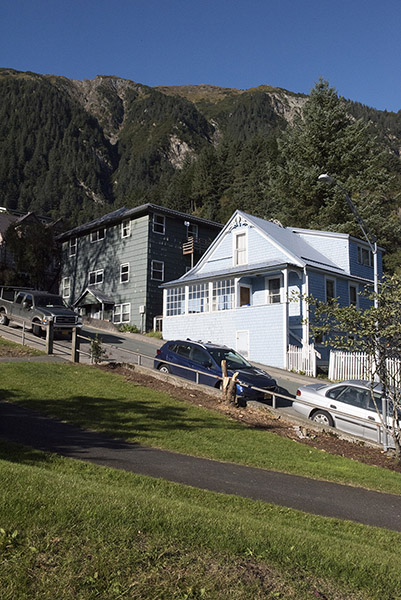 Juneau is crowded into the small space between the monntains and the sea.
Got good brakes?


DSC_2305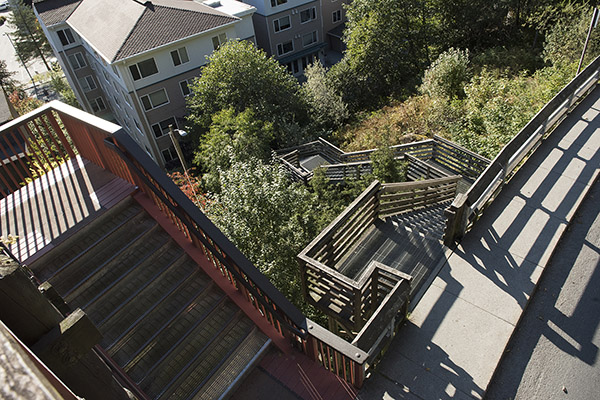 Getting from street to another in Juneau.
It's a vertical town!
DSC_2326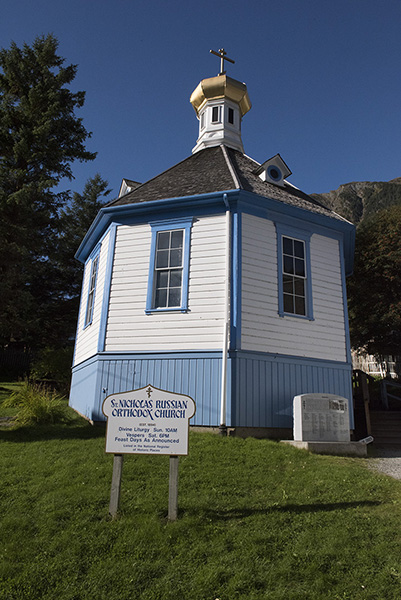 Tiny Russian Orthodox church in Juneau.


DSC_2307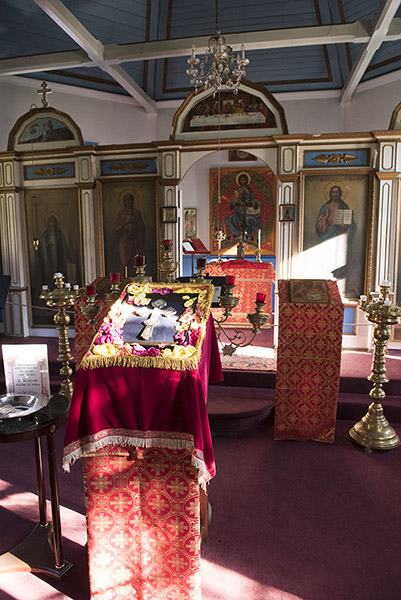 Just like the one in Sitka, only smaller.


DSC_2307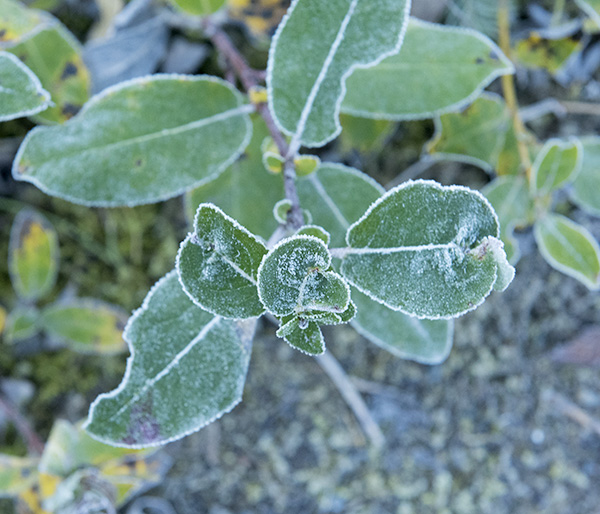 We didn't see weather THIS cold, but they did the night before we got to Juneau.
I saw this in the path to the waterfall at the Menbdenhall glacier.


DSC_2273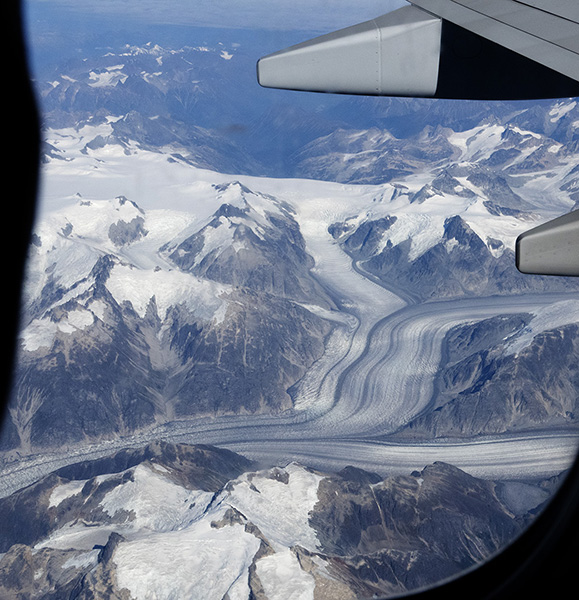 Airplane windows are not always clean and clear, but I tried this anyway.
How huge these glaciers can be!
I was told that the Kenai glacier was about 2200 square miles.


DSC_2341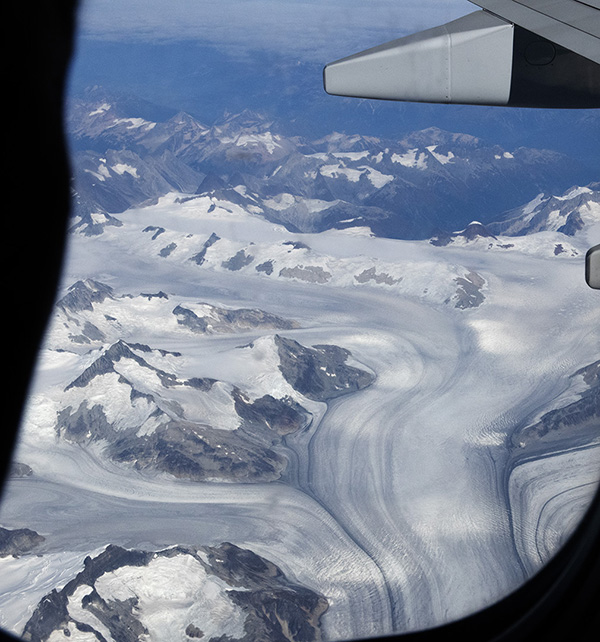 Glacier. Really looks like it's flowing. Huge.
And I guess it is!
DSC_2343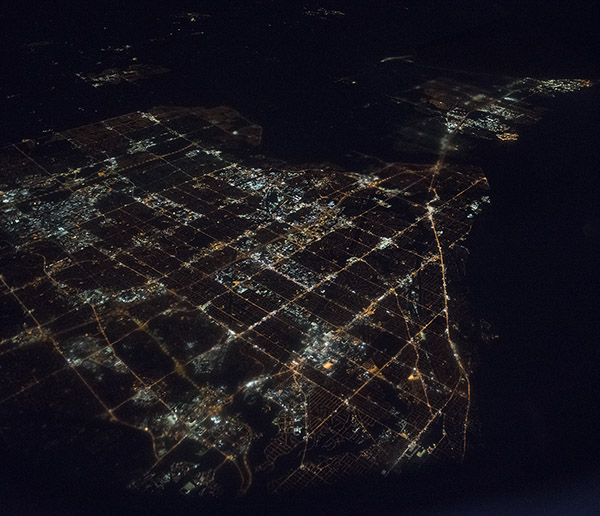 We had to do the red-eye on the way back.
I did get a LITTLE sleep!
Anyone recognize this place? Lots of lights in the towns even late at night.
DSC_2355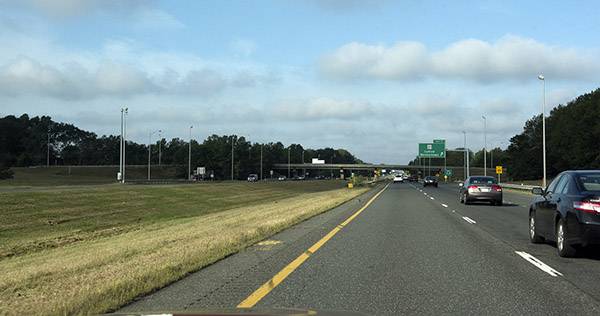 We were tired! Off the plane at 6:00AM in Boston.
Into our driveway five hours later.
DSC_2362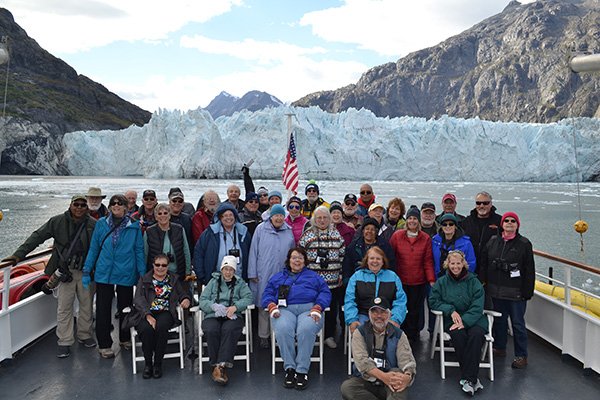 That's us, except for somebody standing right behind someone else.
I'm second from the left.