Trip to South-West England, May, 2015
Friends of the Schenectady County Library
A few of my photographs; some of John's text


Wed. May 6th. We are up early this morning with transport to the terminal and check in for the 7:40am nonstop Virgin Atlantic flight to London's Heathrow Airport. Lunch will be served on the flight and a fast 7 hour flight has us arriving at 7.15pm local time. The same coach company I used in 2011 will be awaiting us for the short journey west to the magnificent Great Fosters Hotel, a Grade 1 Listed Building dating from 1550 and probably once a royal hunting lodge. Dinner will be awaiting our arrival. We will spend two nights at Great Fosters.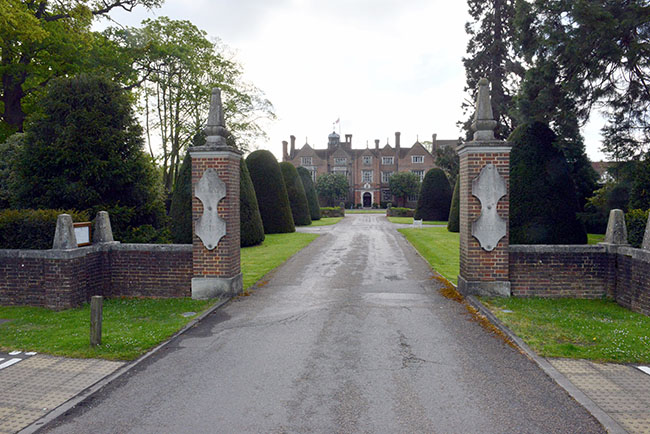 Great Fosters Hotel - 5937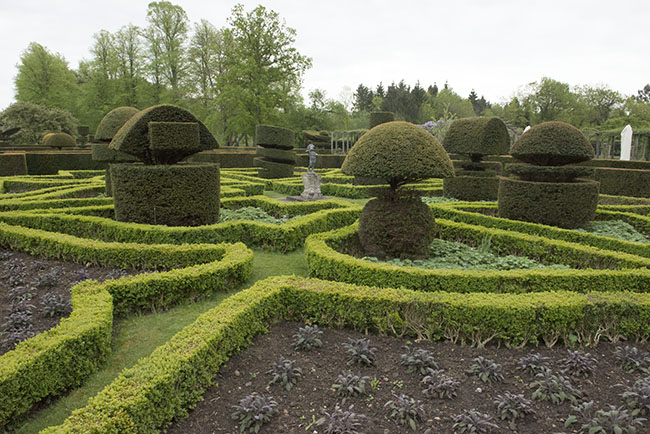 Hotel garden - 5731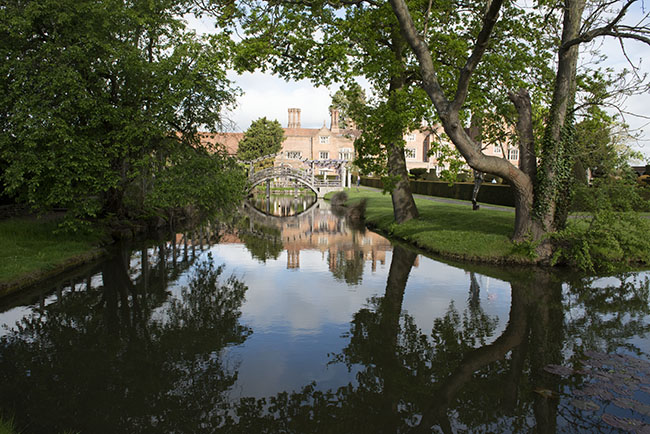 Morning in the hotel garden - 5655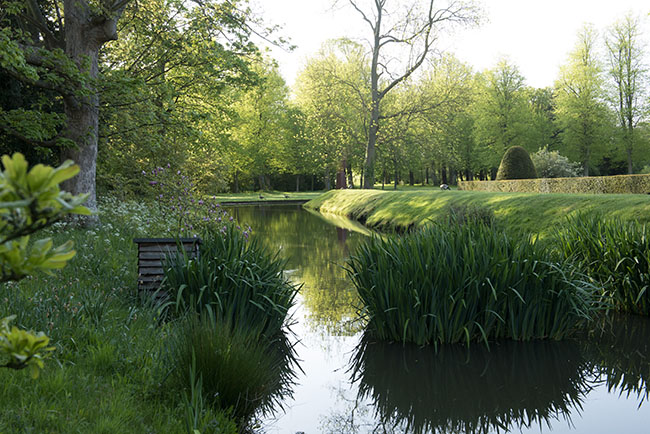 The old moat - 5636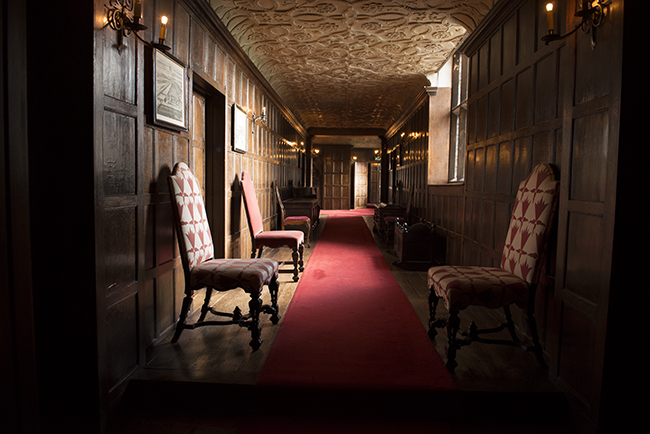 Upper hallway, hotel - 5646


We drive through the charming riverside town of Marlow and late morning arrive at Waddesdon Manor, a sumptuous mansion in the style of a French chateau, built in the late 1800's by Baron Ferdinand de Rothschild to entertain his guests and display his vast collection of art treasures of every description. After lunch there it's a self guided tour of the house and with time to explore the beautiful grounds. You can also buy Rothschild wines from the Wine Shop, ranging from a few pounds to a small fortune for famous vintage years.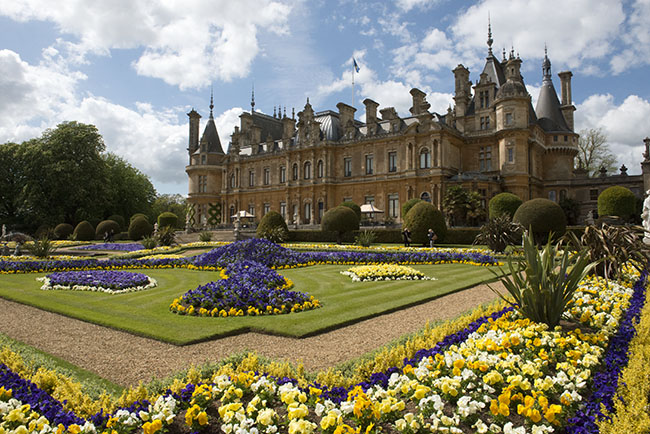 Waddesdon Manor - 5701
Thousands of pansies the day we were there.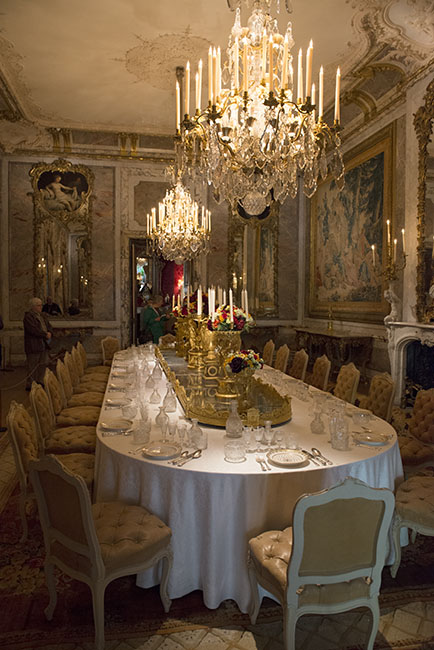 Elegant table... - 5691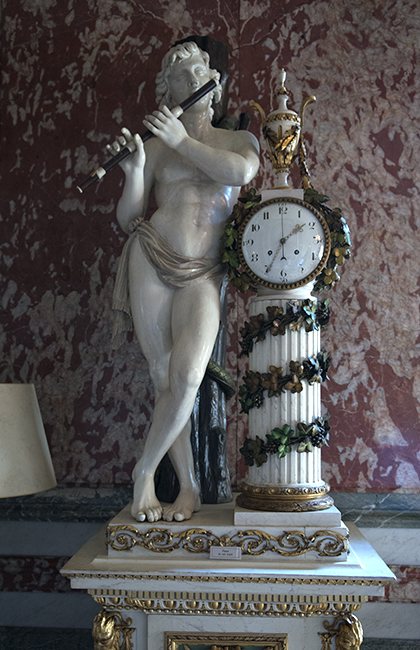 Amazing clocks. This one was working, as most were - 5689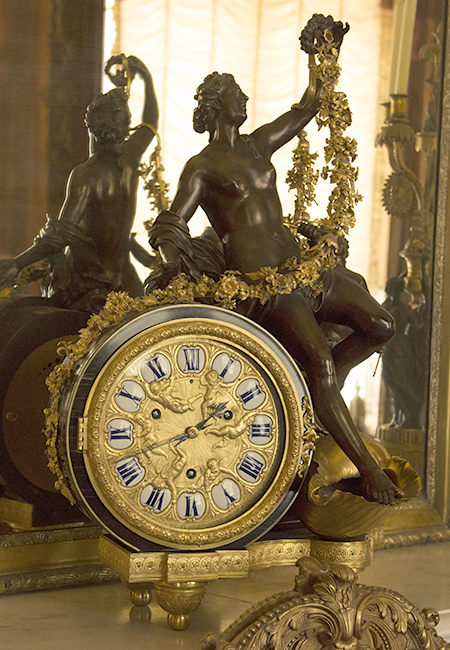 Another amazing clock, also working. If it looks like gold, I would guess it is gold! - 5694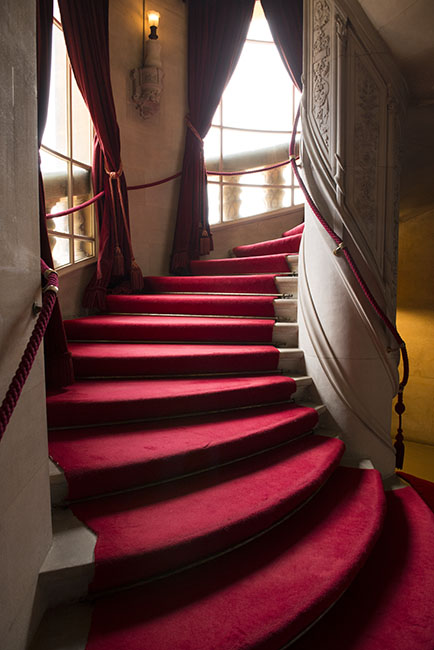 Grand Staircase - 5687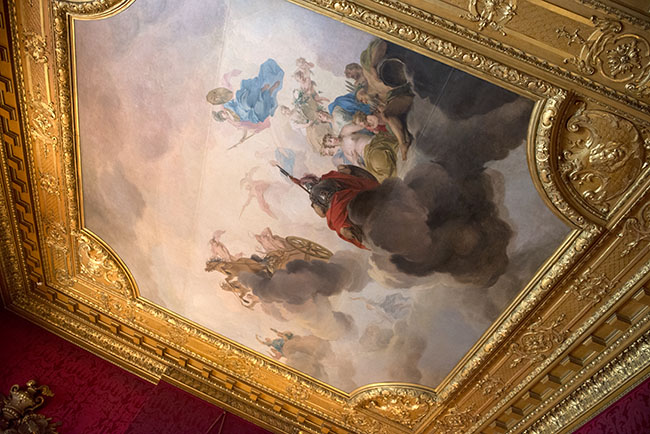 Ceiling - 5693


Having checked out of Great Fosters we head west, and enter late morning the County of Wiltshire, arriving at the Avebury Stone Circle, an immense ring of huge stones that has never attracted the same interest as Stonehenge, but is every bit as interesting and just as impressive. It was completed about 2400 BC and we will be given an explanatory tour. We will have lunch there and then have time to visit the excellent museum.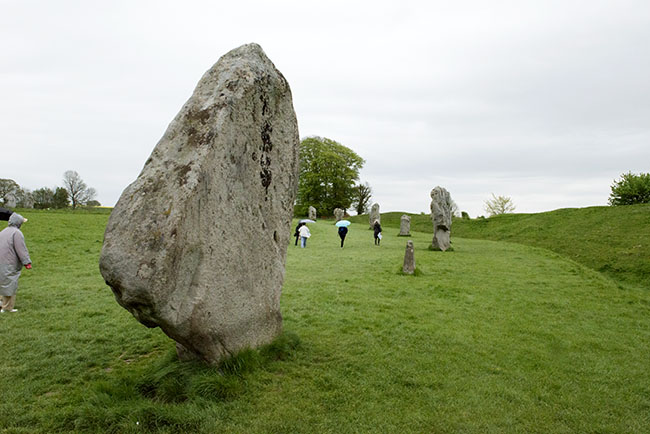 Standing stone, outer circle, ditch, berm - 5756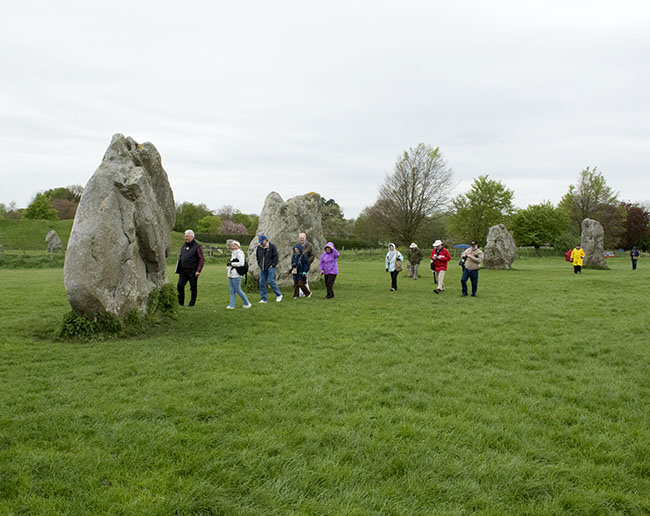 Our group on tour - 5775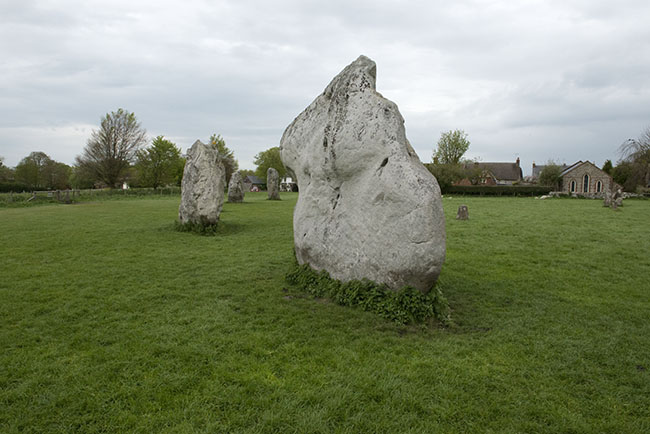 Note the buildings. The village is inside the circle! - 5821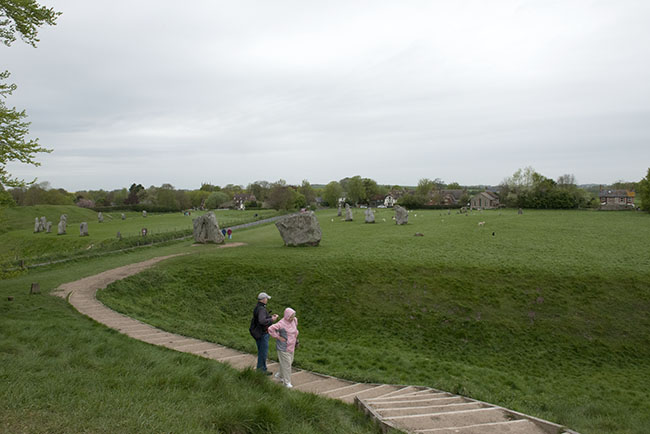 -
Large circle, inner circle, and inmost (small) stones - 5770
Here we are ascending to the top of the berm.
The ages have softened the ditch: the berm was higher, and the ditch much deeper.
It was probably built for religous purposes, not defense.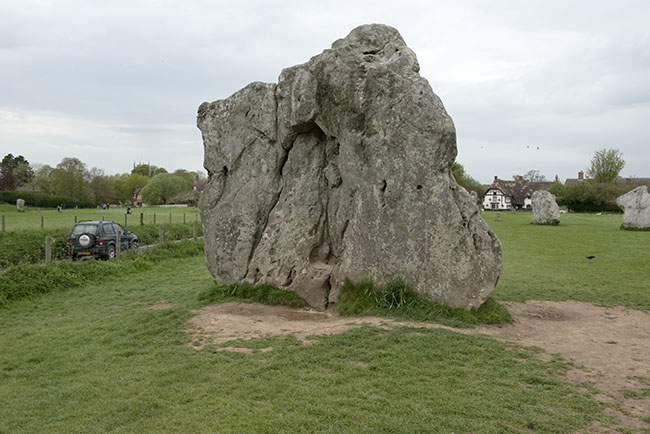 The Devil's Seat - 5820
Run around it fifty times, in the nude, and the devil will appear!
Nobody in our group tried it. Probably needs a full moon anyway.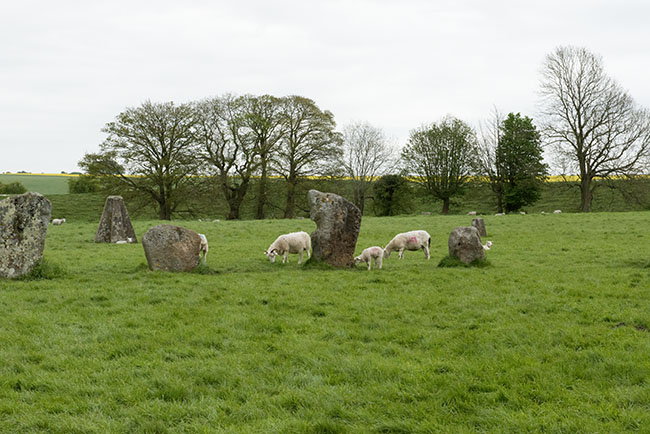 The innermost circle... pasture for the sheep! - 5781


Sat. May 9th.
We start our day with a visit to Stourhead, the magnificent 18th century landscaped garden created by the banker Henry Hoare. It is a unique combination of lake, trees, and flowering shrubs and plants of every description together with a series of follies, grottos, bridges and temples. We shall be given a tour followed by lunch. Stourhead is in the care of The National Trust.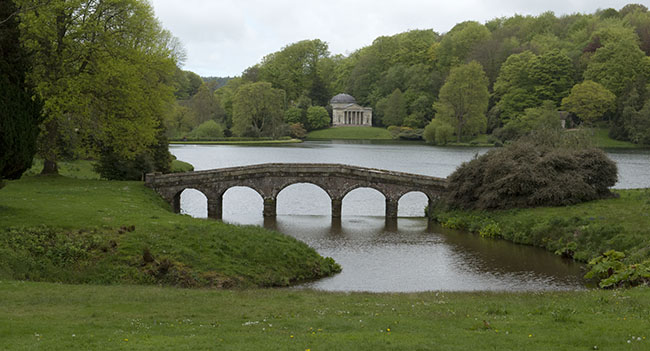 Lake and bridge to nowhere - 5852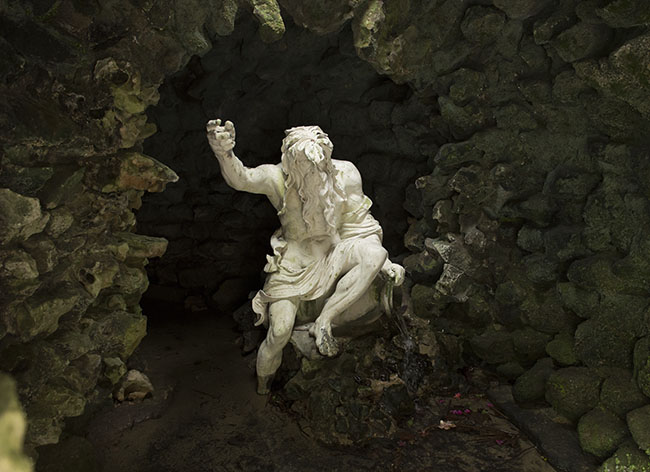 Grotto. Lord of the River - 5875

One of the ponds - 5883


Mid-afternoon, on route back to Dorchester, we stop at Higher Bockhampton, where after a 12 minute walk along a bridle path we arrive at the charming old thatched cottage, with its delightful garden, where Thomas Hardy was born in 1840. Here he wrote several early works, including his first real success, 'Far From the Madding Crowd', when in his mid thirties. There is a splendid new Visitor Centre where we will be given a short talk and can have tea.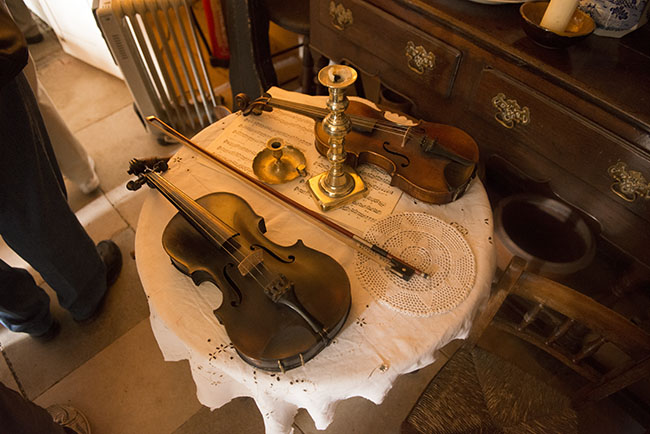 Hardy was a novelist and poet; was he a musician too? - 5917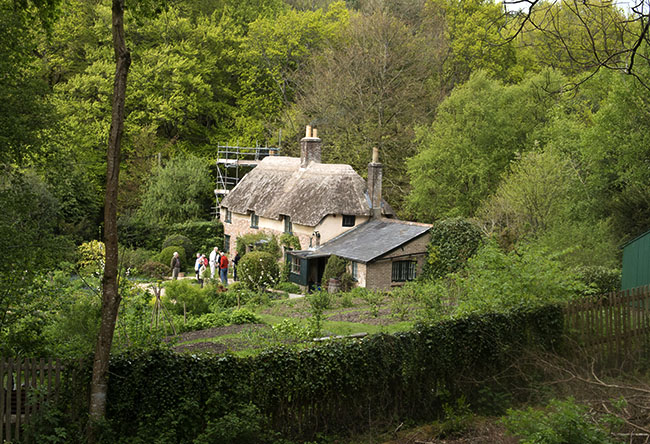 Hardy cottage - 5932


Following lunch at the hotel we shall be picked up by Barnaby, an authentic early 1950's bus which will take us the 45 minute journey to Greenway House, the beautiful holiday home of the much loved author, Agatha Christie which she purchased in 1938. There is very much a 30's atmosphere pervading the house and it contains a great deal of Agatha Christie memorabilia. There are lovely grounds with views over the River Dart below. You almost expect Hercule Poirot or Jane Marple to appear at any moment. In fact the final TV episode of Poirot with David Suchet was filmed at Greenway.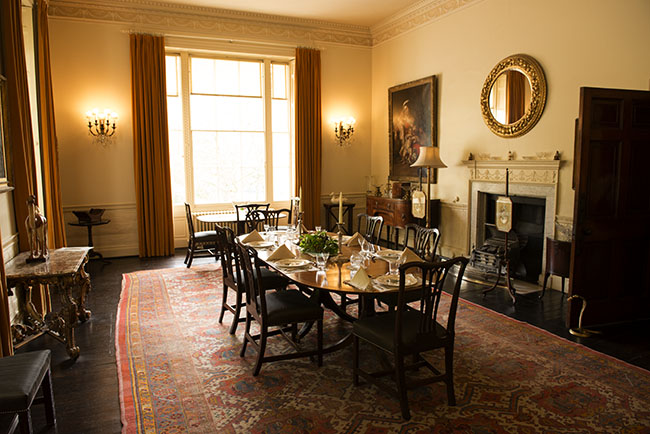 Dinning room at the "cottage" - 5951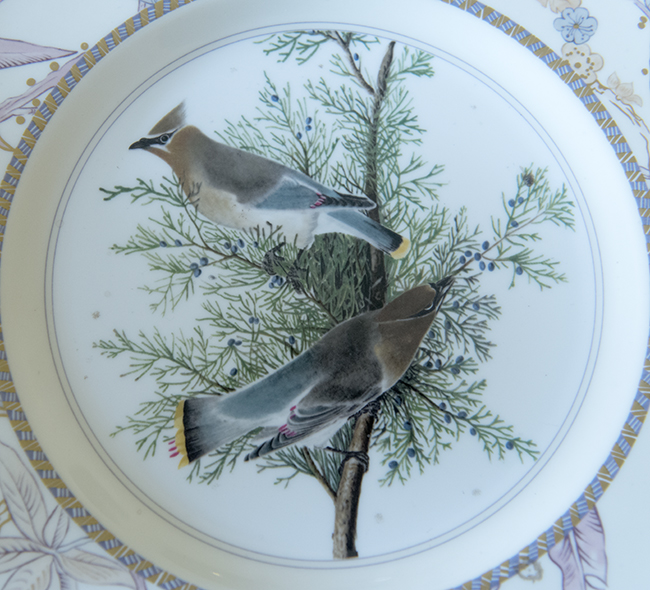 Dinner plate; Audubon print. - 5954
I can't imagine putting food on this!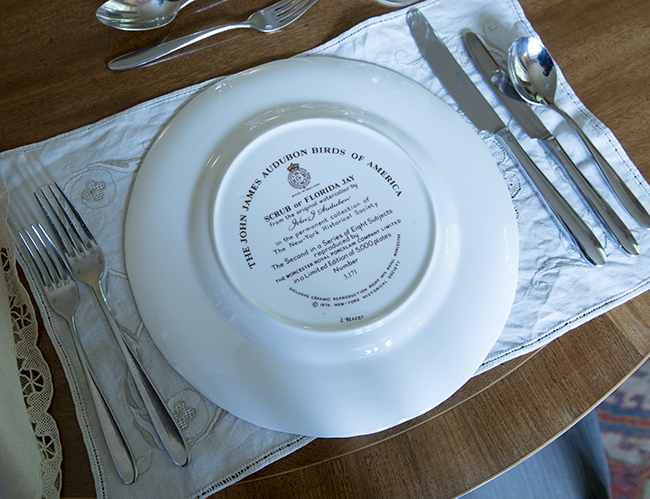 Back side of a dinner plate - 5952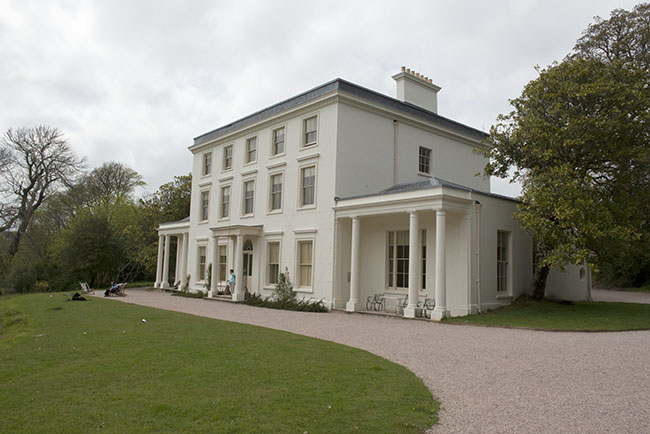 The cottage - 5957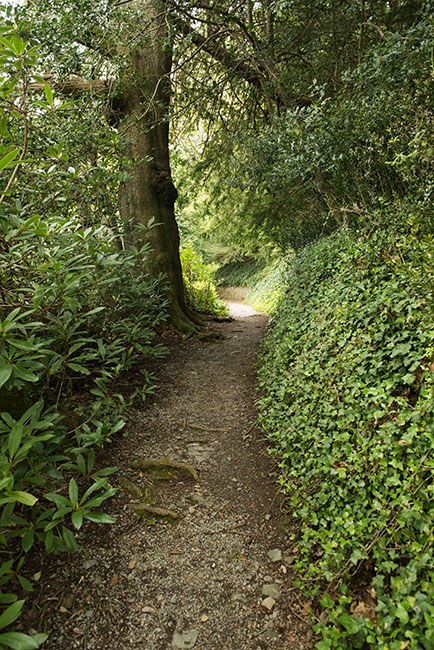 Path on the grounds - 5964


Mon. May 11th.
Quite possibly, like myself, you have not visited a zoo for some while? Eighty acre Paignton Zoo is considered one of the finest in Britain and it's close to Torquay. We shall spend the morning there and I am sure it will be fun.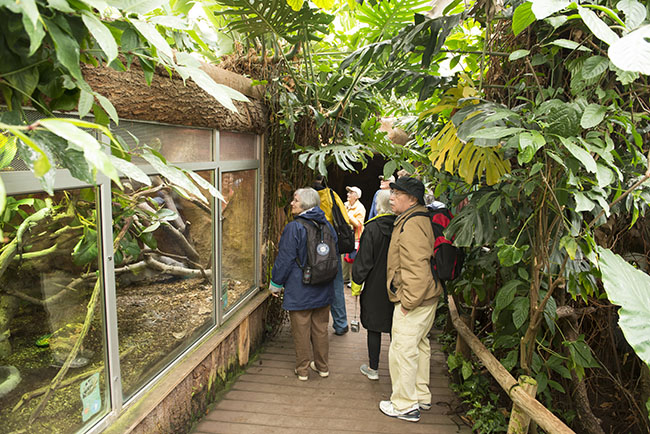 Zoo exhibit - 5975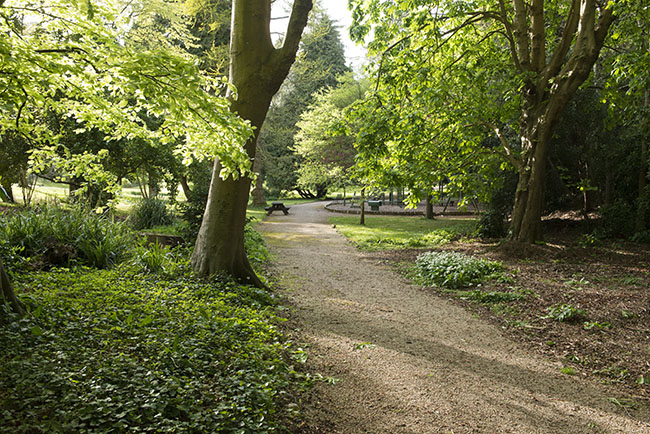 Hotel path - 6014


We check out of the Palace Hotel and continue our journey southwest, passing from Devon into the unique County of Cornwall, the most westerly in England and unlike anywhere else in Britain. The climate is very mild, snow virtually unknown and an atmosphere of mystery and legend seems to pervade the whole region. Cornwall is famous for its great gardens and late morning we shall arrive at The Lost Gardens of Heligan which were first created by the Tremayne family in the mid18th century. Came the First World War the great house was closed, the male staff, including all the gardeners went to war, mostly never to return. The garden became overgrown and disappeared beneath feet of undergrowth and brambles, totally 'lost' in fact. We shall hear the remarkable story of how it was re-discovered and brought back to life in the 1990's. We shall be given a short tour, have lunch and then a little more time to savour this unique place.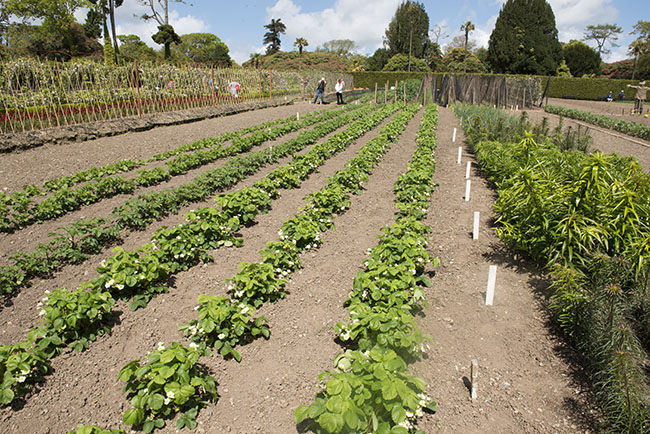 These gardens were way ahead of anything in MY garden! - 6032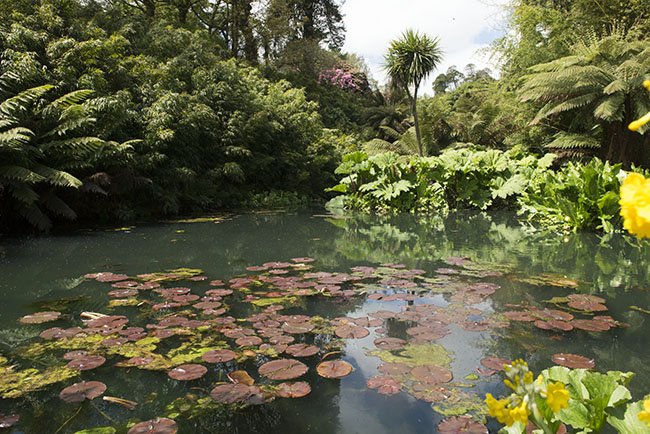 "Jungle" area - 6053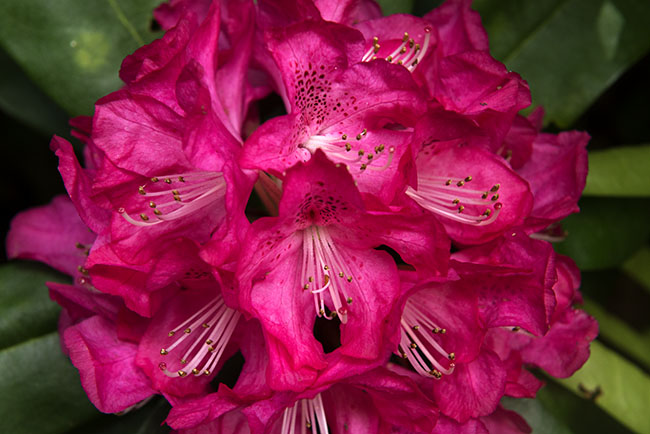 Blossoms - 6057


The Meudon Country House Hotel, is a charming family owned hotel in a beautiful, secluded area close by the sea and set amidst a lovely eight acre, sub-tropical valley garden leading down to the hotel's private beach. This garden, like many in Cornwall, was created in about 1800 by Robert Were Fox, one of a family of wealthy Quaker shipping merchants who were all great horticulturalists and imported plants from around the world. The food at Meudon is outstanding and I'm sure everyone will love it there.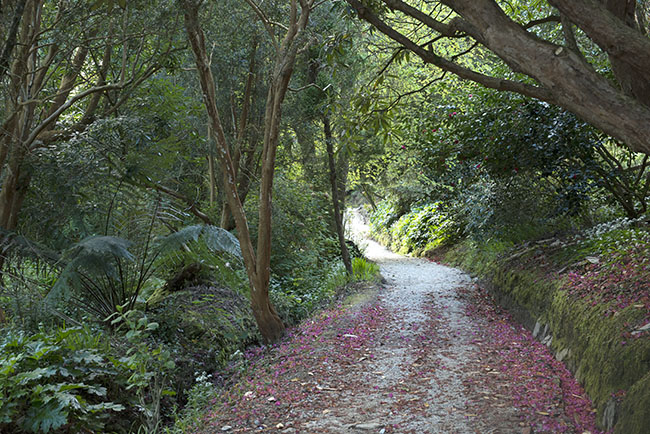 Meudon path down to the sea - 6116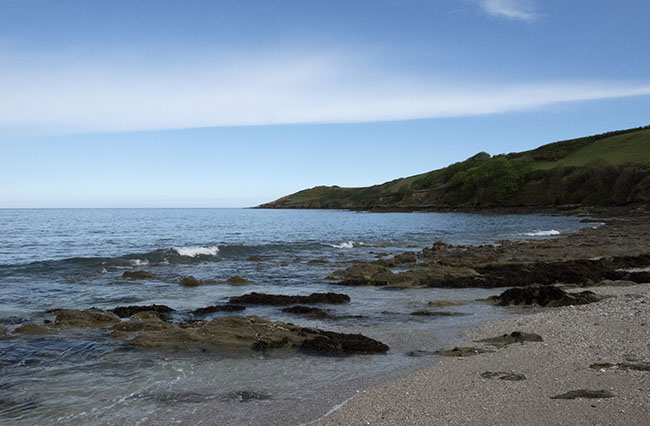 Meudon, down by the sea. - 6241


Just a few minutes drive from our hotel is Trebah, one of the finest gardens in England and listed in the top eighty gardens of theworld. This was created by Charles Fox, another member of the Quaker family, and he started work in about 1830. Trebah is a valley garden of twenty six acres descending to the Helford River below and in 1944 the 7500 men of the US 29th Infantry Division moved down through the garden to the river and embarked for Omaha Beach. Following the war the garden fell into neglect but was rescued in 1981 by Major Tony Hibbert, a decorated war veteran,now 96, who has spent more than twenty-five years restoring Trebah to its former glory. Following a short introductory talk we will be free to explore the garden and then have lunch in the nice cafeteria.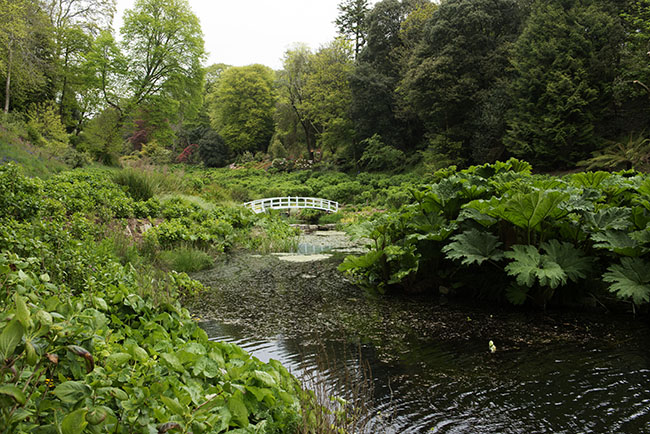 Lower pond - 6132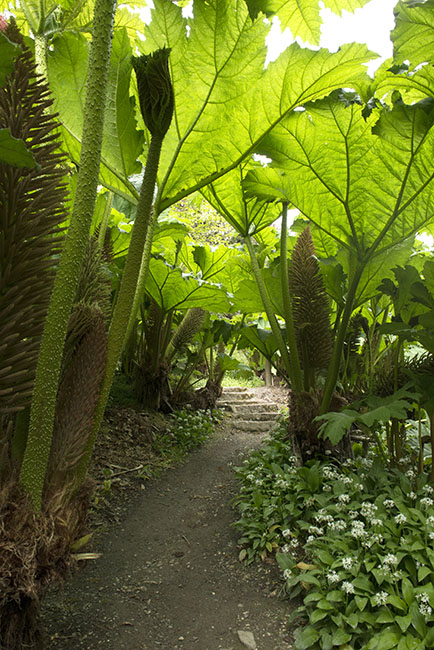 Gunnera, "giant rhubarb", which it isn't - 6129

Leaving Trebah we head east for an hour arriving at the charming small town of Fowey, beautifully situated alongside the narrow River Fowey. There are quaint old streets and a fine church where Kenneth Grahame, who loved the area, was married in 1899. When a young woman, Daphne du Maurier's parents bought a holiday home down by the water in Fowey which led to her lifelong love of Cornwall. Two local guides will meet us in the coach park and walk us into town giving some history of Fowey and the du Maurier associations, followed by some free time to explore. Just a few miles from Fowey is Menabilly House, a great country mansion dating from the 16th century. It became the inspiration for 'Manderley' in du Maurier's 1938 novel 'Rebecca'. It is hidden in woodland and cannot be seen from the road. Being a private residence it is not open to the public.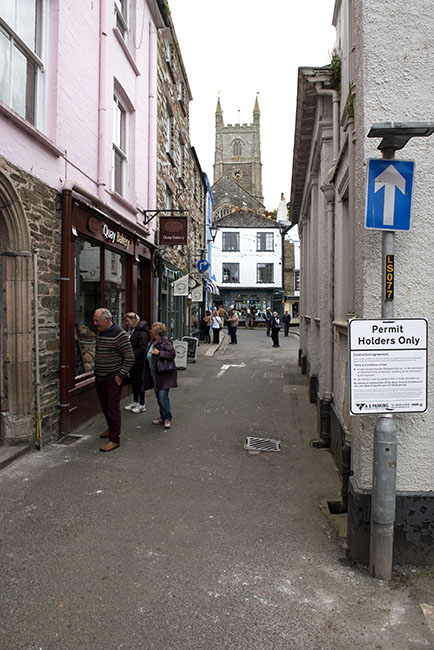 Fowey - 6171


On our final full day in Cornwall we head across the County to the Atlantic Ocean and the dramatic coastline at Bedruthan Steps. We look down from the cliff edge onto the beach and ocean with the huge rocks shaped by wind and water that emerge from the sea. Bedruthan was a giant in Cornish mythology, who it is said to used the rocks as stepping stones to cross the cove.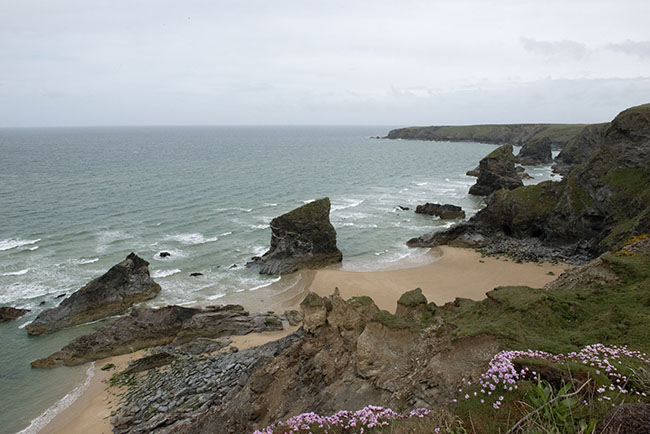 Beach view from the cliffs - 6184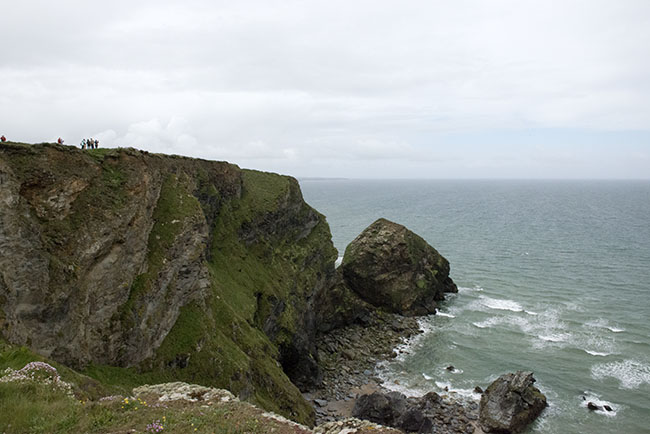 That's us at the top. Recognize anyone? - 6182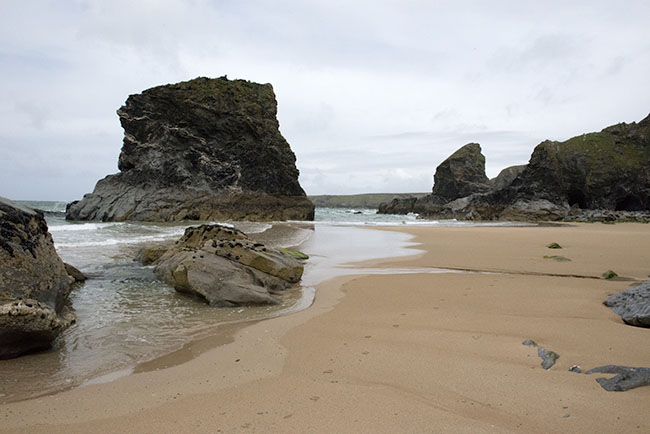 The beach. How long did it take the ocean to carve these shapes? - 6195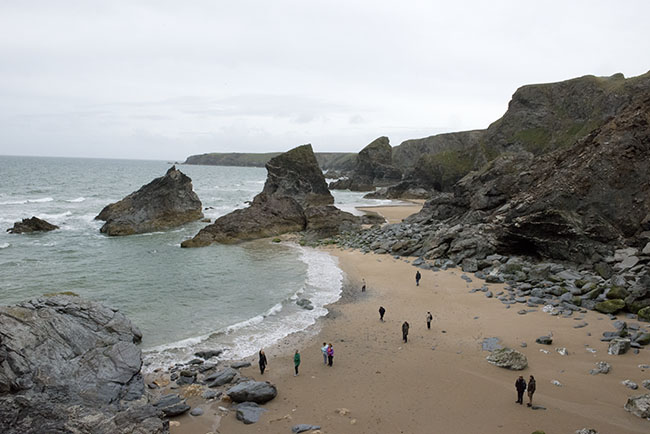 Some of us went down to the beach - 6190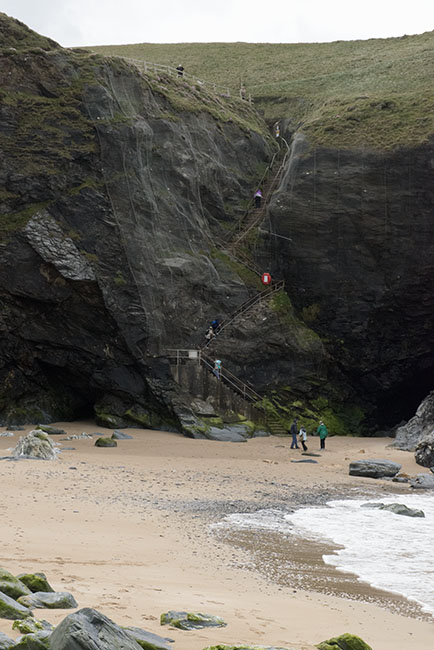 Those stairs were kind of scary going down,
not so much going back up to the top - 6194


We then drive east, arriving about 1 pm at the colourful, bustling seaside town of St. Ives, which was originally a fishing harbour. It developed, starting in the 1880's when Whistler and Sickert settled in the town, to become a thriving artists colony. The leading English sculptor Barbara Hepworth lived in the town for years and the Museum and Sculpture Garden there devoted to her life and work is well worth a visit, as is the Tate St Ives, affiliated to the Tate Gallery in London and mainly exhibiting works by modern British artists.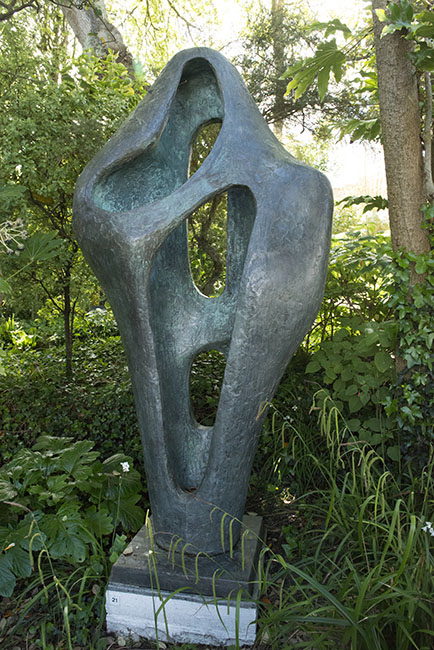 English sculptor Barbara Hepworth's work - 6227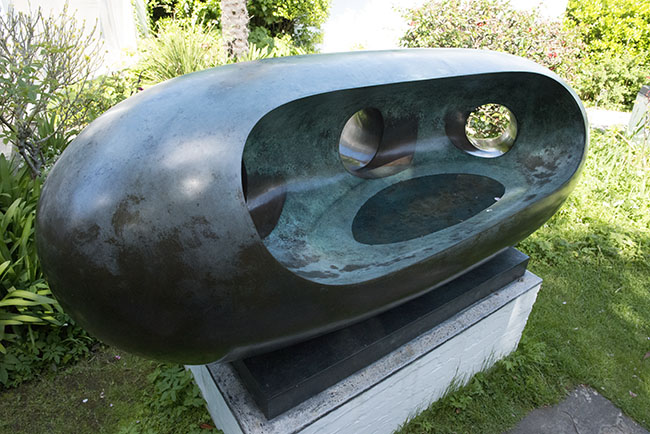 Another Barbara Hepworth work. - 6228
These pictures don't do them justice. You have to see them!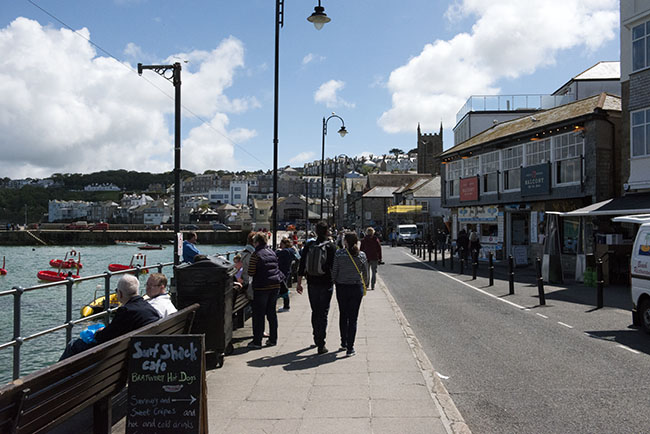 St. Ives - 6219
We had a very nice lunch there.

Sat. May 16th.
Some say, that of all the great English medieval cathedrals, Wells is perhaps the finest, maybe in all of Europe. Building began in 1175 and took three centuries to complete. We shall be given a guided tour without which one can miss so much. Adjacent to the Cathedral is the Bishop's ancient moated Palace, set within delightful grounds where we shall have some free time for a stroll around before meeting for a light lunch in the old undercroft of the Palace.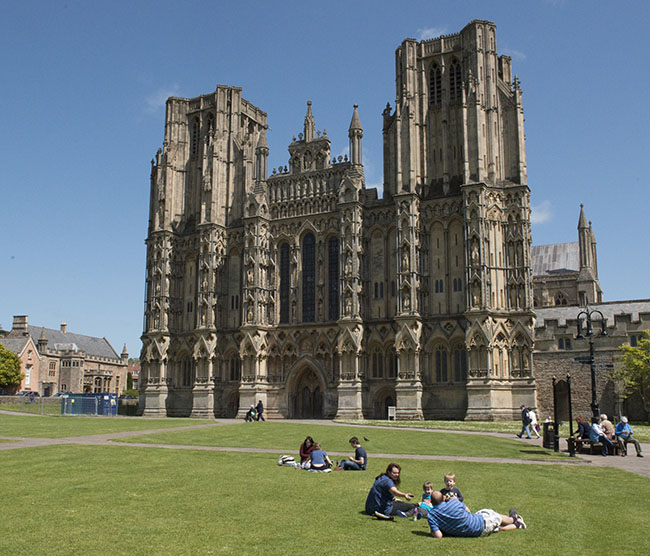 Cathedral green, right across from our hotel. - 6348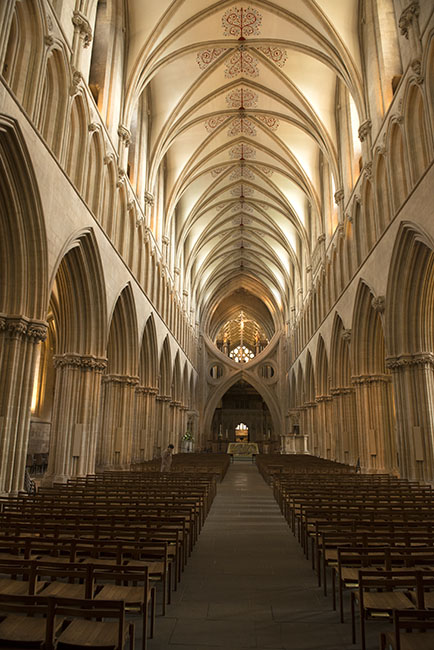 The cathedral - 6303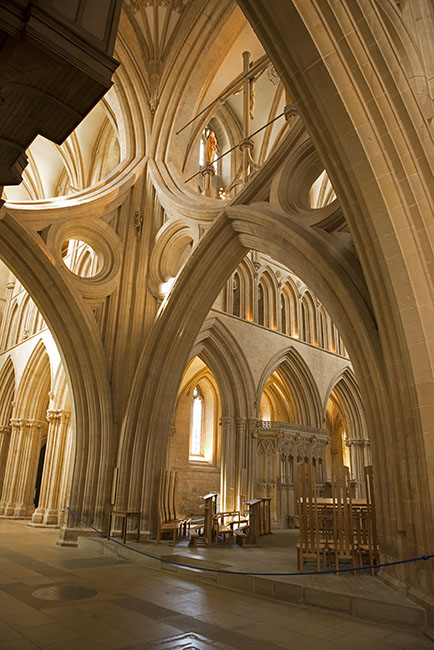 Cathedral interior. - 6316
We heard a fine choir of girls here, for choral evensong.


Following breakfast our coach will take us into the centre of Oxford and leave us for seven hours of free time in this lovely old City. There is so much to do in Oxford, perhaps visit a famous college of which some will be open to visitors, walk in the Botanic Garden, the oldest in the country dating from 1621, and being sure not to miss the great Ashmolean Museum, which after the British Museum in London its probably the finest in Britain. Walking tours are available and having a good look at Oxford's Tourist Information website would be productive. Beautiful buildings abound in Oxford, many built of the local honey coloured limestone. A few hours of course only scratches the surface, but will almost certainly be an incentive to return again in the future.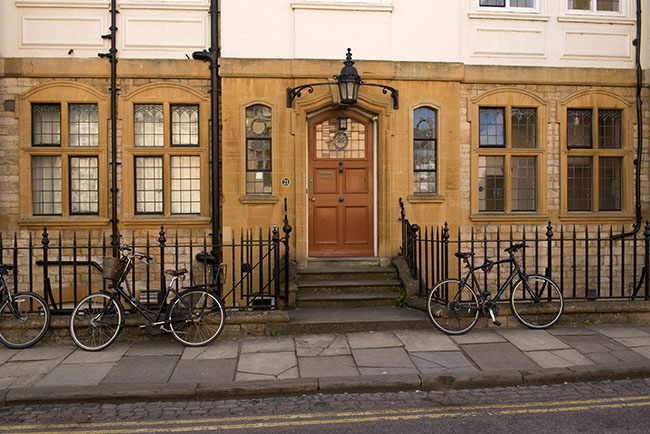 Lots of bikes in Oxford - 6367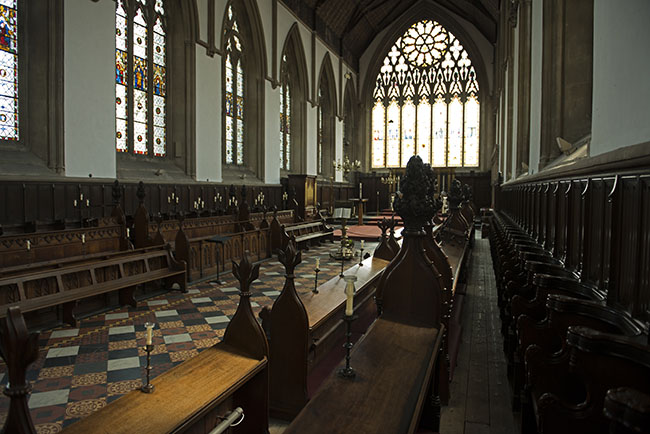 The Merton College chapel - 6378
We were able to walk around the Merton College grounds and chapel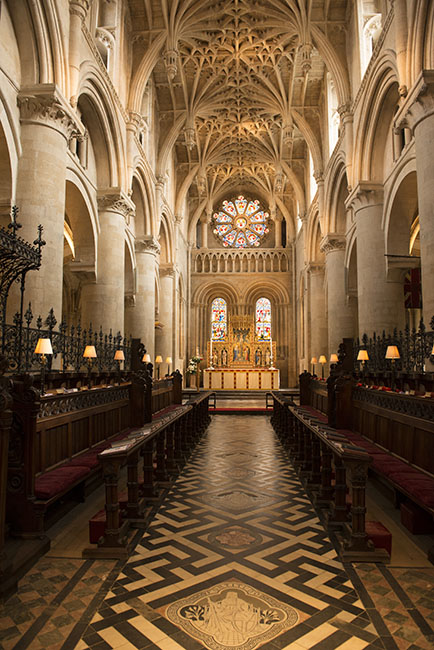 Christ Church College, also the cathedral for the diocese. - 6394
We heard a fine choir of men and boys here.


... and many, many, more photos. No space here for the rest of them!
THANKS, John, for arranging this tour!