The Ireland Trip
Organized by Hobart & William Smith colleges.
From my journal, which I kept pretty well....
Also from my camera, which I kept even better.
Thursday, 4/7/16. Travel day.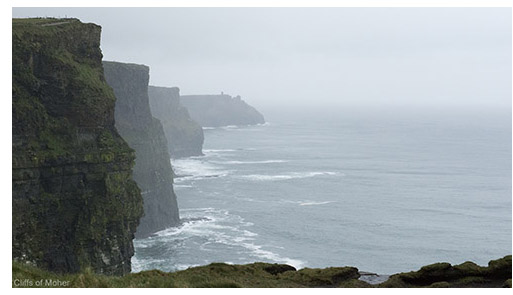 Drove to Newark. Parked in a nearby lot. Airports are not "fun", but it is fun to watch the people. Took off an hour late (United). No Sleep.
Friday, 4/8/16. Got off the airplane, Shannon, met the group, no trouble. Shannon is a relatively small airport. The "bus" came to pick us up. Drove to Moher Cliffs. Very dramatic scenery, but cold, rainy, and windy. Took some pictures anyway, keeping the camera covered and out of the rain.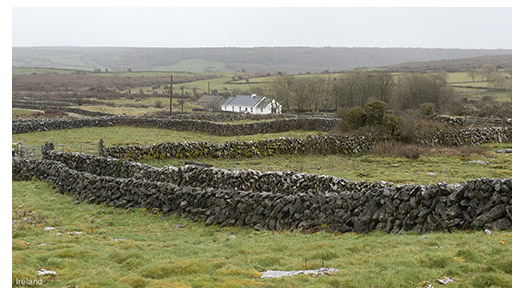 Then off to an ancient archeological site, a round fort which was being excavated. It was still cold and rainy, and I didn't have my proper raingear extracted from the bus, so I retreated inside (shop and reataurant) where it was warm and dry. There are many round forts in Ireland (another on the Aran Islands and drove to another on a mountain top). Had lunch there and a sheep dog demonstration. Actually we had a much better sheep dog demo last year in Scotland.
The stone wall are everywhere in Ireland, deliniating pastures and ownership. Th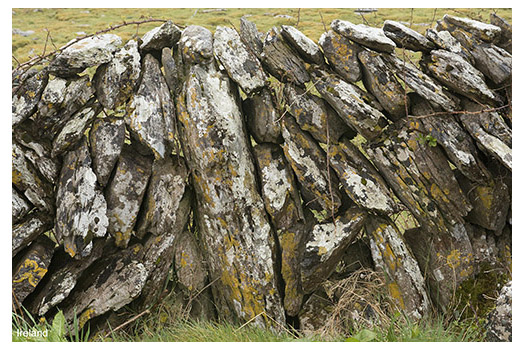 ey are quite different from what we see back home. They say the good ones start with the small stones on the bottom and build up with the larger ones. They look fragile, but they aren't. Nevertheless, I did not push on them.
Back to Galway, and the Imperial Hotel on Eyre Square.

Saturday 4/8/16 A walki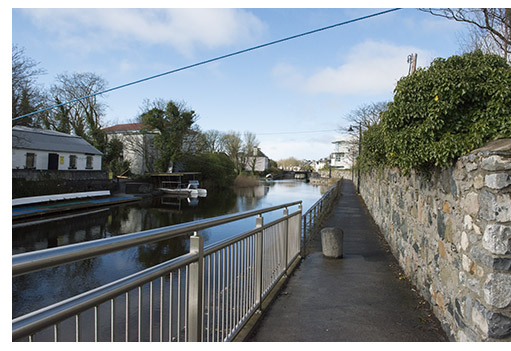 ng day. We walked through town to the university. Over the river and the canal. We had sessions on N Ireland and ecenomics. Stuff on N Ireland was good. Maybe skip the eco next time... Then we walked down the canal to the Spanish Arch. Lunch in a Cosco, pretty good. Had a latte. The server gave me a single shot of the coffee rather than the usual double. Guss I didn't look the part. It was good anyway. After lunch we met the group and had a tour of the museum, and then a walking tour of Galway (or part of it). Very knowledgable architectual guy. Saw ,many artifacts, buildings, old church, part of the old wall.
Now to figure out where to eat supper. We had quite a few free evenings, and always managed to eat at some interesting place.
Sunday 4/10/16 Aran Islands. Off at 9:00 to travel to the boat dock. About 50 minutes, a rough ride over stormy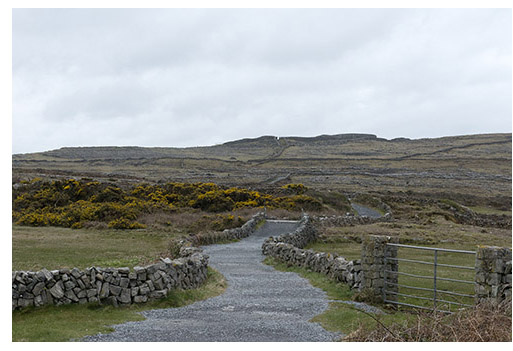 seas. Off the boat, into a van for local transport. Many tourists rent bicycles there, but it's a hilly place and we have severl miles to go.
First visited "seven churches", an ancient site. It was rough walking in the old graveyard, and Pat took a tumble. OK, but I'm trying to walk a bit slower and keep an eye out.
Then off to another ringed fort, this one a very famous spot. It sits high on a cliff overlooking the sea. It has both inner and outer walls, but each ius about a half circle. Did they build it that way, or was in a whole circle and then part of the cliff fell away. Don't know. It was cold, windy, and spitting rain, with a somewhat steep rough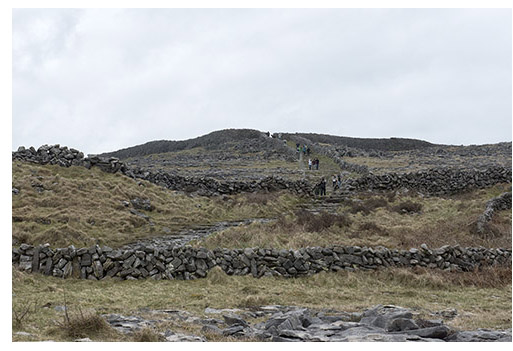 path up to the fort. I wasn't sure I could do the path, but I started out just to see what it was like... Kind of rough, spitting rain. Kept going, soon was into the fort. Very interesting place. Can't imagine living there, but lots of people probabl;y did. A great defensive location. Big stone walls, must have taken lots of labor to buil it. The inner fort had one enttrance, facing the wind. The wind seemed to channel vthrough that opening. It blew my hat off my head, towards the cliff and the sea. But it was not lost; I fou it hanging on my back.
The boat ride back to even rougher than hthe morning ride. Squealing teen-agers. Crew mopping up.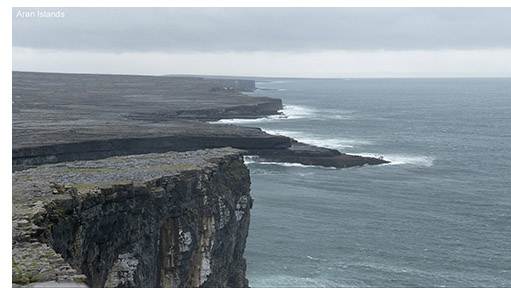 I love to be on islands. Next time I'll hire a bike and take my time!

Monday 4/11/16 Out of the hotal with our baggage at 9:00 and hit the r
aod, going North. The road led us up a long lake (a fiord in Ireland?) and then through the monutains - a very pretty ride. Took a few pictures through the windows, but was hindered by tinted windows, rain, and bugs on the window. Stopped at an old Fransican Abbey. Must have been really something in its day. We stopped there for a while to wander through and take some pictures. It's used today as a graveyard.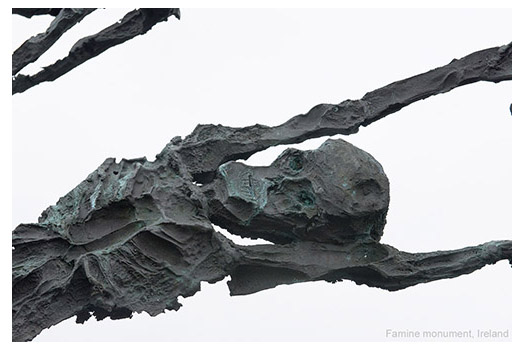 We stopped at a spot in the mountains where there is one of (many) famine monuments, this one both grotesque and ipmressive. The potato famine is well remembered in Ireland (about 1842). A million died and another million emigrated, mostly to the USA.
(The whole monument is shown below.)
We arrived in westport for hotel and supper, a one night stand. Small town. Where to eat...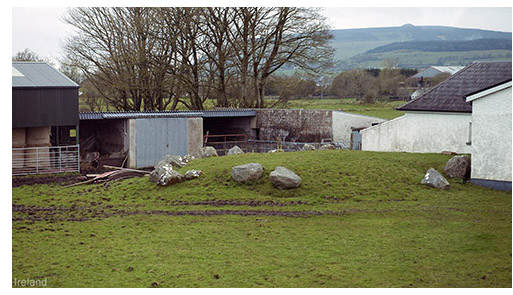 Tuesday 4/12/16 Wool mill. Interesting to see the big looms turning out the wool all going at high speed. But the place was actually a big store, selling wool and lots of other stuff. We had lunch there, too.
Then off to ancient holy ground. 5000 year old stone circles and dolmens. We saw many of them. One of the stone circles we saw along the road was right in a farmyard. The farm was around it, but respected that circle. It was impressive to see so many of these circles, some well-formed, some look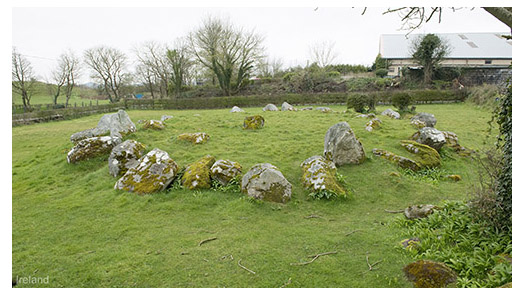 ing almost random. Ancient graves.
Back :"home" to the glass hotel in Slico, right on the river. Managed to find supper right by the river also. Nice hotel; the WIFI worked!

Wednesday 4/13/16 On the bus. Stopped at an old church to see WB Yates' grave - beautiful mountains in the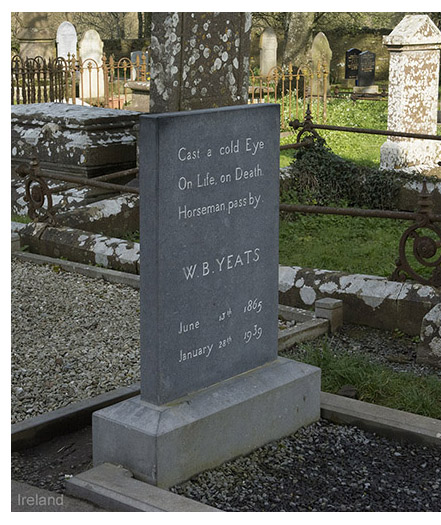 background. Also, a high celtic crioss. Could make out Adam and Eve, and the snake, but it was pretty weather beaten.
Stopped along the raod at a cairn, multipe ancient burial places.
Lunch at "The Bank" (a bank converted to a pub) in Donegal, just passing through.
Of to N. Ireland. No border; we didn't even know when we crossed the border. That might change with England out of the EU!
Went to a large (restored) round fort on the top of a monutain. An impressive place. Only one entrance. Defenders could stand behind those tall walls and face the enemy. It had been restored in the 19th century. Kind of wish they hadn't. Restorations arean't always the best thing to do. But we could go inside and get up on the walls.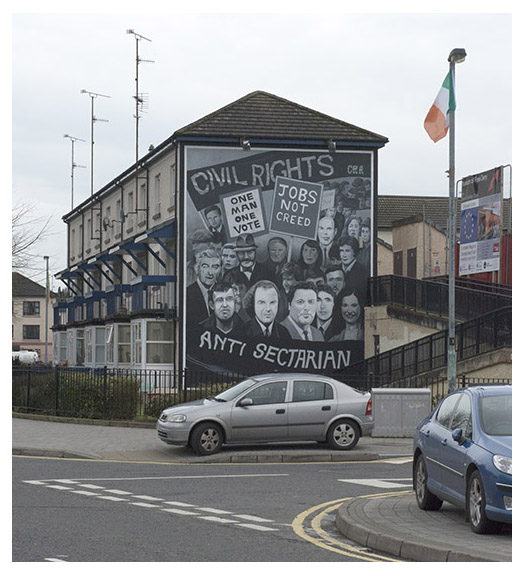 Off to Derry, or London-Derry, depending on your politics. We had a walking tour, mostly on the old wall. There were murals on the buildings in Derry, depicting the "trouble", a big thing in N Ireland, which is British, and the majority of the population is Catholic (of course). Very good guide, lots of stories about the "trouble", Catholics vs. portestants.
Dinner in the hotel, very nice.


Thursday 4/14/16 Off to Dunluce Castle, a ruin by the sea. Must have been really something in its day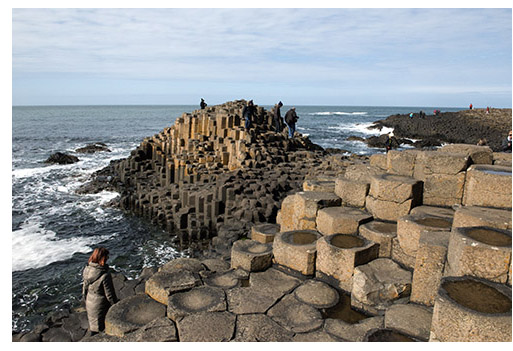 . Kind of on a peninsula, so a good defensive spot. high about the sea.
Off to the Giants Causeway, a popular tourist destination. Very interesting, unique rock formations. Lots pof people there. Still the stones were fascinating. Maybe I'll understand exactly how they were formed someday.. Actulally, I enjoyed walking the path on the cliffs above the shore. The coastline on the Northern coast is dramatic. I hope some of the photos turn out.
We did the distillery tour, Bushmills, on the way back to Donegal. They served samples at the end of the tour. I asked for 8-year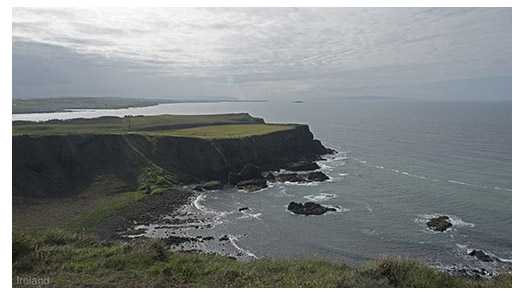 irish wiskey. It has a very distinctive taste. I imbibed just a sip, but the taste of that sip stayed with me for hours!
Back to Donegal town for dinner and hotel. Dinner in the hotel as a group. Nicely done.

Well, that's all that I wrote in my journal.
We did have a couple more days, several of them in Galway.
So I'll jst add a few more pictures to round things out.


Arsan Islands - large cross at the harbor.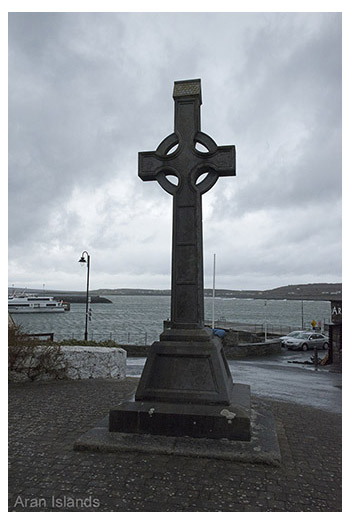 Path up to the round fort on the Aran Islands.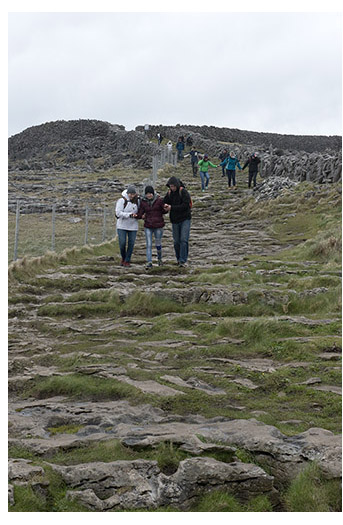 A rough path, very windy. Spitting rain.
On the road, through the bus windows.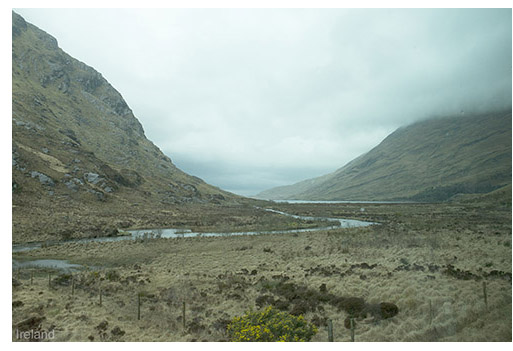 Dolmen, along the road. We stopped to look and photograph.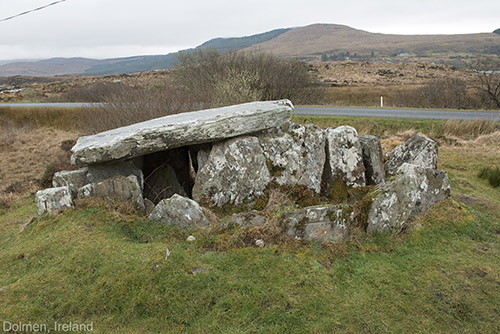 Famine memorial.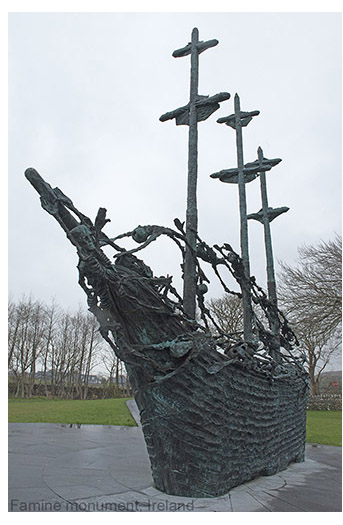 Detail above.
Dolmen.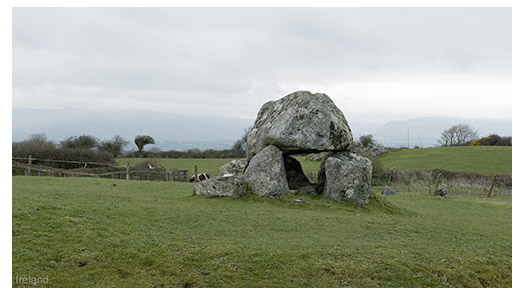 How did they get that stone up there? It must be REALLY heavy.
How long has it been there?
What ceremonies did they perform here?
What did they believe?
Who was buried there?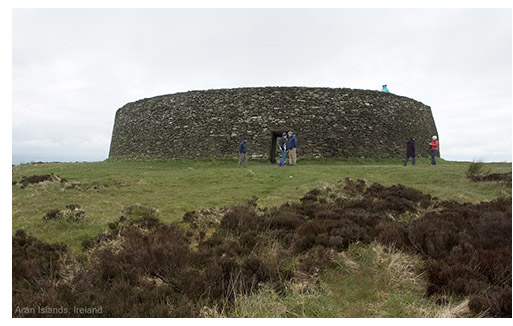 Round fort WAY up on the top of a mountain.

This had been restored in the 19th century.

I would have preferred to see it before restoration. Leave things be!

More daffodils, Strokestown Park. We saw them everywhere!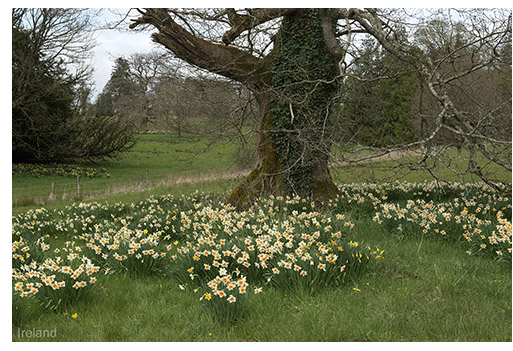 Galway, street scene.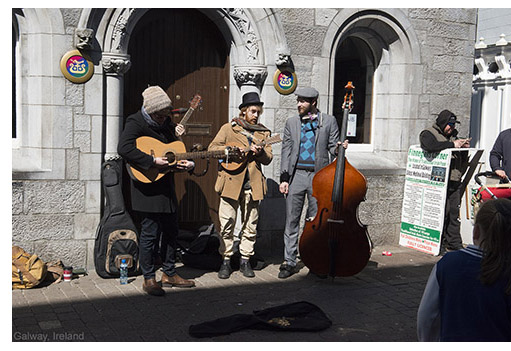 It's a lively town, and the tourist season had not really gotten started.
Tourists from Schenectady.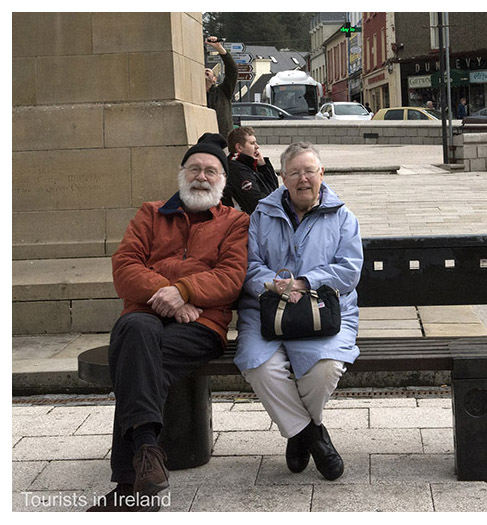 It gets cold in April.
Bring a warm coat and rain gear!